CakesDecor Gazette: Issue 4.05 / May 2015
This months Gazette is jam packed with so many gorgeous cakes, our Interview with Riany Clement and the newest addition to the gazette a book review. Our very first book review is "classic Fabric Flowers in Sugar" by Gary Chapman and I know will...
This months Gazette is jam packed with so many gorgeous cakes, our Interview with Riany Clement and the newest addition to the gazette a book review. Our very first book review is "classic Fabric Flowers in Sugar" by Gary Chapman and I know will be a must have for many of you. Many pictures of the latest collaborations and my latest "Rising Star" is one you will all want to go follow. Keep up the good work everyone, keep posting your fabulous cakes, blogs and tutorials we love seeing and hearing from you all. From all of us at cakesdecor , keep caking on!!! Big hugs, Shags
Wow, how the year is just flying by...I cannot believe we are in May already.
 I thought I would follow up on what I talked about last month. Would I still have the same enthusiasm for cake competitions and shows after I had competed in one? Well the answer so far is yes...granted it was not the best experience but I think we all have room to, grow and learn, especially correct the things we did wrong. Not just as a competitor but as a judge and show as well. Being open to comments from judges is super important to a competitor but on the same hand, I think judges and show organizers need to be also as receptive to feedback and comments from competitors and guests. If everyone can take and accept the good and the bad, I think there is always a chance for improvement.
So, I am going to give this competition thing another go here in the next few months and hope not just my experience but also that of every other competitor is better. Try, try and try again was something I heard all my life and I think anytime entering a competition that is the best we can do. We do not control everything that comes our way, so there will always be hiccups and learning curves for us all.
The biggest thing in life is do not give up on yourself and one competition does not mean you are a bad cake designer, heck my competition cake got more views and likes than any other cake I have ever made. I was very proud of it and not sad to lose at all, my fellow competitors were strong and had amazing cakes. Were there issues??? Sure, but heck that is life. I did however put together my very first blog about some of the things I learned at least for here in the USA as a first time competitor, I hope that it helps a few of you that are wanting to try to compete.... just a few helpful hints. The biggest one being know the rules... inside and out, read them again and again, measure over and over again and make sure you have everything right on your side of things first. Don't lose to a silly over sight.
Next stand up and speak out before the judges come around if you see something that you think might be wrong with any other cake. Don't expect judges or shows to be enforcing the rules, they might not.... and you do have a right to speak up. Rules are there for a reason and you should ask for everyone to abide by them, why put rules up if you are not going to enforce them. If we all follow them, then there should not be an issue.
If you would like to read or comment on my blog about this please do I would love to hear all opinions, good or bad, for or against! Click here.
Big Hugs, Shags xoxoxo
We would love to hear from you in the comments section below and please make sure if there is a topic you would like to hear or talk about let us know also.
Sharon: Profile on CakesDecor | Curiaussiety Cakes Facebook Page
Tutorial Pick for the Month: OMG, this could be the cutest little ladybug I have ever seen, I just want to squeeze his little face. Thank you Crumb Avenue for sharing this Simple, cute ladybug figurine tutorial with us, it is so adorable!
Everyone is always looking to learn, so if you have a special technique or a cute little figurine you would like all of us to see, then why don't you submit it to CakesDecor.com and your creation may be featured in the next Gazette.
Kitchen Talk:  Liability Insurance for Home Bakers This is such an important question for anyone running a home business. So if you have ever asked your self this question you are not the only one so has Fun Fiesta Cakes!
Suggestion Box: New ideas and suggestions are always welcome so please make sure you go to The Gazette Blog post and leave your comments there.
Have fun coming up with new ideas :) 
So close now folks ... who is going to win??? Make sure you have your chance to win!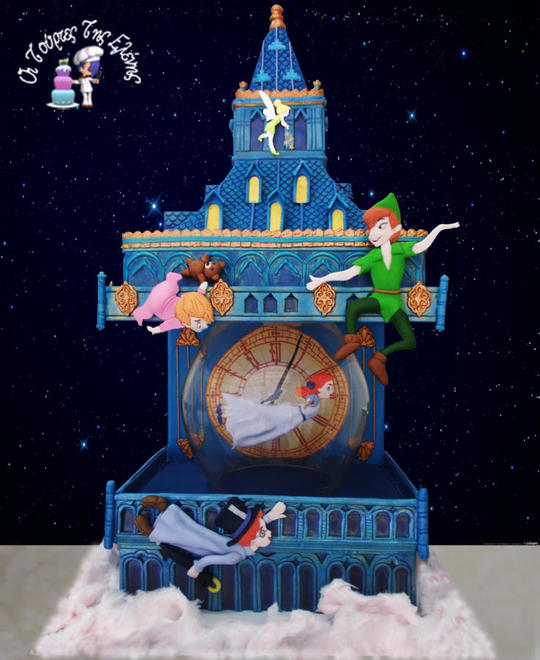 Although this decorator has not been on cakesdecor for as long as some, I really cannot use that as means for who I pick for this award. This wonderful decorator deserves this title cause every time they post something they always make me want to see more and for me that is what this award is all about.
From gorgeous gravity defying pieces to total works of art that tell a story from the minute you see it. I am always amazed at Moustoula Eleni's ability to bring a cake to life. Thank you so much for being part of our family here at cakesdecor and I am sure we all look forward to seeing more of your gorgeous work!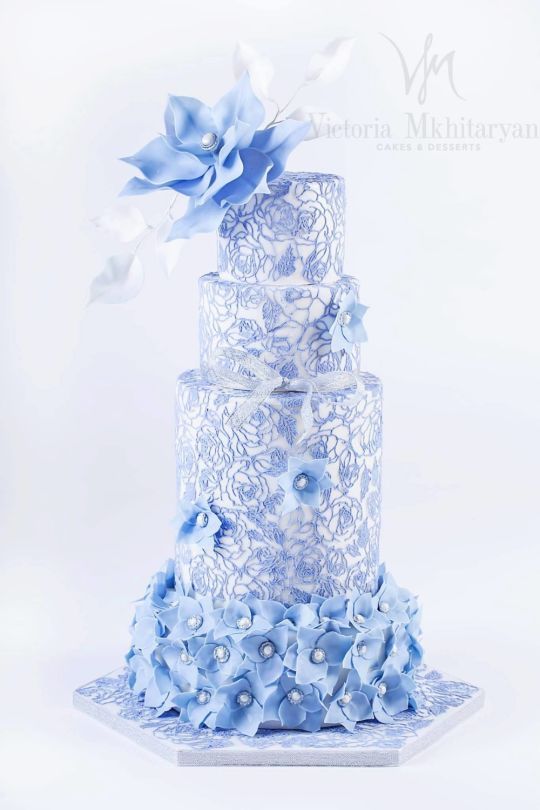 My Editors Choice for April is... Victoria Mkhitaryan Cakes&Desserts with her A delicate lace cake
Who would think that with just two colors blue and white you could make such a stunning piece but that is exactly what happened with this truly gorgoues cake. I love the femininity this cake evokes from the single top flower right down to the gorgeous lace hexagon base board! A stunner no doubt about it and my favorite for this past month!
Cake Decorator of the Week
The Cake Decorators of the Week for April were...
I was so honored when Gary Chapman approached us here at cakesdecor to see if we would be interested in reviewing his new book.We are always trying to add new features and bring you new exciting articles to read so doing a book review was a great idea especially with so many cakes adding flowers, but not everyone having the ability to do such intricate and time consuming work.
So Gary's book gives a great alternative to realistic flowers but still being able to add an elegant touch to a beautiful cake. Simple and easy to follow directions with many different styles to incorporate into similar techniques. To read full review Click here.
With so many collaborations now I cannot find every cake so if you would like to be seen here in the collaboration section of the Gazette I will need to have the word "collaboration" in the title of your piece and something in your write up as to what collaboration it belongs to. I want everyone to have the same chance to be seen.
An international sugar collaboration featuring both religious and secular Easter coloring book themed cakes by designers from all over the world.
An international collaboration of sugar artists, using hand-painted pieces to celebrate Easter!
44 talented cake artists from across the globe have come together to celebrate the beautiful and sophisticated designs of Indian fashion. Each artist created a cake inspired by a haute couture Indian outfit that is typically worn for elegant occasions. One can see how these outfits can easily translate into a gorgeous cake design with their rich colors and intricate decorations.
I am so pleased to bring this interview to you with Riany Clement of Bellaria Cakes Design, she is one of few cake artists that I really look up to and admire. I  would give anything to meet this amazingly talented cake artist and just sit and talk with her and peek into her beautiful mind of flowing masterpieces!
Riany's work is always such a contrast of bold designs and elegantly cascading flowers. She is the queen of pulling off the most perfect of geometric patterns in fondant and really captures the eye with every piece of sugar art she produces.
I know you will all enjoy getting to know her better also and having just a little more perspective on what makes someone this talented tick!
Is this little guy not the cutest thing you have ever seen???
I am sure many of you have asked yourselves this question, "should I have insurance being a home business"? Well Fun Fiesta Cakes also asked this same question which I feel is a really important one.
My answer is yes, and if you want to reach for those bigger, higher end wedding cakes the venues will require it. But more than that for the small amount... which here in the states is around $300, isn't it worth that piece of mind. It just takes one person getting sick and wanting to sue you and you could lose everything including your home.
Don't take the risk. If you are running your business as a business then insurance is a must in my opinion. But I would love to hear what you all think as well on this discussion so make sure you go and tell us your thoughts also.Liability Insurance for Home Bakers
CakesDecor News, Stats & Links
May, 6th 2015
We are 27,212 cake decorators making 1,138,704 comments on 193,289 cakes, 2,198 blogs,1,249 tutorials and 2,301 forum topics.
Editor's Choice Albums: Facebook , Pinterest , Google +
Cake Decor Pros
1878 cake decorating pros / bakeries in 65 countries at your fingertips
Cakes Decor Pros is the world's first and largest visual, location based directory of cake decor professionals. Enter your city and country into the box below and start exploring the finest cake decorators near you. They are eager to hear from you, ready to bake and decorate 
If you are not listed yet.... get subscribed NOW and get visible :) 
6