CakesDecor Gazette: Issue 4.02 / February 2015
Welcome to the Issue 4.02 / February 2015 of the CakesDecor Gazette  Click here to view the CD Gazette archives ~ Click here to view Gazette in web browser Editorial I am getting so excited!!!! Not long now lovelies and many of us...
I am getting so excited!!!!
Not long now lovelies and many of us will be off to Cakefest in Louisiana or Austin cake show in Texas. Both will be fabulous and give all of us a great opportunity to meet our lovely cake friends and those in the industry whom we really admire.
I really hope many of you are competing and I cannot wait to see all the fabulous pieces that I know will be produced. This is my first big cake show so I am truly excited to meet everyone and many of my cake idols.
Make sure if you see me you come up and say hello and we can get a little pic together that I can share next month. Cakesdecor really is the most personal cake site out there where we really get to know each other on a different level than just cakes. So getting to meet face to face is going to be a wonderful adventure.
Bottom line have fun everyone, and enjoy all the cake fabulousness you are about to experience. I hope you will all share your experiences with us in the forum section when you get home. For those that cant be with us we will miss you terribly!!!!
Big hugs, Shags xoxoxoxo
Tutorial Pick for the Month: Add a little extra something to your cakes to take them to a new level with this "Elegant decorating shapes!" tutorial by L'albero di zucchero
Everyone is always looking to learn, so if you have a special technique or a cute little figurine you would like all of us to see, then why don't you submit it to CakesDecor.com and your creation may be featured in the next Gazette.
Kitchen Talk:  Local Business profiting from Craftsy copycat workshops! This kind of thing is happening a lot these days. Such a shame I think but honestly we all have our personal thoughts and opinions on this and many other grey areas like it so please feel free to give us your thoughts also. Thank you Keiracakethis for sharing this with us!
Suggestion Box: New ideas and suggestions are always welcome so please make sure you go to The Gazette Blog post and leave your comments there.
We would love to hear what you would like featured and who you would like us to interview. We value your input and opinions and want to make the Gazette the best it can be.
Have fun coming up with new ideas :) 
Another successful awards are behind us and we ended with 213 amazing entries. It was really hard to pick just 5 cakes again, but finally
Here is a list of the final results and congratulations to everyone who entered they were all so fabulous! Fairytale cakes results
Congratulations go out to Cakeycake for their awesome Edible lantern tutorial!!!
 I totally agree with Michal about how sharing good tutorials helps us all. And leaving positive feedback and letting that person know you love it is just as important. Whether you make a free tutorial or one with a cost they are all needed. And the importance is that we all learn differently so what works for one might not work for another so if you have a different way of doing some thing we would love to see it.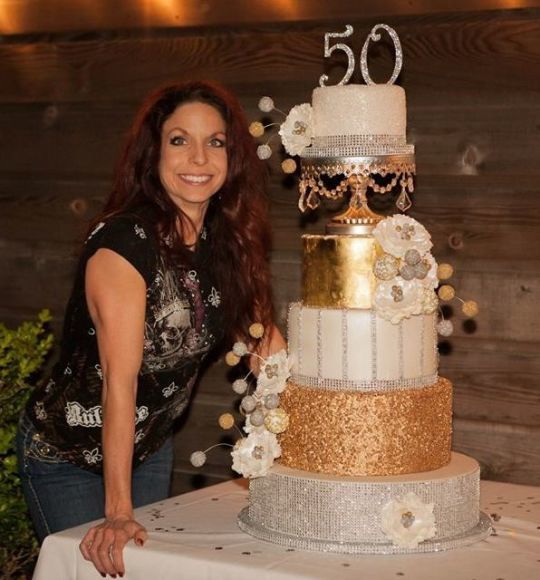 I have followed this lady almost 2 years now and have seen her grow continuously cake after cake. She is learning in leaps and bounds and has the most delicious flavors that she works very hard at developing. Christy is one of the nicest, supportive and sincerest ladies in the industry and honestly really is what a Rising star is all about!!!
 She takes on every order as a challenge to try something new and always going the extra mile for her customers. Pushing her boundaries, learning new techniques and always producing gorgeous pieces of cake art with no two pieces ever looking the same!
 Happy Birthday lovely lady, you so deserved this award for all the hard work you put in and we can really see your work progressing with each and every piece!!!!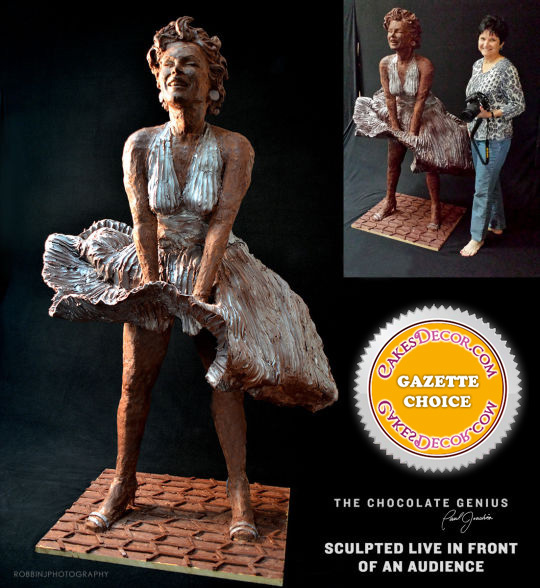 My Editors Choice for January was a no brainer... Paul Joachim with his Life size Marilyn chcoclate sculpture
Paul's work I swear is the reason we have a chocolate shortage, lol !!!! Paul does things in chocolate that are just breathtaking and so hard to believe at times. Finding an artist with his talent is a rare find indeed!
Cake Decorator of the Week
Cake decorator of the week for January!
Anyone who knows Nina from Make Pretty Cakes will agree she is just an amazing lady ...always so giving of her time and knowledge but best of all her encouragement. One day I was having a bit of a down day and nothing going quite right. I made a quick post on facebook about it and within minutes my phone rang...... I just about died when the caller ID read Nina Blackburn!!!! She called just to say keep your head up and that she hoped my day would get better and that is how I got to know this incredibly talented lady.
She is always pushing the limits of our imaginations with her fabulously adorable creations and gravity defying masterpieces ...this is why she is definitely one of my cake idols!!!
 I hope this short interview helps you all get to know her just a little better also.
1. How did you get started in the cake industry?
Like so many, it was my son's first birthday cake that started the cake buzz! A few coffee group mums were impressed enough to pool together and hire me to teach them how to make cupcakes. So that pretty much set the path in motion! My boy is nine now.....wowzers, time flies!


Seems that January was a quiet month for collabs so I will show you just a few more of the guys from the Rev Heads collab that came out in January that I did not get to showcase!
They are a group of 33 super talented men that got together to celebrate the 50th anniversary of the Ford Mustang!
Upcoming Cake Decorating Competitions
   That takes the cake!- Round Rock, Texas........ February 21st-22nd
                     Cake Fest, 2015! - Layayette , Lousiana....... February 21st- 22nd
          National Capital Area Cake Show - Fairfax, Virginia ......March 21st-22nd, 2015   
   "Confections for a Cause" cake show - San Diego California....March 21st-22nd       
                    SoFlo cake and candy Expo! - Miami, Florida..... April 11th- 12th
---------------------------- Sponsored ----------------------------
Welcome to the February issue of Cake Masters Mag
February 2015 – Love Stories Cake Features!
Tutorial: Art Deco Romance Tutorial
Tutorial: Always & Forever Cake Tutorial
Tutorial: Bee Mine Cupcakes Tutorial
Tutorial: Sunset Loverbirds Tutorial
Interview: Dot Klerk, Eat Cake Party
Afternoon Tea – Afternoon Tea in South Africa
Recipes
Cake Spotlight: IncrEDIBLE art, Rumana Jaseel
Elevenses: Ask the Expert, Competitions, Book Reveiws and Bake Clubs
Magazine links:
Get your copy now from: AppStore or www.cakemasters.co.uk
For me there is just too much of this going on right now and it is such a shame. Sure there are a lot of things that have been around a long time or done before but lately these blatant copies are really hurting people especially now with many of them for sale so as the decorators can make a few dollars. So thank you to Kieracakethis for bringing this one to our attention. I think we should all try to be as original as possible. Teaching a class that is not really yours to me is very unethical. These decorators work very hard perfecting their classes and this is just all sorts of wrong but I feel it is happening even more than we really know about.

Shame on them!

If you know who did a design at least give them a  shout out of thanks, that should not be too hard for anyone. For me that is just respect for the other decorator!
CakesDecor News, Stats & Links
January, 6th 2015
We are 24,864 cake decorators making 922,032 comments on 177 304 cakes, 1,897 blogs, 1,070 tutorials and 2019 forum topics.
Editor's Choice Albums: Facebook , Pinterest , Google +
Cake Decor Pros
1762 cake decorating pros / bakeries in 64 countries at your fingertips
Cakes Decor Pros is the world's first and largest visual, location based directory of cake decor professionals. Enter your city and country into the box below and start exploring the finest cake decorators near you. They are eager to hear from you, ready to bake and decorate 
If you are not listed yet.... get subscribed NOW and get visible :) 
9