CakesDecor Gazette: Issue 3.11 / November 2014
Welcome to the Issue 3.11 / November 2014 of the CakesDecor Gazette  Click here to view the CD Gazette archives ~ Click here to view Gazette in web browser Editorial Meet your new editor. Hello Readers Yes, I know you must be thinking...
Meet your new editor.
Hello Readers
Yes, I know you must be thinking "what the heck is going on, that is not the ever so lovely Calli ",  and yes you would be so very right.
If you happened to have missed last months gazette my dear friend has had to step down due to some health issues with her hand. She was so very upset about having to leave as editor but has promised us she will not be going far and we will still continue to see all of her wonderful creations here.
So Michal was ever so gracious to ask if I would fill her shoes. So here I am ready to give it a go and hope I come close to being as good as my lovely predecessors.
 For those that do not know me...I am Sharon Spradley of curiaussiety custom cakes, but you all can call me Shags. I was born and raised in Australia but now live in Tampa, Florida with my lovely American husband and our 4 children.
 Anyone who knows me knows I am always wanting to see awesome new talent get recognized and therefore it is very exciting for me to be here on the best website in the world to find those people. Since my very first post on here 3 years ago, not only have I grown as a decorator but I have also had the privilege to see so many of you grow also. I am so happy to be here and to keep seeing all the magnificent talent that is out there in this most fabulous cake world.
Big hugs, Shags
Sharon:  Profile on CakesDecor | Curiaussiety Cakes Facebook Page
Tutorial Pick for the Month: A great gelatin tutorial by  Ginestra on her 
 how to make a transparent glass effect. Brilliant idea and I am sure many of us will use. 
Have you used one of our tutorials? Why don't you submit it to CakesDecor.com and your creation may be featured in the next Gazette.
Recipe Pick for the Month:  November In the USA means Thanksgiving so I thought I would pick a recipe out that might help those of us that really don't have a go to pumpkin cake.  Pumpkin Goey Butter cake by  Heather
Kitchen Talk:  Are you just new to the cakey world or have been around a while and still always feel you need a little help.... then this new series will be so very helpful. It is by Michelle Green and she talks about some of the most important steps ......Cake Decorating Business . Believe me any advice you can get at the early stages of setting up your business is good advice, especially when it comes from Michelle!
Suggestion Box: New ideas and suggestions are always welcome so please make sure you go to The Gazette Blog post and leave your comments there. As the new editor I have added a new one called Rising Star.
We would love to hear what you would like featured and who you would like us to interview. We value your input and opinions and want to make the Gazette the best it can be.
Have fun coming up with new ideas :) 
Omg,,, there were 124 entries for our Gravity Defying competition and the talent that was shown was off this planet, I tell ya!. I have no idea how you all could choose they were all so wonderful.But as with any competition there must be winners and both of them I can honestly say are the nicest people you could ask to meet, so you all did a great job and I hope these cakes only inspire us all to keep pushing our boundaries as cake artists and always try to go above and beyond what people think is possible.Thank you everyone who submitted a cake and voted.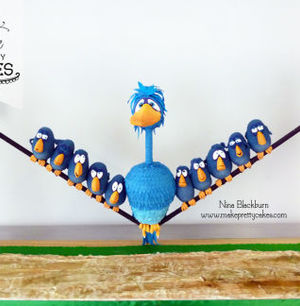 1st place Winner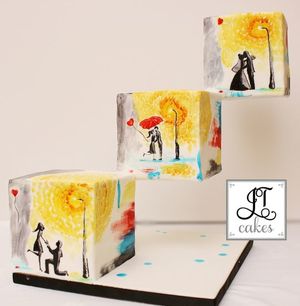 2nd place winner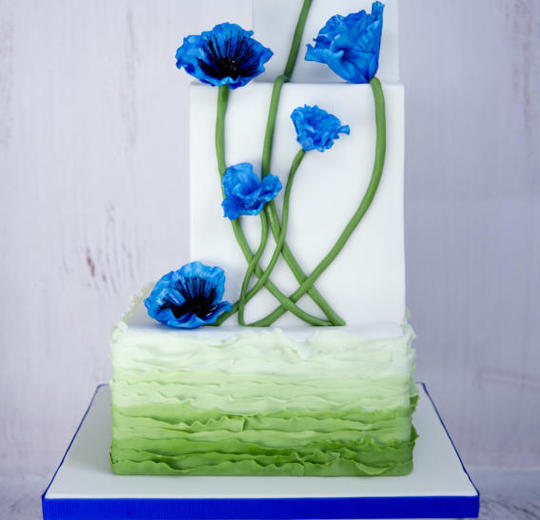 This very talented artist has only been with us since April but I am just so impressed with her work I just could not help but pick her as my RISING STAR for November. I love her classy lines and interpretation of subject and must admit I totally love her tipping tractor cake. I cannot wait to see more of her work.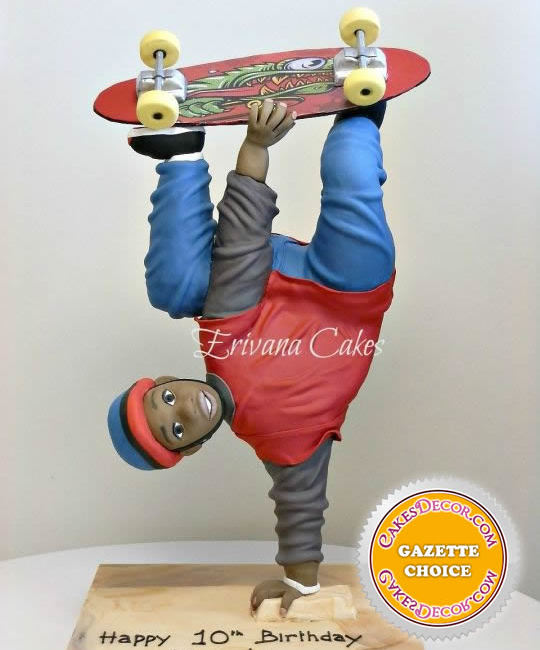 My Editors Choice for October  is... erivana with her
Gravity defying skateboard cake.  This cake just makes you have to look at it again and again. You will not stop asking yourself..." how in the world did she do that". These type of cakes are truly amazing and this one was pulled off to perfection.
Cake Decorator of the Week
The Cake Decorators of the Week for October were...
This year for Halloween there was a new cake collaboration out there called Frosted Frights.
23 wonderful artists came together to "TRICK" or "TREAT" a wonderful piece for Halloween. Some, like me went for the scary side of Halloween with gory creatures that only exist in your worst nightmares. Others went for the more fun aspect that was a little tamer and kid friendly but just as amazing! Either way all the pieces were simply awesome and in total I think this collaboration really captured the full essence of Halloween!
Cake Shows and Competitons for November
We would like to bring you news and information about the many exciting Cake events around the world.

If you know of any Cake shows or competitions in your area, we would love you to share them with us
Cakes International Birmingham
                                                      Birmingham cakes international 

Upcoming Cake Decorating Competitions
               West Tennessee Sugar Arts show and competition
Threadcakes competition is now closed but we wish all of our Cakes Decor members who have entered the best of luck. Here are the first ones I have seen come thru and as always they are totally brilliant!
Cake Masters Magazine - November
---------------------------- Sponsored ----------------------------
40 amazing cake artists from around the globe were tasked with taking us on a journey around the world in cake. Inspired bylandmarks, cultures, mountains, oceans, festivals and personal experiences, this has to be one of the biggest cake projects with such a cohesive travel theme!
The cakes that have been created for the September issue of Cake Masters Magazine are truly breathtaking – far beyond my expectations! The digital version of the magazine has additional pictures for some of the pieces, showing amazing attention to detail - I hope that you take advantage and get an extra cakey fix on your smart phone or tablet by downloading a copy in the AppStore or GooglePlay (see links below) 
Organising 40 cakes artists and 40cakes was no easy task and could not have been achieved without the help from my super admins Tracy Rothwell of  Little Cherry and Avalon Yarnes of  Avalon Cakes– thank you ladies for all your help!
Magazine links:
Get your copy now from: AppStore or www.cakemasters.co.uk
Ingredients:
½ cup flour
¼ cup cocoa
1 cup sugar
1 teaspoon vanilla
pinch of salt
½ cup oil
3 eggs
4oz dark chocolate (120g)
Directions:
Preheat oven to 350F (180C or Gas4).
Line bottom of a 24cm or 9.5in round baking dish (or alternatively use a rectangular pan).
Melt chocolate in a microwave or in a bain-marie.
Beat eggs, sugar, vanilla, salt, until creamy and light in color. Add oil and beat until incorporated.
Sift flour and cocoa over mixture, and whisk.
Add melted chocolate (make sure it has cooled a bit) and whisk until well incorporated.
Bake 30 minutes, remove and let cool completely before removing and cutting. The inside will be very moist and the top will crack.
Tip: If you can line your pan in one piece of parchment paper that goes up the sides, it will be easier to remove later; otherwise, you can flip on one dish, then flip again on serving dish.
CakesDecor News, Stats & Links
November 3rd, 2014
We are 23 137 cake decorators making 823,368 comments on 163,596 cakes, 1,672 blogs, 98 recipes, 912 tutorials and 1,834 forum topics
Editor's Choice Albums: Facebook , Pinterest , Google +
Cake Decor Pros
1762 cake decorating pros / bakeries in 64 countries at your fingertips
Cakes Decor Pros is the world's first and largest visual, location based directory of cake decor professionals. Enter your city and country into the box below and start exploring the finest cake decorators near you. They are eager to hear from you, ready to bake and decorate 
If you are not listed yet.... get subscribed NOW and get visible :) 
22