CakesDecor Gazette: Issue 4.03 / March 2015
Welcome to the Issue 4.03 / March 2015 of the CakesDecor Gazette Click here to view the CD Gazette archives ~ Click here to view Gazette in web browser Editorial Finally we all meet!!! I know for many "Cake Fest" in Louisiana or "That takes the...
Finally we all meet!!!
I know for many "Cake Fest" in Louisiana or "That takes the cake" in Austin , Texas was something some had anticipated for a long time. Many were fortunate enough to have amazing spouses that surprised them with this as the perfect gift.... and oh, man was it worth it!!!
 It was amazing to be in the lobby of our hotel with so many amazing cake artists surrounding us. Everyone just so happy to be with others that understand and get all the things that we also go thru. Our local friends are fabulous but only our cake friends truly understand us and that is why I feel so much closer to them than any others. My first cakey friend dream come true was with the fabulous Julie Tenlen and even though she had just driven 16 hours and me only 12 hours she still looked fabulous!!!!
Each and every person just so happy to be there in an environment filled with talk about what makes most of us the happiest. I know that those of us that went blew up your pages with selfies and yes then more selfies but these times are rare, I know everyone just wanted to make sure they didn't miss a thing.
I called Cake Fest more like facebook fest as most of us know each other best from there. The cake show was wonderful with many gorgeous cakes but honestly not as many as I think there should have been. But with this being the first year and many of us very unsure of the whole flying with cakes part, I still think it was a great show. I am sure the hosts of the show learned many lessons and next year will only get better! Anything new is bound to have hick-ups...
Next year I will do Austin seeing as one of my cake besties lives there but for me this year was worth every penny. I took 3 amazing classes and learned so much. I know Craftsy and Cake made are a great resource for many of us to learn but cake shows really are the heart of it all. So many cake shows are struggling and some have now disappeared...very sad as from someone that has now experienced a big show they are so worth it. If you get the chance to ever go to a show I say do it...they are an experience you will never forget! You will meet new and old friends and have memories and stories for a lifetime!!!!
Big Hugs, Shags xoxoxo
We would love to hear from you in the comments section below and please make sure if there is a topic you would like to hear or talk about let us know also.
Sharon: Profile on CakesDecor | Curiaussiety Cakes Facebook Page
Tutorial Pick for the Month: I love it when people post a tutorial for the first time and especially when the results are so lovely like this cute little picture tutorial on how to make a fondant Raspberry.  Raspberry Pictorial by Maria
Everyone is always looking to learn, so if you have a special technique or a cute little figurine you would like all of us to see, then why don't you submit it to CakesDecor.com and your creation may be featured in the next Gazette.
Kitchen Talk: I know from time to time we all come across a new situation that we may have not encountered before so please let us know what yours is like this great one from Edible Art by Sawsen on what to do when you have a Cake drop off without anyone to sign for it?
Suggestion Box: New ideas and suggestions are always welcome so please make sure you go to The Gazette Blog post and leave your comments there.
We would love to hear what you would like featured and who you would like us to interview. We value your input and opinions and want to make the Gazette the best it can be.
Have fun coming up with new ideas :)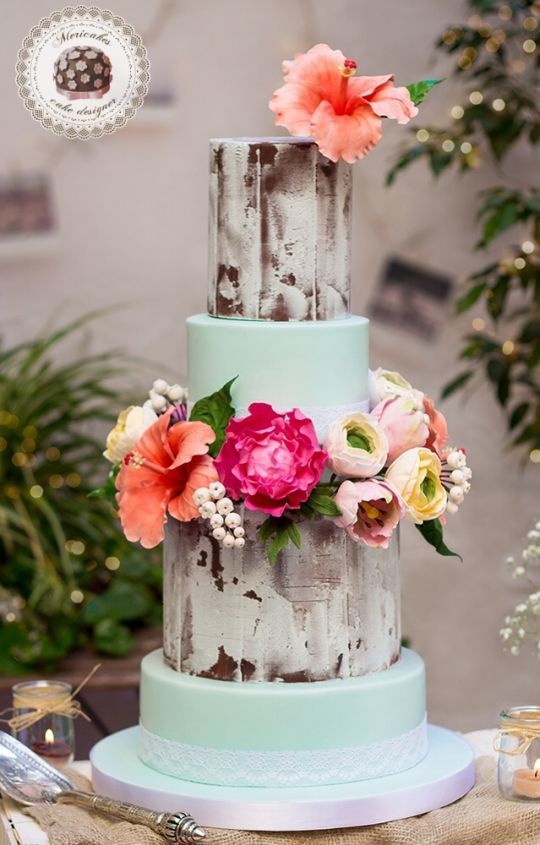 I love a decorator that is super versatile and can go from a 3D sculpted cake to a gravity defying cake to the most elegant of wedding cakes and I keep seeing this time and again with this gorgeous cake artist. After hitting their FB page I now see they are even better than what we see here with so much experience but I am not going to change my opinion on the rising star award because of it. I adore their work and want anyone who has not seen their work to make sure you pop on over and take a look.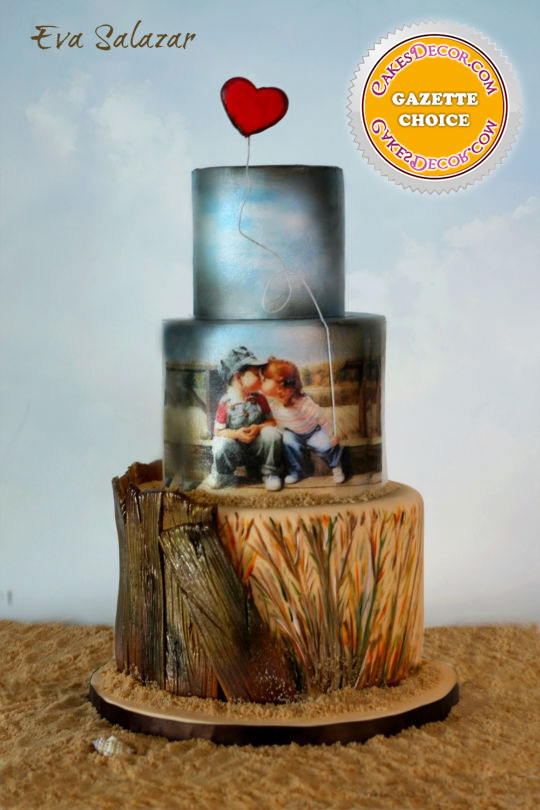 My Editors Choice for February is... Makememycake with her First Love be my Valentine
I am so thrilled to be able to call this artist my friend but as you can see there is a reason I picked this cake. It is so original and tells such a beautiful story. I am just in love with the planks around the bottom that look so amazingly real. It is a cake that just makes you smile and think the fondest of memories when you see it!
Cake Decorator of the Week
The Cake Decorators of the Week for February were...
Great times had by all...I hope we get to all do this again year after year!!!
It was such a brilliant week spent with so many cake friends I only wish we could do it every weekend. Remember these shows are soooo very important to what we do and how we grow as artists. Pushing ourselves to compete and to take classes from our peers...always learning and growing with every chance we get. No, classes are not cheap.... but nor should they be. One thing I have learned over the last few weeks having these teachers in my home is how much time and preparation they put into what they do. Each show of course is different but at many shows the teachers are providing you with everything you need to do that class. Remember theses teachers probably also have all the knowledge of the mistakes you might encounter along the way. Use these classes to learn from the creators of these fabulous creations. If you only learn one tip then that class was worth every penny you spent. Every teacher has something new for you to learn and new techniques as we all do things differently, their knowledge is golden and worth every penny!!!
I honestly wish these 2 shows had of been on different weekends so we could have all attended both shows. Sorry I do not know who to give credit to for these fabulous cakes but I wanted to make sure we shared some of them for you all. So much talent out there and I think that we all need to start pushing ourselves to compete at these types of events so as they continue to grow...too many have had to diminish due to nobody showing up with competition pieces anymore. Lets all kick it into over drive this year and try for at least one show!      
I love collaborations...they allow you to enjoy a piece without any customer expectation! Remember anyone can put one together so if you are sitting back saying " I WISH THEY WOULD ASK ME"  then think up an idea and just ask a few of your cakey friends and some others if you so wish and make your own. That is the great thing about them any one can make one. If you need any help or advice I am here for you or ask anyone else who you might know that has done one. That is the great thing about our industry ...most of us are willing to share!
" Love with no boundaries.
Your future depends on
your capacity to love "
Paulo Coelho
Be My Valentine! collaboration is dedicated to all who would like to be in love without boundaries, without fear or discrimination. We believe, everyone has the right to be loved and be in love freely.
The most sweetest Carnival ever.
An amazing 29 cake decorators, from around the world, together we created these amazing 29 ...sugar creations, from the elegance of the Venice carnival to the colourful South American carnival.
Carnival is a festive 5 days which occurs immediately before Lent, and is celebrated in different countries, with carnival food, floats, lots of colours, masks, costumes... It can be elegant. It can be satirical. It can be colourful. It's a 5 days of fun.
Welcome to this amazing festival!
33 cake artists from all over the world have joined together to create stunning cakes inspired by iconic garments worn at Red Carpet events.
Upcoming Cake Decorating Competitions
National Capital Area Cake Show - Fairfax, Virginia ......March 21st-22nd, 2015
"Confections for a Cause" cake show - San Diego California....March 21st-22nd
SoFlo cake and candy Expo! - Miami, Florida..... April 11th- 12th
Washington State cake show, Everett, WA.... April 25-26th
North Texas Cake show, Richardson, Texas... April 25th - 26th
Cakes decor interview with Ivone Kartadinata!
This lady is one of the nicest in the industry. Ivone is always so supportive and encouraging and even lovelier in person. I felt so honored when she agreed to do this interview as she is one lady I really look up to in our industry and has still stayed so truly humble. When I think of floral cakes only a few come to mind and Sugar Penguin Cakery is definitely one of them. My other 3 I hope to interview later in the year. So here are just a few short questions to help you get to know this lovely, lovely lady better.
1.How did you get started in the cake industry?
It started with a curiosity after a major disappointment when I ordered a cake for my son's first birthday in 2009. It was nice and taste delicious, but it lacked of something for the price that I was paying for... ok, the nose of the tiger fell off and it had funny flubby legs. I was not keen on baking back then, as a matter of fact I was scared! I was very intimidated when it comes to baking, always so scared of what if it doesn't rise properly, it doesn't taste good, etc. I pushed myself by going through many tutorials online and hours of watching youtube. I finally had the courage to make one for my Mom-in-law's birthday where half of my cake didn't come off from the pan properly. BUT, it didn't stop me from trying. I volunteered myself to make cakes and kept on asking for their feedback and tweaked my recipes until I am very satisfied with the result. I then ventured out to wedding cakes as I can spend hours admiring wedding cakes and beautiful sugar flowers.
---------------------------- Sponsored ----------------------------
Welcome to the March issue of Cake Masters Magazine.
March 2015 – Love Stories Cake Features!
Tutorial: Elie Saab Haute Couture Inspired Shoe – Tanya Halas, Cake Heart
Tutorial: Hot Cross Buns Cupcake – Sarah Jones, The Chocolate Strawberry
Tutorial: Rustic Watering Can – Veronique de Groot, Very Unique Cakes
Interview: Janet O'Sullivan Cake Design
Afternoon Tea in Barcelona
Recipes
Feature: The Red Carpet Collaboratoin
Feature: The Sugar Egg Collection
Elevenses: Ask the Expert, Competitions, Book Reveiws and Bake Clubs
Magazine links:
Get your copy now from: AppStore or www.cakemasters.co.uk
A wonderful tutorial on how to make these gorgeous life like Raspberries!
| | |
| --- | --- |
| | |
| | |
I know for most of us we hate the delivery part of what we do. If you are like me, you make your husbands drive so as you can stare at the cake the entire way there even though you know you have made it as sturdy as possible. So you finally get it to your venue and all is good except one thing...there is no one there to sign for your cake to say it arrived safely. Now some of you are saying "I don't have that in my contract" or "should I have that in my contract"....and the answer is probably yes! If no one signs for the cake and especially if we are talking wedding cakes and something then happens to your cake after you leave then you will be held accountable. Terrible I know but that is the truth. I take pictures of all my cakes before pic up or drop off...it is my insurance policy to show that things were in tact upon receiving the goods that were paid for. Contracts are a priceless commodity that anyone doing cakes...especially wedding cakes should have. I would suggest you make this a vital part of your contract and also take pictures even if some one does sign. Taking pictures at your venue is just as important for your portfolio but in cases like this could save your toosh big time. If you have any stories or input concerning this we would love to hear from you. Every persons perspective helps so please come and tell us your thoughts!
CakesDecor News, Stats & Links
January, 6th 2015
We are 25 669 cake decorators making 1,021,530 comments on 182 631 cakes, 1964 blogs, 1,102 tutorials and 2,112 forum topics.
Editor's Choice Albums: Facebook , Pinterest , Google +
Cake Decor Pros
1856 cake decorating pros / bakeries in 65 countries at your fingertips
Cakes Decor Pros is the world's first and largest visual, location based directory of cake decor professionals. Enter your city and country into the box below and start exploring the finest cake decorators near you. They are eager to hear from you, ready to bake and decorate 
If you are not listed yet.... get subscribed NOW and get visible :) 
Tags: cdgazette march gazette ivone kartadinata sugar penguin giveaway
Tampa, Florida facebook.com/pages/curiaussiety-custom-cakes
16 Comments