CakesDecor Gazette: Issue 4.01 / January 2015
Welcome to the Issue 4.01 / January 2015 of the CakesDecor Gazette Click here to view the CD Gazette archives ~ Click here to view Gazette in web browser Editorial One big Family!!! Well Happy new year, lovely people!!! Wow I cannot believe...
One big Family!!!
Well Happy new year, lovely people!!!
Wow I cannot believe another year has been and gone! I hope you all had a fabulous holiday season and had lots of family and friends around to share it with. 
I did get to take a little mini 3 day vacation to Miami in early December to see one of my truly gorgeous best friends Calli Hopper and also meet Eva Salazar and Cynthia Lorow for lunch as well. It was so wonderful to sit for hours with such talented women and just talk cake and know the other person opposite understood totally what you meant. We had many laughs and shared lots of stories while all getting to know each other so much better and making such lasting friendships.
This is what I mean when I talk about Cakesdecor being a family and being able to make great friends. I did not know any of these lovely women until cakesdecor and when I found out Calli was coming to Miami I wanted to reach out to other Cakesdecor members in that area and see if they too would like to meet.
 I have been a member here from almost the beginning and have been able to watch so many grow and also introduce many to the site as well. It is very important we embrace each other and also those who are new. Please do not get stuck in a rutt and only like those who like your page or those that you are friends with. There is so much talent on here and much more coming... it would be a shame you missed seeing their work just because you did not know them.
 Let's not make this like high school where only the popular kid's get all the attention. Let's make 2015 the best year Cakesdecor has ever had and keep sharing the love around. Follow others, leave comments and better yet post more comments on those people who you may not know but love their cake anyways.
Big Hugs, Shags xoxoxo
We would love to hear from you in the comments section below and please make sure if there is a topic you would like to hear or talk about let us know also.
Sharon: Profile on CakesDecor | Curiaussiety Cakes Facebook Page
Tutorial Pick for the Month: If many of you do not get the opportunity to do flowers often like myself, then here is one we can keep for the hopes that one day we will. A well explained "How to make gum-paste poinsettia" tutorial by Petya Shmarova
Everyone is always looking to learn, so if you have a special technique or a cute little figurine you would like all of us to see, then why don't you submit it to CakesDecor.com and your creation may be featured in the next Gazette.
Kitchen Talk:  I love this question as I am sure some of you have something in particular. I did do one cake one time when I sang Abba's song "I do , I do , I do" lol...now tell us yours. Quirky Things We Do
Suggestion Box: New ideas and suggestions are always welcome so please make sure you go to The Gazette Blog post and leave your comments there.
We would love to hear what you would like featured and who you would like us to interview. We value your input and opinions and want to make the Gazette the best it can be.
Have fun coming up with new ideas :) 
The best part of cake decorating is the surprise and the reaction of the customer. What can better bring the light and happiness into children's eyes than a Fairytale Cake? Be sure to submit your entry to our Awards for a chance to win special prizes.
Entry period ends on January 24, 2015 at 6 PM GMT.
Post any kind of tutorial (+Add → New Tutorial) for a chance to win a $100 online gift card from your favorite online shop.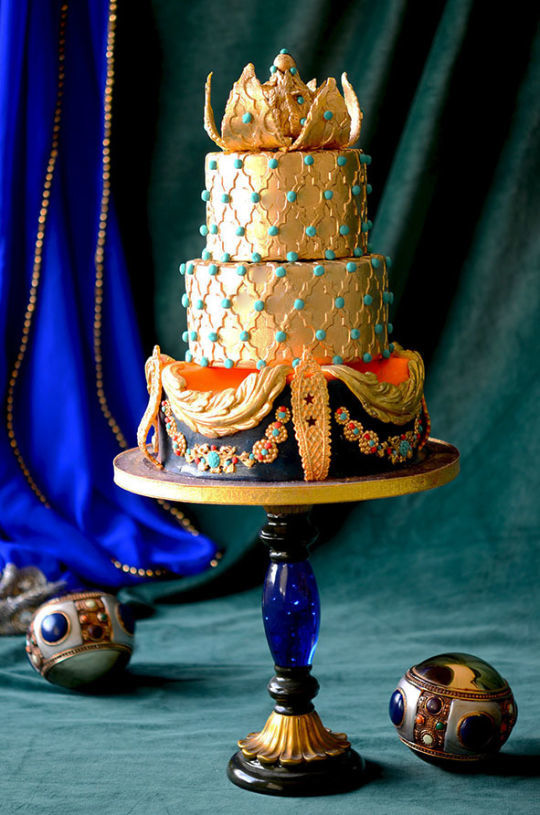 I am in love with all the color and metallics this artist uses. Although they have been on cakesdecor just over a year this decorator proves to be consistently getting better and with some absolutely gorgeous work. I so look forward to seeing more and hope they will post more often as I just adore them!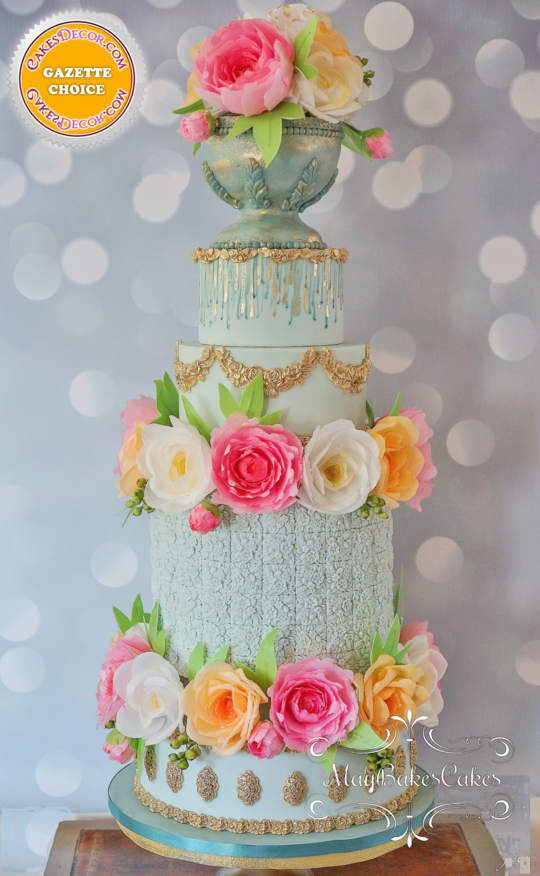 My Editors Choice for December is... May Bakes Cake with her Victoria
This magnificent cake took out Bronze at cake International and for me it is just GOLD winning all the way. I actually have that exact mold she uses on this cake but never once thought to use it that way, brilliant. Magnificent in all it's glory and just breathtaking, so well done!
Cake Decorator of the Week
The Cake Decorators of the Week for december were...
This one really is for the boys and by the boys!!!
This is the biggest all male collaboration so far and was bought together to celebrate the 50th year of the Ford Mustang. Some thought I was crazy just giving them one car, but what I knew was that it was not just 1 car... it was 33 creatively artist minds from 14 different parts of the globe to interpret however they wanted to and some having never even seeing this car before. And look at what they produced, some of the most amazing collaboration pieces ever! There is also a short little video to watch also if you guys have missed it that way you can see all of the other cakes that I did not get to feature!
I have always felt the men get a little bit of a raw deal at times getting seen. I wanted to change that and bring them to the forefront for a little while especially in places like this, dominated by women and sometimes a little clicky....yes we are, I am talking about us girls!
The men jumped in with both feet and really came up with some amazing works of art so I would love nothing more than to share them with you this month and highlight these fabulous men just one more time. Thank you my sweet REVHEADS, for your hard work and dedication to these pieces of art and making this the best experience ever!
I honestly could not decide which ones to show as I loved them all so I ended up throwing them all in a hat and drawing out names. I hope you all choose to go look at the others this is a fabulous group of men that really did go above and beyond!
NEW!!!! Collaboration Station
Since collaborations are becoming all the rage and I truly do not want anyone to be left out as I think every single one is important and should get exposure, I thought why not add a little piece in here for those to be seen. Sorry I cannot add every piece as I think they are all worthy!
31 New Zealand sugar artists celebrate film works of Sir Peter Jackson!
Home to over 100 Bakers from all over the globe. All of whom came together to create this Sweet little Christmas Village. to raise money for 3 very deserving charities!
They are a group of talented sugar artists from around the world who have joined in a collaboration to celebrate the tradition of giving lavish gifts in the twelve days of Christmas!
Cake Artists from around the globe have come together to create a super sweet collaboration to Celebrating 50 years of "Charlie and the Chocolate Factory"
---------------------------- Sponsored ----------------------------
Welcome to the January issue of Cake Masters Magazine.
This month's theme is rainbows so, as you can imagine, it's a very colourful issue! Our first tutorial is a beautiful rainbow themed wafer paper flower tutorial from Angela from The Sweet Little Cakery. The use of wafer paper (rice paper) decorations on cakes is certainly becoming more popular and this tutorial shows you how easy it is to make simple circular flowers and roses. Our next tutorial is from Molly's Creative Cakes and is a vibrant jungle parrot. Molly takes us right through the steps from carving the body, to making the beautiful feathers. Molly shows us how to get a great feathered effect using a flower cutter.
We have a brand new feature in the magazine, called Elevenses, which has book reviews, a spot the difference competition where you can win a fabulous prize from Cake Frame, Bake Club reviews and our brand new "Ask the Expert" feature. In the chair this month is Dawn Butler, from Dinkydoodles, who has answered some cake decorating and baking troubles from our readers. I do hope you enjoy our new feature, we had so much fun putting it together!
We are so pleased to interview two fantastic cake artists, Rose AKA Rosie Cake-Diva and Karla from Sweet K (Italy). I love conducting interviews with cake artists who are just brilliant at what they do. We speak to them about their world of cakes and showcase their excellent work.
Magazine links:
Get your copy now from: AppStore or www.cakemasters.co.uk
I love this question from Toni (White Crafty Cakes). I think we all have quirks of some kind. I am sure we would all love to hear what some of yours are. I like silence like ...dead silence! But I live in a lively house, so I would not say I get that very often,lol I really hope you all pop on in and share with us. Facebook has got to be not as nice a place as it used to be so many of us are using Cakesdecor now as our friendly go to spot and we would love for you to join us!
CakesDecor News, Stats & Links
January, 6th 2015
We are 24,258 cake decorators making 922,032 comments on 172,703 cakes, 1,835 blogs, 1,030 tutorialsand 1,944 forum topics.
Editor's Choice Albums: Facebook , Pinterest , Google +
Cake Decor Pros
1762 cake decorating pros / bakeries in 64 countries at your fingertips
Cakes Decor Pros is the world's first and largest visual, location based directory of cake decor professionals. Enter your city and country into the box below and start exploring the finest cake decorators near you. They are eager to hear from you, ready to bake and decorate 
If you are not listed yet.... get subscribed NOW and get visible :) 
Tags: cakesdecor gazette cdgazette
Tampa, Florida facebook.com/pages/curiaussiety-custom-cakes
14 Comments