CakesDecor Gazette: Issue 4.09 / September 2015
I hope you all love this months gazette as much as I did putting it together! So many wonderful collaborations to share along with some of the best top 5 cakes you could imagine. Oh and did you see the cake decorators of the week this month, OMG...
I hope you all love this months gazette as much as I did putting it together! So many wonderful collaborations to share along with some of the best top 5 cakes you could imagine. Oh and did you see the cake decorators of the week this month, OMG the talent on cakesdecor is just off the charts, no wonder we are one of the most favorite cake places people love to come and share with. For anyone new to the site we welcome you with big open arms and warm hearts. We love seeing new decorators join us and thoroughly enjoy seeing all you creations. We like to think we are a little like a family here on Cakedecor and look forward to you all becoming part of that family. Have fun reading my lovelies I hope you enjoy it!
Display Cakes for off site locations
So as part of the upcoming Americas cake and sugarcraft fair and also living so close to Orlando where the show is going to be held I was asked if I would like to be one of the people to put a display cake in a close by restaurant to the convention center where the show is being held. I thought it was a fabulous idea for organizers to try and get the hype going. So we were given a restaurant and each restaurant wanted a cake  designed around there restaurant as much as possible. So I had a few pics sent to me and I had pretty much freedom of design from there.Now I have never done a display cake for another location other than my own space before so once again I am writing this as a learning experience, or a maybe more of a  "what not to do" piece,lol....
So cake done, put it in the back of the car, not boxed ( mistake #1), as we got up the road a bit it started to rain, so I stop and pick up the only umbrella available... now using the word umbrella Is a stretch , my undies were bigger than that thing, but they were not an option, hehehehe. We get to the venue almost 2 hours away, and there is no parking, we drive until we find a side alley to temporarily park, still quite a ways away from restaurant. Get out and start walking and of course it starts raining again and the kids try to help with the pitiful umbrella but without success, Get to venue and put my cake in place, which was on the bar which I knew about, but then come to find out that the huge window it is sitting in front of is a serving window for drinks to the outside and that they leave it open most of the time ( mistake #2). So great, my cake will literally be exposed to all the hot humid Florida tempreatures, hell it might as well have been sitting outside Are you kidding me, it is Florida people ,we don't sit cakes in those conditions if they had told me anything about this fact I would have sealed it. The humidity was so intense that just from the walk from the car to the restaurant had made some of my wafer paper prints(mistake #3) start to peel off the cake.
So I told them I would be back next week with a full repair kit and new prints done on real edible paper along with a fake flower and something to seal it with. Within 2 days I was contacted to say the flower had already sagged off the cake ( mistake # 4) and more of the prints were coming off. That flower had sat in my house for over 7 months and made of gum paste but 2 days in  that restaurants conditions and it was done and so was my cake apparently. So off I go next week with kit ready to fix it...well what a joke, the cake was a total disaster when I arrived, all frames around the pics are curled up or fallen of, the top tier a total mess where people had touched it and the humidity had made the color transfer to their fingers which then they put back on the cake and the cake board that was sealed also a total mess. Needless to say that cake was going home with me.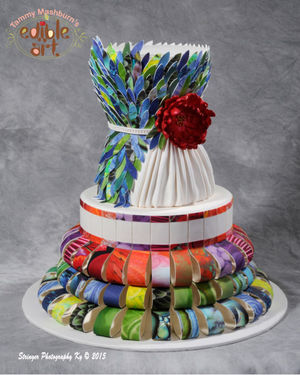 Before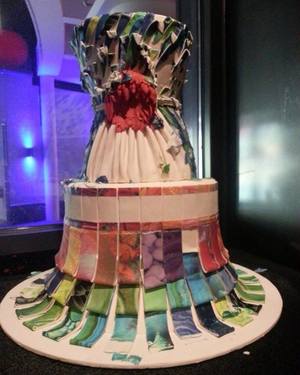 After
So here are my tips.... make sure you know exactly where your cake is going to be placed at location and the amount of room they are giving your cake. Check to see if there will be a maintained temperature at all times. Make sure it will be placed in a safe location if possible. Use a box you never know what conditions will be when you get there. Seal all display cakes no matter what, including sugar flowers. If sugar flowers really aren't necessary use fake ones, just make sure you can create them in sugar. Know if there is parking at venue that is close by. So pretty much a lot of the same things you would do for a wedding cake, don't get complacent just because it is a display cake, there are certain things even they cant withstand.
 I am also showing you my dearest friends cake, Tammy Mashburn who also had her cake in a different restaurant, her original restaurant would not even accept her cake as her cake was bigger than the space they had allocated for it ( mistake #5)  so we found another restaurant last minute, so another tip know the size space you have to work with. The restaurant would not even allow her cake to be removed even though it now looks like this because of no temperature control at night.
So I know this was a long post but I hope this was helpful...even if you learned one small tip I am happy.
Big Hugs, Shags xoxoxo
We would love to hear from you in the comments section below and please make sure if there is a topic you would like to hear or talk about let us know also.
Sharon: Profile on CakesDecor | Curiaussiety Cakes Facebook Page
Tutorial Pick for the Month:  With kids going back to school I thought this was the perfect tutorial by CakeyCake with her perfect little edible crayons and yep no mold used!
Big Thank you....Thank you to all our members for being so wonderful and posting their tutorials only in the tutorials section it has made things so much better for everyone. You guys really are the best, big, big hugs!
Kitchen Talk:  With everyone wanting to sue over just about anything these days it is so important we all start making sure we cover our backs the best way possible. I think it is time we all became Cake Decorating tasks you hate to do.. Time to protect ourselves and our families and make sure we are doing all we can to be the best we can be, especially in business.
Suggestion Box: New ideas and suggestions are always welcome so please make sure you go to The Gazette Blog post and leave your comments there.
Have fun coming up with new ideas :) 
I have been admiring Dirk Luchtmeijers work ever since he started on cakesdecor in May 2104.His work is always so truly original and fun , always putting a smile on your face when you see one of his pieces. Although he is already a quite accomplished decorator he has only been caking for 2 1/2 years so I think this award is truly fitting for a person oozing gthis much talent.
Cake Decorator of the Week
The Cake Decorators of the Week for August were...
With so many collaborations now I cannot find every cake so if you would like to be seen here in the collaboration section of the Gazette could you please have the word "collaboration" in the title of your piece and  the title of the collaboration you are involved with! If you do not have these things I cannot guarantee I will see your cake. Also not every cake will get seen, I pick an array from across the board, sorry for those that don't get picked it doe snot mean your piece was not worthy .
Welcome to an International Cake Collaboration celebrating Friendship Day through an incredible array of cakes! We were task...ed with using an artist's cake as inspiration for our very own masterpiece. We truly hope you enjoy and make sure you tell your friends how much you really care for them!              
Singapore's 1st online collaboration sees 19 of Singapore's most passionate and talented bakers gather to celebrate our nation's 50th Birthday in cake!
20 cake artists from around the world came together to create a special cake collaboration inspired by Zuhair Murad's fashion.
Every cake designer had to choose one inspirational dress from Zuhair Murad's collections and translate it into a cake art.
A world of our dreams where rivers are made of chocolates, gardens filled with lollipops, tingly she...rbet waterfalls and gumdrops grow on trees. Just what we dreamt of as kids !
Presenting to you, India's Cake Artist Network's(ICAN's) 2nd edition of cake collaboration, "LOST IN CANDYLAND", with 13 awesomely talented cake artists across India.
The sugar fraternity comes to life with 25 super talented guys to bring those video games that we loved as kids and now the games that our kids love, to life in sugar art!
Ladies shoes never looked this amazing!
Welcome to our community of International sugar artists spanning the globe, joining forces to bring to you jaw-dropping, amazingly creative, one-of-a-kind, never-seen-before styles made from sugar, cookies and cake! 
 
Upcoming Cake Decorating Competitions
The America's Cake and Sugarcraft Fair, Orlando, Florida, USA...September 18-20, 2015
IBA , Munich, Germany....September 12. – 17th 2015
Oklahoma State sugar art show, Oklahama City , USA...October 3rd-4th, 2015
Cake international  Birmingham, UK... November 6-8, 2015
I got to know this amazing lady in the "mother's day" collab I did last year and since then we have become great friends. Every cake she does is just gorgeous and she keeps me so inspired by all her lovely techniques she uses and every single one of her cakes are so different from the last. She is such a giving lady to the community and is always the first one to comment or encourage you. So I hope you all enjoy getting to know her better as she really is one of those people you just like to have in your life and that we need around us in this ever so crazy cake world we choose to be in. To see full interview CLICK HERE!
So many of you asked Cakeycake which mould she used to make her sugarpaste crayons so she thought she would put a quick tutorial together for you. so check it out it is super quick and easy and will take  that school themed cake or coloring book cake to the next level with these perfect little crayons!
OMG we all have that dreaded task that just makes us cringe thinking about it even though we know it must be done to make our cakes possible. For me it is the baking....aaargh it is just so daunting, I consider myself a decorator not a baker but cake is what it takes to do what we do so baking is just something we all cannot skip, unless you are one of the many cake dummy decorators that seem to getting around a lot these days, lol. So what is the one thing you wish you had enough money to hire someone else to do, we would love to know so as the rest of us don't feel like the only ones, hehehe. Thank you to Slice of Sweet Art for bringing up this great topic!
CakesDecor News, Stats & Links
Aug 30th 2015
We are 29,153 cake decorators making 1,303,140 comments on  208,308 cakes, 2,515 blogs and 1,428 tutorials, 2,480 forum topics.
Editor's Choice Albums: Facebook , Pinterest , Google +
Cake Decor Pros
1878 cake decorating pros / bakeries in 65 countries at your fingertips
Cakes Decor Pros is the world's first and largest visual, location based directory of cake decor professionals. Enter your city and country into the box below and start exploring the finest cake decorators near you. They are eager to hear from you, ready to bake and decorate 
If you are not listed yet.... get subscribed NOW and get visible :) 
cakesdecor gazette shag's editorial september gazette top 5 cakes for august rising star cdgazette
9