This was my other entry at Cake international the Wedding cake category that I also received a Gold Award (talk about being in shock!!) The Bottom layer is a new technique – ruffle strips what ever you want to call them. These are not wafer paper as many thought, I actually used Renshaw Flower & Modelling paste which I got so thin to achieve the look.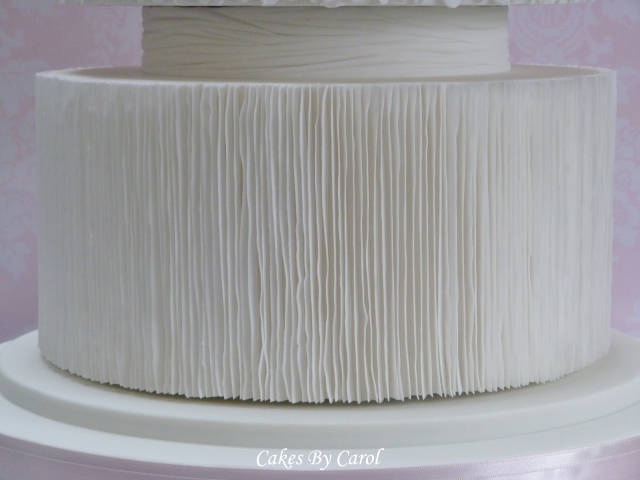 These took me many many hours but I was so determined to do something different and was so very pleased to get to the end as in finish the tier!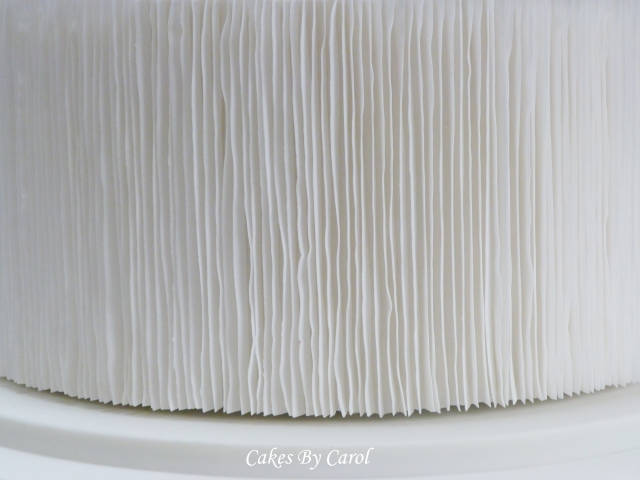 I didn't want the ruffles to touch the board but little did I realise getting my chubby little fingers that close to it to trim them was quite difficult.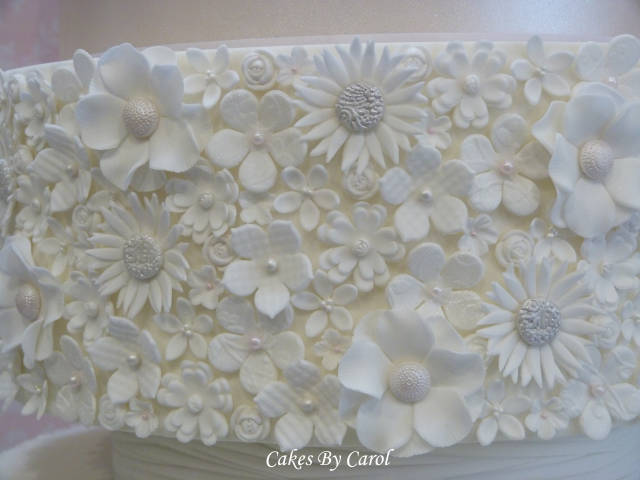 Close up of the flower tier. This had almost 300 flowers on it! I wanted to use some different techniques so that they all looked different in their own way but also wanted to tie them in with the rest of the cake. The pink centres of the large blossom matched the lustre tier and ribbon on the board. The medium blossom print matched the 'garter' frill on the lustre tier for this I used the Purple Cupcakes 'Vintage Vine' rolling pin. The other medium sized 5 petal flower again Purple cupcakes – Stripes embossing folder and turned it the other way for the square look. Silver looking button is the Antique button mould from FPC Sugarcraft Ltd and I also used their 'tiny decorations' mould for the small rose and the centre of it for the centre of the double flower.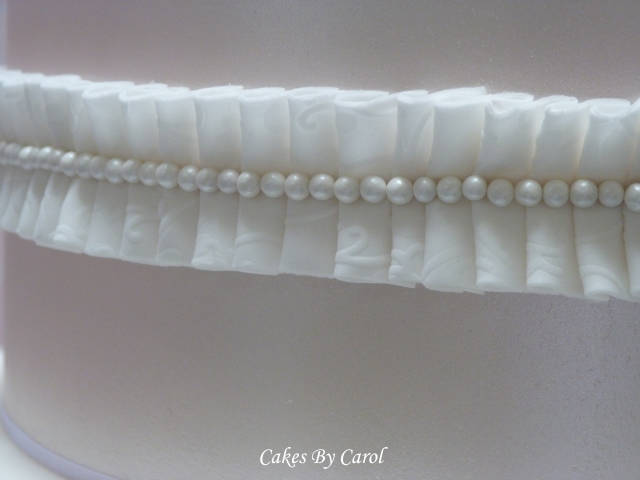 The 'garter frill' as everybody refers to it. When I iced this tier I had measured a centre line out for this garter so you can imagine my frustration when I had placed it on and came down the next morning to see that it was 'perfect' as in PERFECTLY straight. We are our own critics and nobody else could see that it wasn't straight but I knew it wasn't so in my eyes and epic FAIL!! Nothing I could do about it now :( So you can imagine when I sat down in front of the judge to get my feedback and she said……… 'beautiful stunning cake but that frill bit watch that as it wasn't perfectly straight and it cost you a placing' Gutted in one way but I still got a Gold.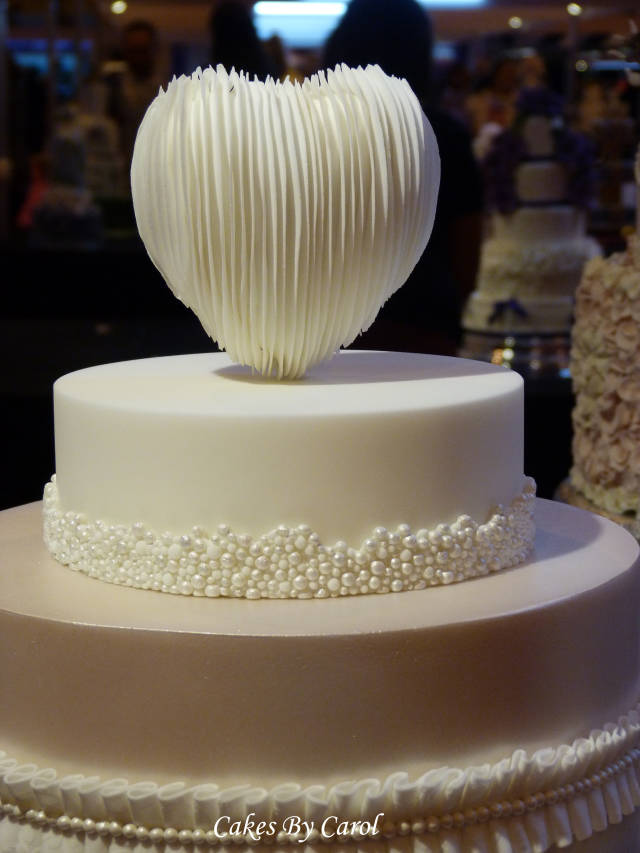 To finish it off I thought I'd do a heart shaped topper. Little did I know it wasn't going to be as straight forward to place those ruffles on!
I hope you enjoy looking at it, I have thoroughly enjoyed making it and am still overjoyed at receiving a Gold for it.
Thank you for looking
Cakey love
Carol xx