Cake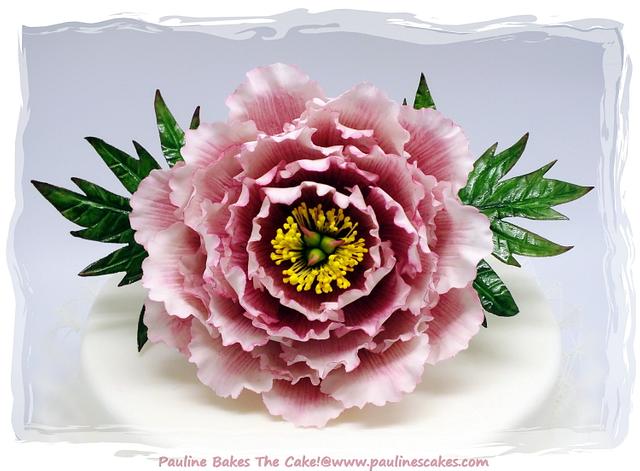 Polly's First Sugar Peony!
Continuation of the misadventures of Polly, the 'Non Flower' cake artist…
You wouldn't believe it! Polly took more than two weeks to complete this sugar Peony. First, she only had those artificial looking pearl tipped stamens and had to make her own by snipping off the pearls tips and dipping each stamen into royal icing. Next she didn't have something called a 'silk veining tool' so she had to find an alternative method by first, veining the petal with an orchid veiner and then frilling the edges with the flat end of the Dresden tool. Being the 'non flower person' that she is, she took forever before she could make a decent looking petal and wasted a lot of flower paste in the process. After that, she kept falling asleep during the dusting and binding of this sugar flower. But thanks to the encouragement and support of many cake friends (from around the world) who kept her awake, Polly made it at last and wants to put on the kettle and invite her friends over for tea to celebrate her first and hopefully, her last sugar peony!
P/S: The above story is the truth and nothing but the truth!
I wanted to make this Chinese Peony in conjunction with the Chinese New Year celebrations many months ago and had bought the cutters at the beginning of 2014. Being the procrastinator that I am, I didn't get down to doing it until now. Well, as they say, "Better late than never!"
Thanks fo looking and for reading my story! :)
64