CakesDecor Gazette: Issue 4.04 / April 2015
This months gazette is out so make sure you take a peek and see just some of the brilliant cakes that have been shown to us this month. There is also a fabulous interview with the amazing Serdar Yener that I think is a must read, a great little...
This months gazette is out so make sure you take a peek and see just some of the brilliant cakes that have been shown to us this month. There is also a fabulous interview with the amazing Serdar Yener that I think is a must read, a great little tutorial on Shaun the sheep and friends and some cakey topics that we would all like to hear your input on. Keep posting your cakes lovelies you just never know when your cakes or tutorials will end up in the gazette. : :
Should we enter cake shows???
So many of us cakers have asked ourselves this question, " Should I enter the upcoming cake show in or near my area?"  So here is my take on it and then I will leave it with you to make up your own minds.
This coming year has bought about many opportunities for me to compete in a cake show, 3 in fact. The first one, well I had good intensions but failed to even get started,lol. So here I am again just a few days away from another cake show and this time I decided yes, I would compete. All kinds of things have gone wrong and I am still not done, but I can honestly say I am excited about it. I can't say 'I am not hoping to win that would be a lie, I think we should all be trying to win. The time and money we put into these pieces is extroadinary and then the cost of getting there and staying at a near location can be quite expensive so I think for me everyone should be putting their best work forward, prize money can really help off set our costs and again it is a competition.
I used to think I had to be a pro for this type of thing but I am learning that is just not the case and now I probably wish I had of entered these shows sooner as now I have to register in a higher category and yes against those I actually consider pro's. But honestly I just want to push myself further, get feedback from those in the industry that I respect and also get my work out there for others to see and in person, not just on a computer screen.
I also firmly believe we should be wanting to keep these shows alive and they wont thrive without the competition side of things. How will they sell tickets to these shows if no one is competing, then it is just classes and that to me would take lots of the fun out of it. I loved seeing all the entries at cakefest and I loved hearing from my friends at 'Austin takes the Cake', 'The National cake show' and 'Cakes International' about their wins and their pieces. These cake shows and competitions keep us in touch with what is new and upcoming and also allows us to venture out of our comfort zones and push our cakes to another level.
I can tell ya I am scared...I don't do string work, or heck for that matter have never piped a border and I know I am up against some people that can do those things brilliantly and also a few friends whose work I truly adore.  I just want the experience, and getting feedback from the judges will be worth its weight in gold. 
I think if you have ever spoken to someone who has competed that they would tell you it is worth it. I will say the rules are not always clear so make sure if you have any questions make sure you ask before you do your piece. Maybe find others in your area that might want to go, that will also help with cost and make a trip out of it and make a new friend also. Talk to others once you get there, I am sure you are not the only other one scared to death.
So yes I am excited and I will keep you posted, but really I just want the experience. To be in a room full of my peers, full of others that totally get the all nighters and endless emails for Minecraft cakes for $40. These things are priceless... so for me yes we need to be competing, we need to be filling all those tables with as many cakes from as many different cakers as possible. Enter the beginners level and work your way up to the expert category, let's keep these shows alive and keep bringing these teachers to our areas so as we can keep learning.
 I challenge you all to do just one this year, why not... what have you got to lose?  Heck, start by entering the cakedecor awards #2 : Rainbow cakes competition that is running right now and use that as a starting point.Be brave we will be there to support you all the way! I guess there maybe a part 2 to this next month after I have actually done one, hehehe......
Big Hugs, Shags xoxoxo
We would love to hear from you in the comments section below and please make sure if there is a topic you would like to hear or talk about let us know also.
Sharon: Profile on CakesDecor | Curiaussiety Cakes Facebook Page
Tutorial Pick for the Month: Check out these cute little guys. I just loved them and you get 3 in one tutorial you have got to love that! Thank you Petra for all your wonderful tutorials and this one of Shaun the sheep and friends is one of my favorites.
Everyone is always looking to learn, so if you have a special technique or a cute little figurine you would like all of us to see, then why don't you submit it to CakesDecor.com and your creation may be featured in the next Gazette.
Kitchen Talk: I know from time to time we all come across a new situation that we may have not encountered before so please let us know what yours is like this great one from Edible Art by Sawsen on what to do when you have a Tasters......To charge on not to charge...!
Suggestion Box: New ideas and suggestions are always welcome so please make sure you go to The Gazette Blog post and leave your comments there.
Have fun coming up with new ideas :) 
We are getting closer lovelies so don't forget to go on and take a guess, you never know you might actually win.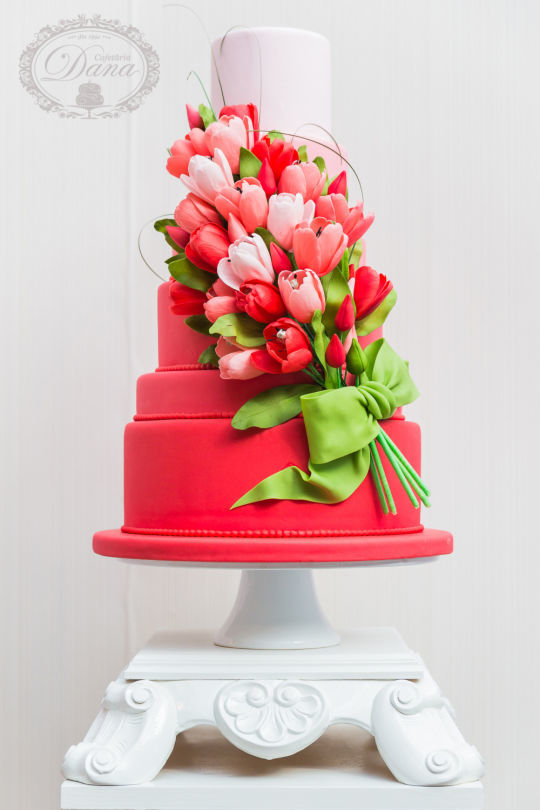 With amazing work like this how could I not make them my rising star for this month. Their work is always super gorgeous and simply top notch. With beautiful bouquets that you can probably think you smell cause they look so real, to a cute kiddie themed pirate cake they have what it takes to take on the world that is clearly obvious.
My Editors Choice for March is... Cake My Day with her Fire Bird
I am still picking my jaw up off the ground after seeing this one. It really is just an amazing piece of work and gravity defying genius. My hubby has never even got a cake so to think that she made this for her husband ....well that just blows my mind. I hope he at least helped make the structure,lol! Wonderful job, and a true masterpiece in my opinion.
Cake Decorator of the Week
The Cake Decorators of the Week for March were...
I am so jealous of all of you over on the other side of the pond that get to go to these events as they are so amazing. My promise to myself is that in my life time I will get to go to at least one of these events and see all my lovely friends from over on your side of the world. I must say I am so glad the ever so lovely Rhu Strand got some well deserved recognition for her amazing piece of art, Lola the sugar showgirl which awarded her Best in show, that is an amazing feat and was one of the most realistic pieces I have ever seen, all the way down to the fine definition in her knees...simply mind blowing as far as I am concerned.
I love collaborations...they allow you to enjoy a piece without any customer expectation! Remember anyone can put one together so if you are sitting back saying " I WISH THEY WOULD ASK ME"  then think up an idea and just ask a few of your cakey friends and some others if you so wish and make your own. That is the great thing about them any one can make one. If you need any help or advice I am here for you or ask anyone else who you might know that has done one. That is the great thing about our industry ...most of us are willing to share!
 35 of the most talented Spanish designers got together to put their very first collaboration together called  "Spring Fable". Artists were inspired by fables and legends celebrating the arrival of spring, the tales could be true or made up and I really think they did just an absolutely amazing job!
The Baking Dead is a collaboration consisting of 50+ cake & sugar artists celebrating the hit AMC series The Walking Dead and helping to spread the word about Domestic Violence Prevention and Awareness.
" Old Curiosities" Cake Collaboration
33 cake artists from all over the world have joined together to create stunning cakes inspired by iconic garments worn at Red Carpet events.
Upcoming Cake Decorating Competitions
This month I am so happy to bring to you my interview with the amazingly talented Serdar Yener some of you might know him better as Yeners Way from his fabulous tutorials, he is located on the gorgeous sunny Gold Cost , Australia just minutes from where I vacationed as a kid every summer.
I find him a very fascinating man with so much knowledge just wanting to burst out of him. I love how he has mastered so many mediums  such as pastilage, fondant, sugar, chocolate and margarine ...using  all of them to form the most magnificent of handcrafted art pieces you could wish for. I hope you all enjoy just getting this brief peek into such a great sugar artist, it is a great read and very much worth your time so please click here to read more!
These 4 little guys just can't help but put a smile on your face!
I think this is such a good question and many will have differing opinions, I would think the answer is yes, but what is everyone else saying.
 One of the best pieces of advice I was ever given for wedding cakes was to make sure you have a "wedding cake contract". Make sure you put your tasting policy in there also. Many charge for testings but then will take that cost off of the cake if they then purchase the cake with them. Others do not charge, unless more than 2 people tasting or more than 3 flavors. And then , well some just don't charge at all but this is a great conversational point for those of us doing wedding cakes so please pop in and help The fairy cake mother with her decision!
CakesDecor News, Stats & Links
January, 6th 2015
We are 26 462 cake decorators making 1,081,632 comments on 188 134 cakes, 2105 blogs, 1,183tutorials and 2,205forum topics.
Editor's Choice Albums: Facebook , Pinterest , Google +
Cake Decor Pros
1856 cake decorating pros / bakeries in 65 countries at your fingertips
Cakes Decor Pros is the world's first and largest visual, location based directory of cake decor professionals. Enter your city and country into the box below and start exploring the finest cake decorators near you. They are eager to hear from you, ready to bake and decorate 
If you are not listed yet.... get subscribed NOW and get visible :) 
Tampa, Florida facebook.com/pages/curiaussiety-custom-cakes
13 Comments