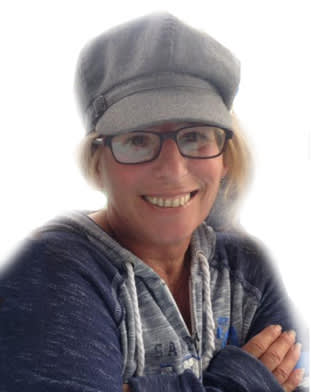 Lori's: CakesDecor Profile | Website | Facebook | Instagram
Interview
1. Tell us a little about yourself, family, where do you live and what did you do for a living before making cakes if anything?
I have lived in San Diego, California for the past 15 years. I am originally from Massachusetts where I was a Software Specialist and worked for the TJX companies. When I moved to California there were no tech jobs available so I ended up managing a Construction Company and then onto a Plumping Company and got stuck there until I had enough nerve to finally take on my own cake business with the help from my amazing supportive family.
2. How long have you been doing cakes and why did you get started in cake decorating… was it by accident or did you always have a passion for it?
Thank to my Mom I have always loved baking since I was little girl. There is nothing as good as Moms homemade chocolate cake, nothing! I made a few wedding cakes for friends/family back in the day but discovered fondant just about two years ago now and just fell madly in love. I was labeled as the doodle queen when I was younger as I would draw or write on anything I could get my hands on, including my closet door ( My Mom was thrilled as you can imagine). I have always had a passion for art of all kinds but cake decorating has been what was missing I feel like I finally found myself.
3. Is there one tool you cannot live without and one you don't have yet but really want?
My ruler, it is mandatory that I have my ruler. If misplaced I have a minor panic attack until it is found. A tool I would love to have is a sheeter. I couldn't imagine how much easier life would be with a sheeter.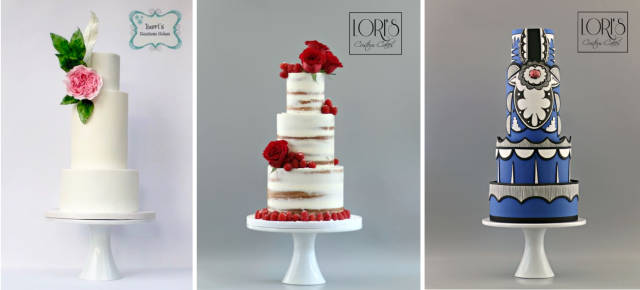 4. What part of making cakes do you like most and least?
I love most steps really. I love the process from icing the cake and on. Icing a cake is so soothing to me I could literally do it all day. Once the designing process begins that is all I see until it is done. I love the whole creation process of something from nothing. There is nothing more inspiring than a blank canvas. My least favorite part is the dishes!
5. Tell us one thing about yourself that many of us might not know already.
I love playing the guitar. I am obsessed with acoustic guitar. My Dad taught me from an early age so I used to sit in my room for hours practicing and torturing my mom in the process. Although no matter what horrible sound came out of my room she always said it sounded beautiful. Bless her heart! I have a new beautiful guitar I haven't had time to break in but someday I will start on that journey again in my free time.
6. When creating a cake what would you say you use for inspiration the most.
I like to google the subject, not of an image but of how it came about. I like to read up on know how things originated and understand how they got to be this gives me inspiration of what I want to do in the design. Even the simplest cake can be unique if you really know about the subject matter. I just personally think it gives a piece more depth.
7. Do you have a bucket list of things you would like to do and if so what might one or two of those be and it does not have to be cake related?
Oh it is a very long list. With cake decorating I feel as if I just dipped my toe in the water and cannot wait to jump in. A bust cake is at the very top of the list. I am so intrigued by them and how much you can capture in emotion with these pieces. As for not cake related I would love to travel I have a long bucket list of places and things I would like to see and experience.
8. What would you say has been your biggest cake challenge to date and if you could have a do-over of that cake would you want too and what about it would you change?
I think that every cake is a challenge and I love a challenge but by far the biggest challenge was a recent open top jeep cake. I would do every step of the cake differently. It was learning curve and quickly discovered what would not work. I really like to wing designs but this one is not one you should wing. Car cakes are not easy! I would love to do this one over with a plan and on a grander scale.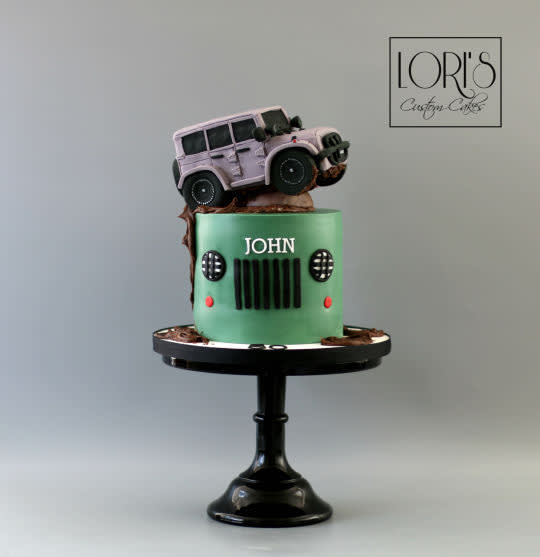 9. Is their one technique or sugar skill that you have not tried yet but really would like to learn?
I would love one day to take a pulled sugar class although I don't know if I have the patience but I would love to give it a try.
10. What is your favorite cake flavor you like to make?
Wedding white cake with peanut butter and jelly filling! Oh my goodness it tastes like a PB&J sandwich. Oddly enough I always have plenty left over to munch on after making this combo.
11. Do you sketch your cakes or just wing it and if?
I am a wing it kind of girl. I prefer to create as I go and see where it takes me this is the process that I love the most. This is hard to explain to customers who would like a sketch first. My favorite kind of customers say … Here is the theme and budget, surprise me. Fortunately I am getting more of those recently.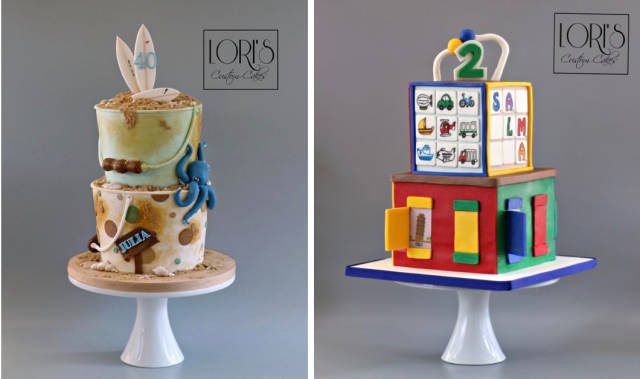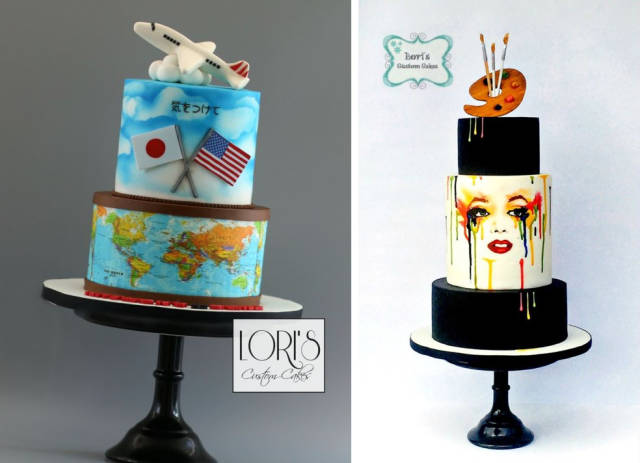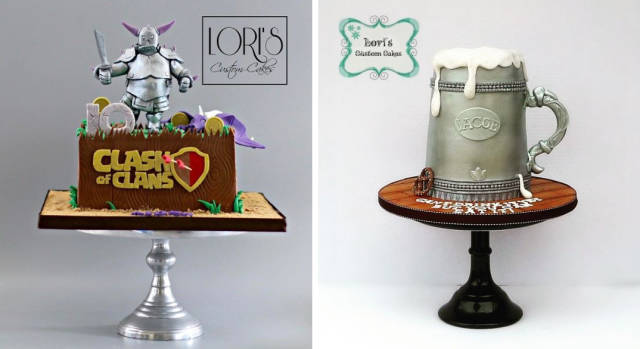 12. For anyone just starting out what would be one piece of advice you would give them?
Have patience and practice, practice and practice some more. If you are not good at something at first it does not mean you cannot learn how to do it. There is always more than one way to do things do what works best for you. I look back and one of my first posts on here was asking help on covering a cake…and how I could not cover a cake to save my life! Now it is one of my favorite parts and the quickest part of the whole process. I actually enjoy it now.
13. What's the best lesson you have learned while making cakes so far?
To not give up……never give up! Keep on keeping on.
14. Do you have one significant cake that you can call your favorite so far in your career?
I really do not think I have made my favorite yet. There are a few cakes that I am proud of for different reasons but I do not have a favorite I have favorite 'parts' of cakes. Maybe in five more years or so I will have a better answer and say I have a favorite as of now I have bits and pieces. I do rather enjoy the collaboration pieces as they have such a strong emotion attached to them.
15. And one crazy one just for fun…If you could go anywhere in the world where would you go and why!
I would go to the UK! I feel drawn to it really. Maybe it has to do with the fact that I have many cake friends and Icons I would love to meet that live there :).
Lori Ann Maloney has been a valued part pf our family for the last 2 years and I can probably say she is one of our members who I have seen the most growth out of. Her work keeps getting more stunning with each cake. Lori Ann is always so supportive of everyone here on cakes décor and we are so proud to call her part of our loving family!
Lori's Cakes