Interview #40: Paul Joachim a.k.a. The Chocolate Genius
Paul's CD Profile | Website | FB Page Interview 1. Tell me about yourself (Family, occupation, where are you from originally, etc) Growing up in sunny South Florida kept me out of the winter mix. For college, I didn't travel very far going to...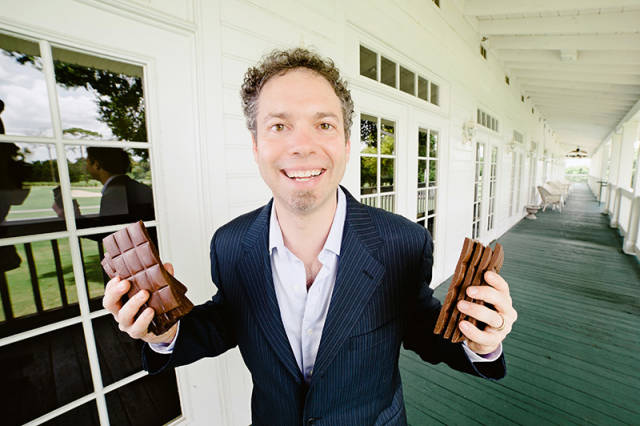 Paul's CD Profile | Website | FB Page
Interview
1. Tell me about yourself (Family, occupation, where are you from originally, etc)
Growing up in sunny South Florida kept me out of the winter mix. For college, I didn't travel very far going to Florida State University and graduating with a BFA in Studio Art. My main focus in college was painting and drawing. I've always been a bit different in my approach to art. During my life-drawing class, while everyone else was drawing the nude model in charcoal and pencil, I painted solid acrylic colors on two huge sheets of paper. I examined the contours of the model and cut out the shapes I saw from the giant paper with a razor blade and glued them to the drawing paper. My professor was truly awesome to be open minded enough to allow me to take such an unorthodox approach. My cooking career started in college as a freshman. Before that I didn't cook much beyond toasting and buttering up an asiago cheese bagel. In my concrete block college dorm, I decided I was going to make delicious spaghetti sauce. Nobody ever used the tiny dorm kitchen that I squeezed myself into with a pot and all my ingredients. Long story short, the sauce came out horrendously awful. I was bewildered that I messed up something as seemingly simple as spaghetti sauce. It was that very moment I decided to teach myself everything I could about cooking. I then threw dinner parties for all my college friends such as complete sushi dinners back in 1992. Today it brings me great pleasure to cook amazing daily meals for my wife and 2 children.
2. How or why did you get started in cake decorating… was it by accident or did you always have a passion for it? Is there a story behind the name of your business?
After graduating college, food became my artistic expression. I hosted holiday parties at my house so I could cook for 15+ people constantly pushing my culinary skills and always creating new and exciting recipes. Everything from pumpkin crème brûlée to perfectly golden whole turkeys. Then in 2006, it was my Mom's 60th cruise ship themed surprise birthday party where I decided to make a sculpted cruise ship cake. It was my first homemade fondant, first sugar work, first molded chocolate, and first 3D cake all with 100+ servings of carrot cake and cream cheese frosting. The light-bulb went off and I called a friend from college and said 'One day I'm going to make actual sculpture from cake' I then taught myself everything I could about cake decorating staying up from 10 pm to 2 am while my family slept. I was a huge Food Network fan and arm-chair quarterback watching every Food Network Challenge and yelling at the screen. My wife constantly had to hear about how I could do that and how I could have done that better! In 2010 I had the opportunity to do my first live cake performance and sculpted a life-size woman in cake and ganache in front of 5000 people over 3 days. It was a huge risk because I hadn't sculpted since college, definitely never a life-size person and I had never sculpted in front of an audience – in any medium. It turned out to be an exhilarating experience. Plus I can contribute me getting on Food Network Challenge directly from creating this beautiful cake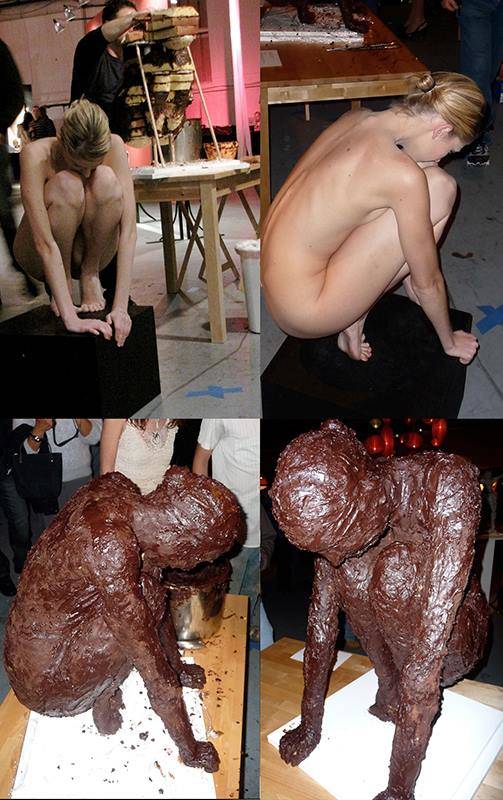 3. How did you find cakes decor and what makes it a place you want to keep sharing on?
Being part of a cake collaboration is always an inspiring experience and you never know what new knowledge and tidbits you're going to gain. In this case, it was Cakes Decor itself! I had never heard of the site, but then someone suggested everyone post to get exposure for the collab. I was taken back by the quality of the website, level of talent and the amazing work everyone was sharing.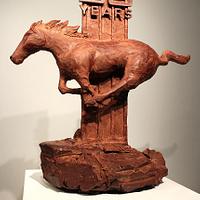 4. What part of making cakes do you like most and least?
Easily my favorite part of making cakes is how happy people are when they experience them. Eating cake can be quite an intense and wonderful experience. Then when you use the best ingredients, with the best techniques cake becomes an experience like no other. It's very rewarding when people tell me that it's the best chocolate cake they have ever had. Yes, I do make other flavors beyond chocolate! Although my customers usually have me choose the cake flavors and it's usually chocolate with a twist. Such as adding couverture chocolate to my cake batter and using Himalayan pink salt. In terms of frosting, I usually do decadent ganache adding pink salt and different flavored liquors adding multiple dimensions and even more excitement. Eating cake should be an experience! My least favorite part of making cakes is how long it takes. I've made a life-size jazz musician cake that was 450 birthday party size servings and yes,that takes a while!
5. Tell us one thing about yourself that many of us might not know already.
I love doing charity work. It brings me much joy and pleasure. One of my first major efforts was to raise $4500 for Leukemia and Lymphoma back in 2002. A few more recent examples include sculpting for the Icing Smiles gala, sculpting a little girl with 65 roses on her dress for Cystic Fibrosis, sculpting a life-size ballerina (as the actual ballerina danced around me) for Muscular Dystrophy, sculpting Food Network's Robert Irvine for a children's charity, and sculpting a life-size greyhound along with a chocolate savory dish for 200 to raise money for a greyhound rescue.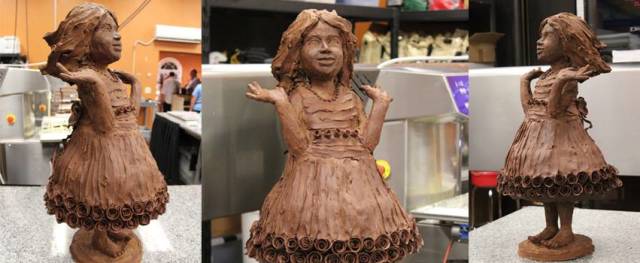 6. When sculpting chocolate do you use some very specific tools and if so what are they?
A few wood clay tools to achieve detail that you can't get out of using your hands/fingers only. Occasionally I will need to create a shape that is done multiple times and needs to be 'perfect' and if it was hand done, it would take a long, long time. In this case I have fun being creative with the existing non-conventional tools in the kitchen. For example, I recently sculpted a 6 foot tall sponge diver that had nuts and bolts across the top of his suit. I found the Kitchen Aid mixer attachment had a beautiful round opening at its base and used it to 'stamp' the modeling chocolate and help create the 9 perfect nut & bolt shapes.
7. What is one technique or sugar skill that you have not tried yet but really would like to learn?
Piping in general is a weakness of mine. My cake friends make it look so easy, but when I try it things don't always go to well. It would be wonderful to really get that skill mastered.
8. What is one tip you could give to those what would like to get into chocolate sculpting.
New sculptors tend to sculpt themselves even if they're sculpting another person. That's because you see yourself every day, 365 days a year in the mirror. You are more familiar with how you look and the features of your face than anyone else. Forget about what you think you should see (yourself), and sculpt only what you actually see. This might seem obvious, but it takes a lot of practice. The process of letting go of what you think it should be and sculpting what is actually there takes letting go completely and truly looking. Do more looking/examing than actual sculpting!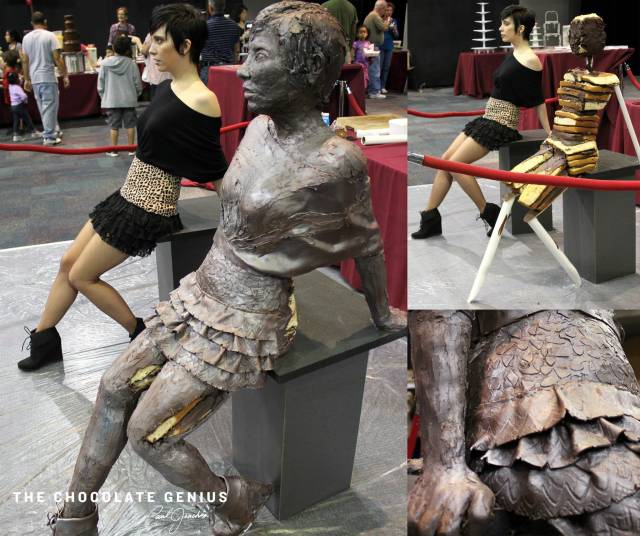 9. Do you have a favorite flavor of cake that you make?
Chocolate cake, of course! With homemade raspberry preserves, ganache with added Himalayan pink salt and cacao nibs sprinkled on top to be a beautiful complement to the smooth, fluffy texture of the cake. The flavors blend perfectly in harmony with the bitterness of the cacao nibs offset by the sweetness of the raspberry preserves. Leaving in the seeds of the raspberries gives the preserves a natural, artisan feel. The key is cooking them long enough to get the proper softness but not too long where the preserves get gummy and sticky. The seeds themselves release pectin which thickens the preserves. The preserves are going to continue thickening after you are done and cools in the refrigerator. The longer you cook the raspberries the more pectin is released. The 'sweet-spot' is timing everything perfectly to get the seeds soft and the overall texture of the preserves soft and delicious when setting in the refrigerator. I sculpted Food Network star Anne Burrell for a corporate party and when I was done she came over and people were taking pictures of her, me and the cake like the paparazzi. She took her finger, grabbed a chunk of her cake-self, tasted it said, 'Wow, that's really good cake' I was on cloud-nine!
10. I know you do some big events but if you had one famous person to do a chocolate sculpture for who would it be.
With my chocolate sculpting I've done events with a lot of famous people from Sharon Osbourne to Anthony Bourdain to Nicholas Cage. After some careful thought there is one famous person that would be totally rewarding to hang out with, they'd be fully self-expressive AND have a deep passion for food and art. That person would be none other than celebrity chef, the late Julia Child. What a blast would it be to sculpt live for her and her guests. Listening to her charming and quirky banter. What a strong, independent woman with self-expression, drive and heart. Heck she even married an artist named Paul! I think we'd have a lot to talk about!
11. When looking for inspiration for your cakes or sculptures where do you go?
I like to go to stock photo websites such as corbisimages.com or istockphotos.com and search on the topic I need inspiration. There are so many concepts and different directions photographers and graphic designers take that can spur on creativity and ideas.
12. Do you have help designing your structures needed for some of your pieces or is that now just second nature?
The first few years of my career I worked with a carpenter friend on building the armatures I use. Then back in 2013 I was on my way to Los Angeles, Universal Studios backlot to be a guest on Hallmark Channel's Home & Family talk show. My friend wasn't available to help make the armature for a 7 year girl I was going to sculpt live on the show. The best option I had was to make it myself. I built the armature with everything I had learned from him and to have it fit perfectly in my suitcase traveling from Orlando to LA! The show's producers set up a time-lapse camera and then I began reassembling the armature, started adding chocolate and cake and I only had 4 ½ hours to do the entire thing. While I was sculpting, music superstar Rick Springfield came into my room and watched me sculpt until one of the producers whisked him away for his interview.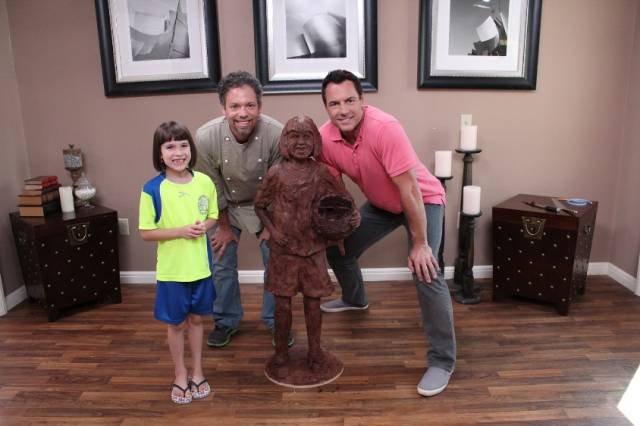 13. What's the best lesson you have learned while making cakes so far?
Be prepared for anything and plan accordingly! This means you must plan every detail from preparing the cakes, to travel, all the logistics involved including things that can go wrong. Plan like you are going to the moon AND back. I use extensive checklists broken down into categories for my events. When you are doing things live and in foreign cities there is no room for error. It's not like I can run to the corner store to pick up more custom made modeling chocolate. Things can and will go wrong that are out of your control. Such as the venues air conditioning unit dying during a chocolate event with 10,000 guests, or sprinkler systems going off in the middle of the night soaking your sculpture, or airlines misplacing your luggage, to little kids purposely running full-force into your 9 ½ feet tall 250lb LeBron James cake sculpture. Yes, all of this has happened!! A complete and thorough plan undoubtedly helps when things going wild and truly helps keep me cool, calm and collective. I've always come up with a working solution when these things happen. Plan, plan and plan some more!!

14. And as always one just for fun question. If you could be invisible for just one day what would you do and where would you go?
I would get myself onto a plane to London in November and wreak havoc on the Cake International show. I'd track down Lara Clark and tickle her to her knees. I'd then find Liz Marek while dining, lift her glass into the air and walk it around the room Harry Potter style. I'd follow Rudy Martinez and Daniel Diguez, blowing into their ears over and over again thinking they have gone batty. And of course, I'd take a few classes from Mike McCarey and Karen Portaleo for free. They might find the floating cake in the back of the room a bit weird though.
Some of Paul's Creations:
Thank you Shags and Paul for doing the interview!
Tags: interview with paul joachim chocolate genius interview creations cakes
-- Michal, http://cakesdecor.com | My Facebook: http://www.facebook.com/michal.bulla
10 Comments