Interview #39: Tanya Halas of Cake Heart
Tanya's: CakesDecor Account | Facebook Page Interview: 1. Tell me about yourself (Family, occupation, where are you from originally?, etc.) I am Canadian.  Born in Newfoundland and raised in Manitoba and have a loving and supportive...
Tanya's: CakesDecor Account | Facebook Page
Interview:
1. Tell me about yourself (Family, occupation, where are you from originally?, etc.)
I am Canadian. Born in Newfoundland and raised in Manitoba and have a loving and supportive husband and we have two children, 11 year old Daughter and a 9 year old Son.
2. How or why did you get started in cake decorating… was it by accident or did you always have a passion for it? Is there a story behind the name of your business? How did you come up with a business name?
As many parents do, I attempted my children's Birthday cakes. My first decorated cake, I had snipped the ends off of Zip Lock bags and piped out a Garfield for my Daughter's first Birthday, and even though the results were less than charming, I really enjoyed it! A jello pool with sunbathing Teddy Grahams, and a Tinkerbell cake later I found myself out of Province, bedside with our son, after his first open heart surgery. It was there that my husband gave to me, from the gift shop, my very first cake book. Peggy Porchen's 'Pretty Party Cakes'. I read it cover to cover countless of times during my son's stay and became enamoured with the idea of cake decorating. After what seemed like an infinite time, we were finally able to return to the comforts of home. I didn't leave our son's side for long as he required constant medical care, being Gtube fed, required shots, and oxygen, but when he slept, I would experiment with baking and fondant. Cake Decorating had become in a sense, a means of therapy and respite I guess you could say, from the uncertainty. Our Son, and his ongoing journey will endure another heart surgery in the New Year and throughout his journey has been such a great inspiration and has touched so many lives, not just to our family but to so many others. Hence the name, Cake Heart.
3. What is the one tool you cannot live without and one you don't have yet but really want?
I would say my x-acto knife but wouldn't fair too well without my ball tool and extruder. I use them for every creation. An Agbay would be lovely…rather than measuring all of my cuts.
4. How did you find cakes decor and what makes it a place you want to keep sharing on?
I was referred to the site by a friend and got a sense that it was a warm and supportive forum; and it absolutely is. Such kind, sweet and extraordinary people from hobbyists to professionals all sharing and caring in the name of cake and doing it with so much heart and grace. It truly is a joy to browse all the wonderful creations and be inspired by so many brilliant and talented bakers and decorators.
5. What part of making cakes do you like most and least?
Ultimately, the joy you can bring to someone, via cake, is so very rewarding. Although I do enjoy baking and experimenting with flavours; I would have to say that moment when you're inspired and you're scurrying around for a pen and then the ideas are flowing and you can't sketch it quickly enough…love that whole creative process, and then finally being able to bring your design to fruition is great fun.
That hour after you've completed your cake. You're exhausted. You're hungry. You've just hovered over your cake for hours. …but satisfied with your piece and take a little time to observe it. Then you return to the dreaded creative aftermath at the work station. It takes an hour or so just to get it back into top shape. So I'd say the clean up is my least favourite step of decorating.
6. Tell us one thing about yourself that many of us might not know already.
I used to have some interesting and fun jobs. I was a labourer for a Mining and Smelting Company for a few years during the summer breaks from University. I travelled across Canada playing in night clubs as a lead singer for a top 40 cover band and also worked for a Dinner Theatre company.
7. What is your favourite cake design you have done to date?
I would have to say 'Swirls and Pearls'. It was a mint and aubergine cake with gold accents. I recall seeing a beautiful photo of a mint colander full of shiny black berries and wondering 'hmmm what if'? This was the cake design that helped me discover, that I could draw inspiration from the most unconventional things and to just appreciate the aesthetics of those things; and if those things appeal to you, no matter what those things are…just use it, incorporate it. It was also the cake that lead me to new cake friendships.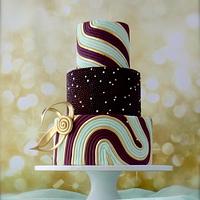 8. What would you say has been your biggest cake challenge to date and if you could have a do-over of it would you want to and what about it would you change?
I did a 39" Optimus Prime. It was challenging as it was my first standing structured cake and it was massive, to me. I regret that I didn't carve it a little more precisely and I also wish that I had just one more hour to give the paint a second coat and final touch ups. It was still wet as it went out the door.
9. What is one technique or sugar skill that you have not tried yet but really would like to learn?
I love the ornate style of Lambeth Piping. I would like to attempt that someday.
10. Could you give some tips to people who have just started decorating cakes or would love to start?
Sure. Get yourself a good silicone mat straight away. I rolled my fondant out onto the counter tops for months before I invested in one. Would have saved me a lot of grief had I known the importance of one.
Bake and tweak, and repeat. Your family and friends will love you for it and you'll have some fabulous go to recipes.
There are so many generous cake artists out there who have shared their talents and skills. Check out their tutorials and take in all that you can. Go with what inspires you, moves you, and appeals to you.
11. Do you have a favorite flavor of cake that you make?
I do, and it changes with the Seasons.
I love a cherry eggnog spiced rum cake with an egg nog buttercream in the winter.
A pineapple carrot cake with cream cheese in the springtime.
Lemon and blueberry or Raspberry cake with Vanilla or lemon buttercream for the summer months.…and Banoffee with brown butter buttercream in the autumn.
12. Is there one colour you always feel yourself drawn to when designing a cake?
Mint was a habit for a while, I was obsessed with the colour, but now I find I'm into more muted and neutral colours. It too changes with the seasons.
13. Do you have one cake designer that really inspires you?
Oh there are many. …but the first designer that I discovered and absolutely took my breath away with her stunning and innovative creations was the work of the super talented Erica O'Brien of Erica O'Brien Cake Design. Her work is so very pretty, fluid, unique and creative.
14. Do you sketch your cakes or just wing it?
I sketch out every cake. It's a reference point but the cake design is usually quite different once completed.
15. What's the best lesson you have learned while making cakes so far?
Add your Swiss Meringue Buttercream to the cream cheese not the other way around. :)
16. And as always one just for fun question. If you were to win the lottery and could spoil yourself with something what would that be?
Ohhh!!! Cake stands, in every shade and size…and a room and wall unit to store them all ha!
Thank you Shags and Tanya for the interview!!
interview with tanya halas cake heart interview interview
26