Cake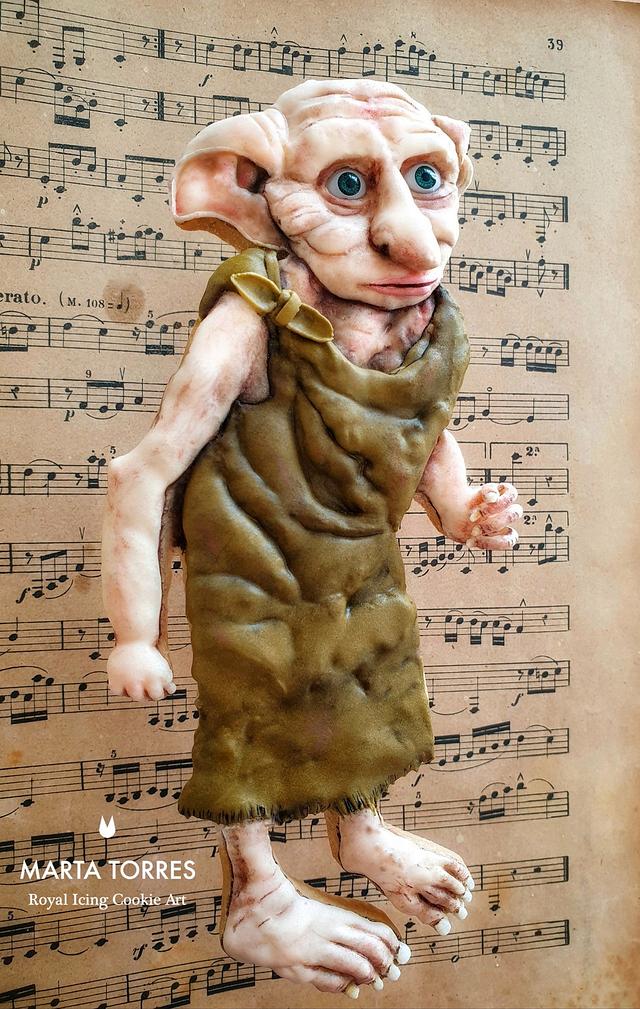 British Fantasy Collaboration
This is the piece I created for the British Fantasy Collaboration kindly hosted by @Radoslava Kirilova were 53 artists from around the world worked together to bring such incredible pieces of sugar art
My Piece:
Choosing the Harry Potter saga and in particular, de Dobby character to represent as my piece for this collaboration was due to the friendship between the two of them, the devotion and care they have to each other called my attention and it's a way to show that friendship has no boundaries.
I myself have seen the movies and read some books, Harry Potter is seen in the family as the trigger for the kids and grandkids start to read and become bookworms.
My Dobby is 100% freehand piped with my signature dimensional style with colored royal icing, and the eyes are wafer paper and isomalt for a "crystal" look.
You can see the entire collection of works here:
https://www.facebook.com/BritishFantasyCollaboration/?tn=K-R&eid=ARB5699g62v65a3W6_Bas569xUJhjd5511XtKUSjp7hJ_OOLKAalsQS7V-QTMa_lZLrQXD76Q0gSENen&fref=mentions&xts%5B0%5D=68.ARDR6eMPxTQBAR5u4aNLniFTYR3fNDEfHyZ_OdVcko9pd-vF7srIAIUikDM35od5-tBbnE7B4zZvETNGg8FzfDxy6AA1f-dYvdns7CvZTjYn2inNA5W4kdTBJaT6wGfvg7B5iFpUns6FvWYIjcZbj7DNHgHMfNkZIVCMKhSVa8JmA4ooYAYlp0FT8yGmr-g3ETdsaqBmLmMPCjxbQbZLRYJjK-Lfs1tuL_OoWj07H7HcJy-aMtTPYL7sNDbXojzzxwwzi2JGJRgv9r_IGhywq0_PYynf17KwiHen2dI_EqIklbEG3EJjfTn_Q5AUoKvrfFV6
royal icing isomal wafer paper edible colours piping bag with metal tip #pme nozzles #scribetool #cookies #harrypotter #dobby #fantasycookies #collaboration #friendship #royalicing #royalicingcookies #sugarart #sugarartist #martatorrescookieart #martatorrescookies #bolachas #biscotti #hogwarts
32