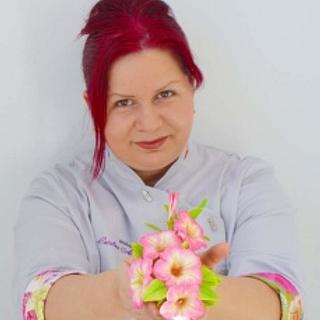 My name is Catalina and I love sugar flowers ;)
I am addicted to sugar flowers veiners and edible petal dusts...LOL
I am a professional baker and sugar florist based in Vila-real( Castellón) Spain.
I developed my own method of making sugar flowers- I work free formed, all my flowers are made without using special cutters or templates.
I teach free formed sugar flowers both in grupal workshops or one to one tuition. Also have my online academy: Academia Azúcar´arte.
At the same time I study medicine at UJI University in Castellón and take care of my son, my husbant my beaggle and my cat.
huge sweet hugs
Cata
Lots of sweet hugs and kisses to all and.. Happy Cake Decorating!
Cata
Ebook GRATIS: Flor de la pasión Recibe gratis en tu email mi primer ebook: Cómo elaborar la flor de la pasión, sin cortadores ni plantillas. Get free in your email my first ebook: How to elaborate the passion flower, without cutters or...
"":/https://youtu.be/gFY9CG2A62A Freeformed gum paste Alstroemeria complete video tutorial. I wanted to share with all of you a complete video tutorial on how to model Alstroemerias, without using cutters or templates. Hope you´ll like it....
Spring is here and I want to celebrate it with you all by sharing this cherry blossom tutorial. As you know, all my flowers are free formed. I hope you'll like it! Lots of sweet hugs and Happy Easter to all https://youtu.be/zO0bwnSYWsM
39 Comments