Cake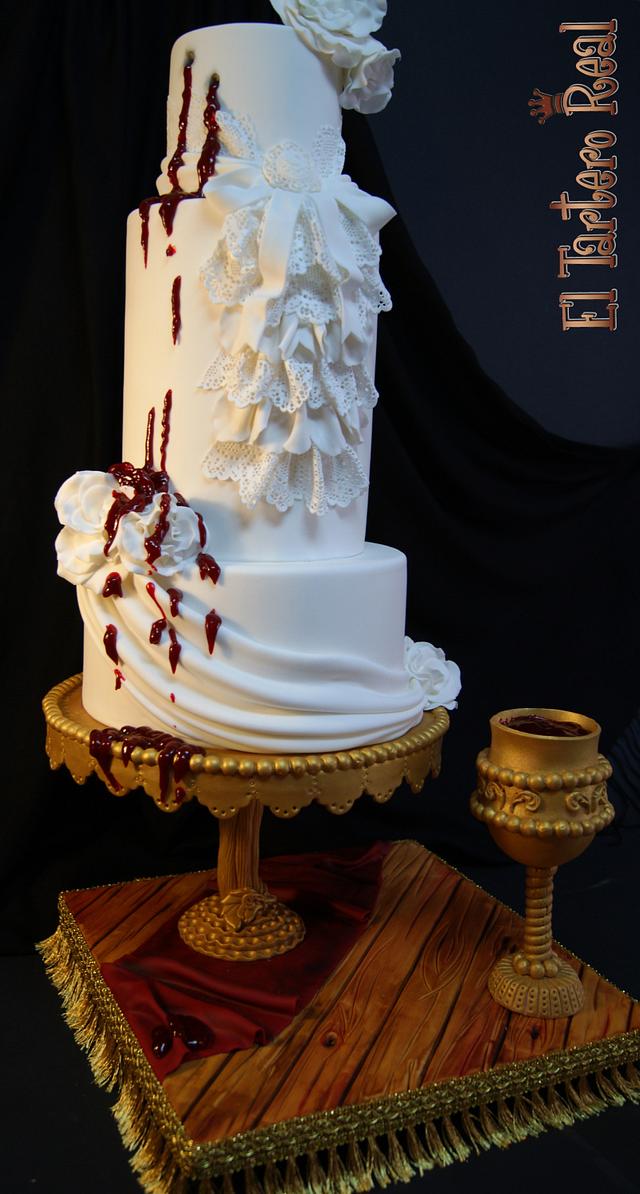 "Eternity" My Penny Dreadfull Cake Collaboration
"ETERNITY"
My inspiration for the piece have been vampires, a subject that fascinates me. I wanted to reflect the eternal love in this work. A wedding cake elegant and immaculate, completely white that looks inspired by the garments of the era, framed by a golden pedestal and a wooden base that give a full role to the centerpiece.
The punch line is the blood that flows from the upper floor, the vampire bite that is the key to the door to eternal life.
On the table a large golden cup full of fresh blood, prepared for a first toast, prepared for eternity.
"ETERNITY" In Spanish
Mi inspiración para la pieza han sido los vampiros, un tema que me fascina. He querido reflejar el amor eterno en este trabajo. Una tarta de boda elegante e inmaculada, completamente blanca que se ve inspirada en las vestiduras de la época, enmarcada en un pedestal dorado y una base de madera que le dan un auténtico protagonismo a la pieza central.
El golpe de efecto es la sangre que mana del piso superior, la mordedura del vampiro que es la llave de la puerta hacia la vida eterna.
Sobre la mesa un gran cáliz de oro lleno de sangre fresca, preparado para un primer brindis, preparado para la eternidad.
Blog:
www.eltarteroreal.blogspot.com
Facebook page:
https://www.facebook.com/pages/El-Tartero-Real/133187623428157
19