Cake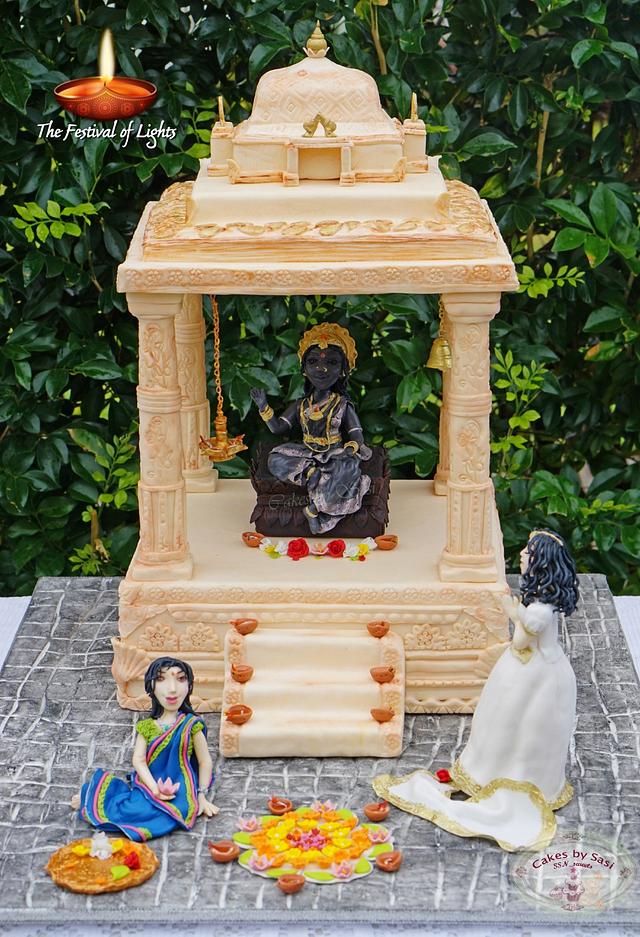 The Temple : A Festival of Lights Collaboration.
When I was initially asked to do a Deepawali (Diwali : Festival of Lights) inspired cake the memories of wearing new cloths and going to the Temple with my family was what first came to mind. Once I thought of a Temple ….. Kolam ( Rangoli: Patterns created on the floor ), Deepam (Diya : Earthen Lamp), flowers, hanging lamp and bell , a girl doing the Kolam, a black stone/granite Godess for the temple, a girl praying ( my dear friend Candace suggested that) sort of trickled in one by one. All these tied up beautifully with the feel of a temple during the festive season. I wasn't sure whether I will manage to do all of them but wanted to try and see where it leads me…..after lots of learning, Ups and Downs….I did spend a lot of time trying to work out the structure, the hanging lamp and bell, figurines and photography. Here is what I have finally realised in Sugar … Hopefully you like it .
A few appreciations I believe are in order too. First of all Thank you so much dear Candace Chand for thinking of me and having faith in me to be part of such diverse and talented group of cake decorators world over and for encouraging me to get out of my self imposed break and complete My First ever Collaboration . Thank you so much to the wonderful, talented supportive group that I got the opportunity to work with and to make such wonderful friends.. Very happy and very grateful to have worked with you all in this collaboration….my First one :-).
I am sorry I have been away for a while and not been here to support you all in the past few months. Thank you so much for all the lovely support I have received so far :-)
I wish you all a very Happy Deepawali ( Diwali) in advance — Sasi (CakesbySasi)
P.S. more detailed pics available on my FB page for those who are interested :-)
48