One of the beauties of Modelling Chocolate (I find) is it allows you more time to detail your work, and spend more time modelling in contrast to fondant and the other sugar-pastes which (for me) do tend to dry quicker, but then it depends on what you are using it for. I like modelling chocolate for sculpting.
I have been experimenting with modelling chocolate recipes from all over, for a while now and this is the best option I have come up with for me in the UK. I see most recipes ask for corn syrup to be used, which you can make yourself, and I have done so, but still prefer this method that I finally came to and it never fails.
You will need
Microwave
A heat proof bowl
A wooden spoon
Cling film
300g white chocolate (for this tute I used candy-melts, but I usually use supermarket white choc just as effectively)
140ml liquid glucose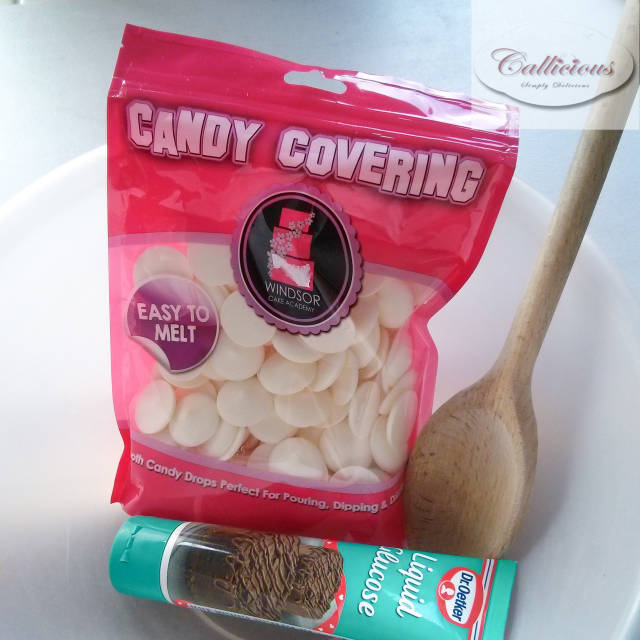 Place your chocolate in a heat proof bowl and place in microwave on high for two minutes, then check. Each microwave is different so the melting process time may depend on your microwave.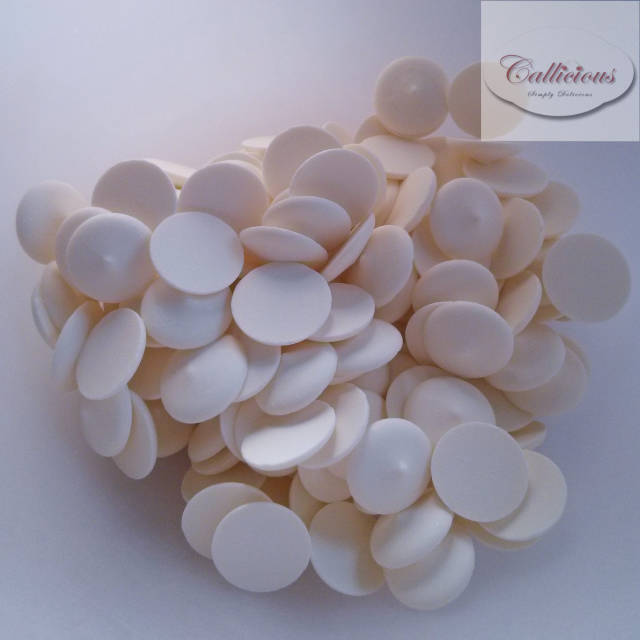 This is what mine looks like after two minutes. Yours might look a lot more melted. stir and place back in microwave on high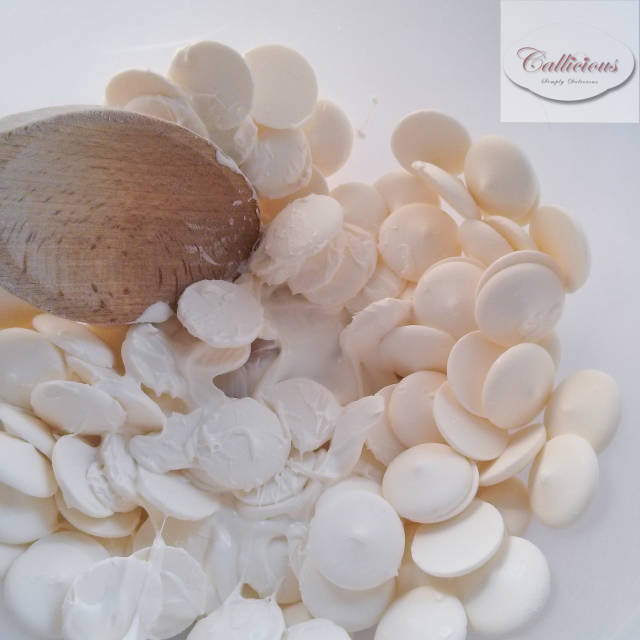 this is what mine looks like after 3 minutes. Give it another stir and put back in microwave on high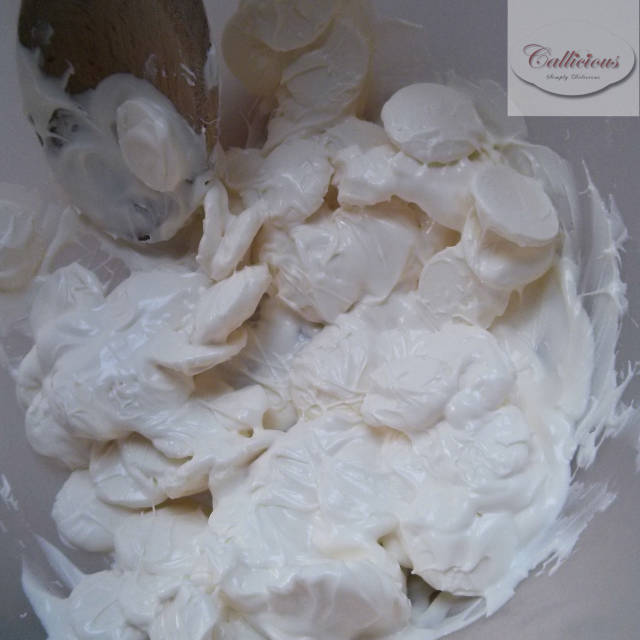 and 4 minutes… which is just about there…. you do NOT want it to burn so I only did another 20 seconds after this and gave it a good stir to make sure all the pieces were melted. You don't want it mega hot, just melted. too hot I find releases fat afterwards, and that makes it greasy to work with.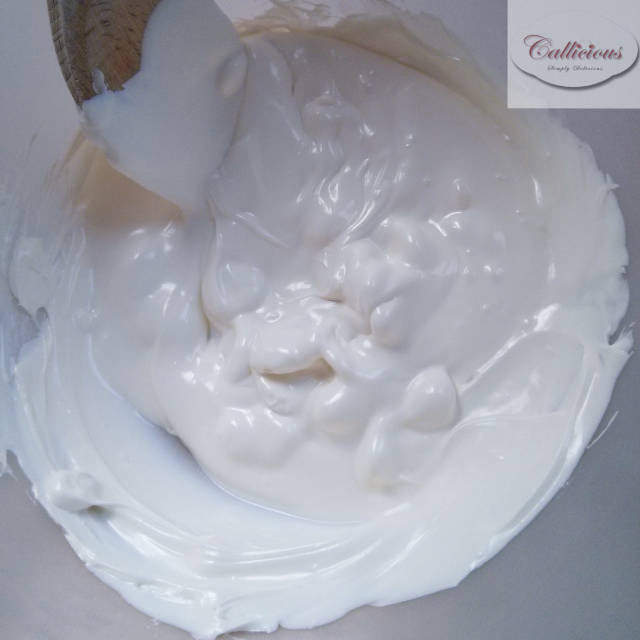 I then pour in the whole tube of liquid glucose. I cut off the bottom of tube as it pours in faster, this is quite important to get it in as quickly as possible to then start stirring with your wooden spoon.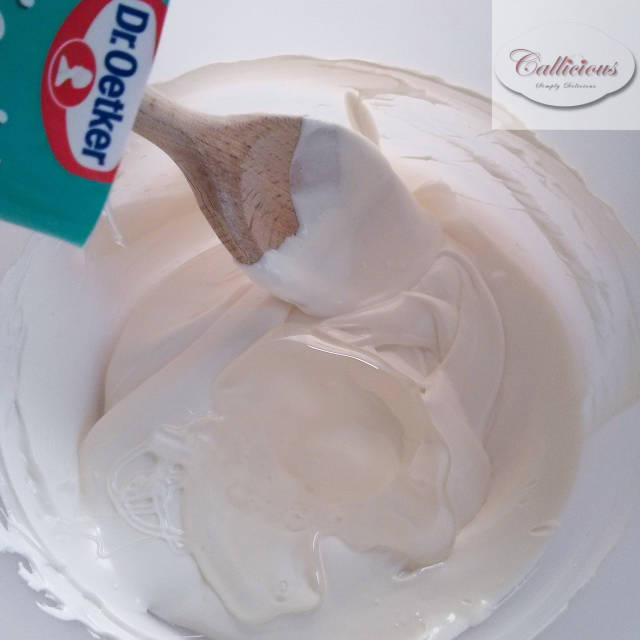 SLOWLY stir in the glucose… too fast can cause clumps, or release the fat content (which happened to me on first attempts) Do this from the outer part of bowl, and turn gently inwards and over with a wooden spoon.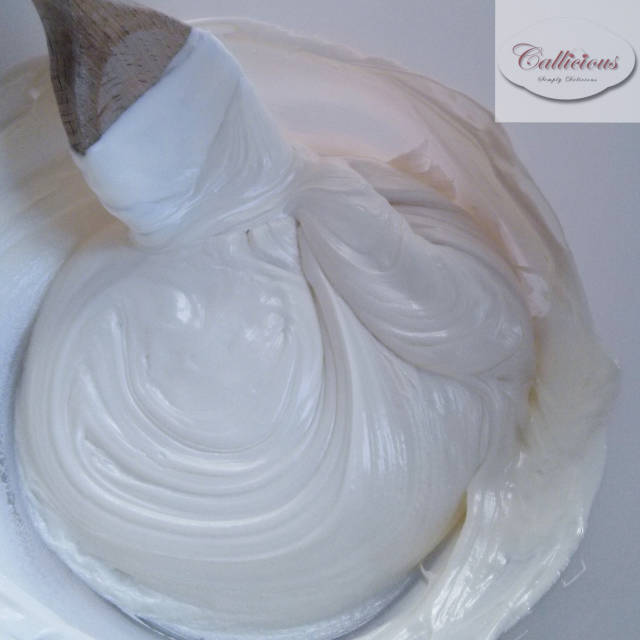 So now here you can see how it is starting to thicken and form a clumpy ball. At this point just make sure it all all kept together as a soft ball and then STOP. The process from time glucose was added to this point probably takes about 30 sec – 1 minute, so its pretty fast.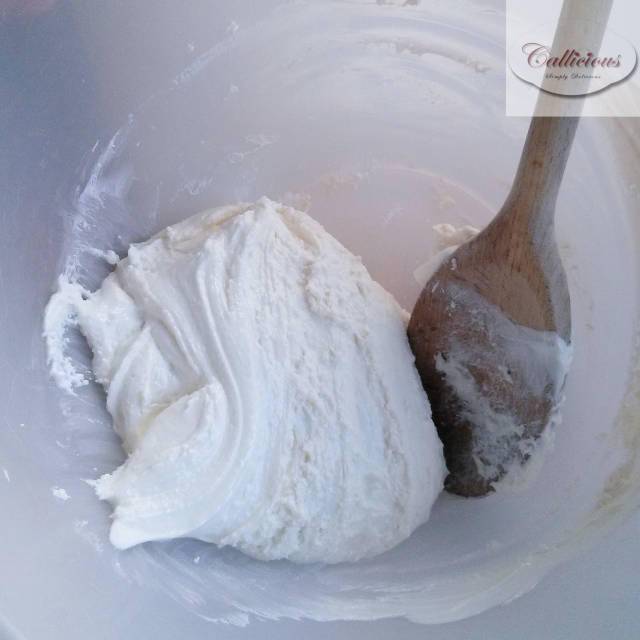 Place your soft ball of Chocolate into some cling film or a plastic bag and put aside to set… roughly an hour. Don't put into fridge as it will go too hard. Room temperature is best, UNLESS you live in a hot climate, then maybe place it in the fridge for a few minutes, but you will need to keep an eye on it as it will set fast.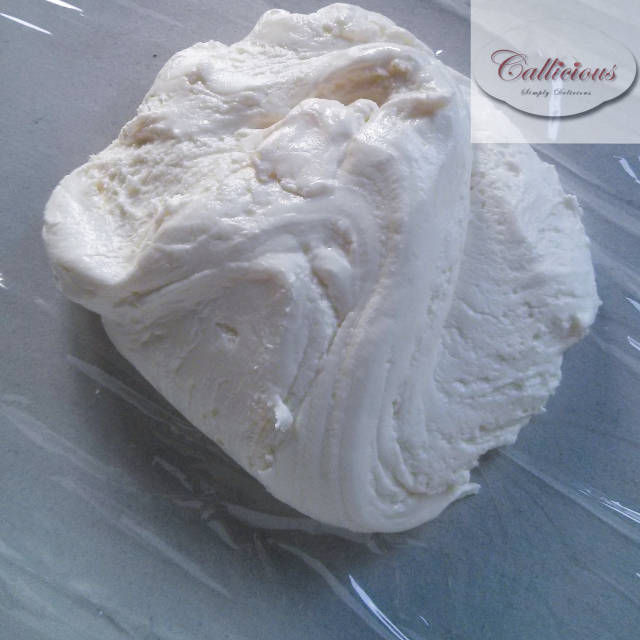 Then, once set, when you open it up, it will be semi hard and look like this and a bit flaky in texture. Like this
Give it a good kneading for about a minute till all soft and blended in and wrap in more cling film or a plastic bag and put into a container until you are ready to use. keep in a cool place. You can store in fridge, but be sure to take it out an hour or two before you need to use it.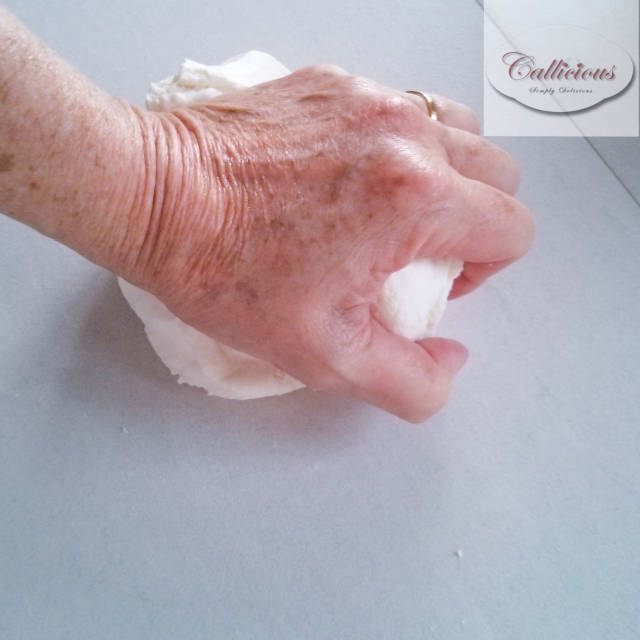 And here it is all ready to go !!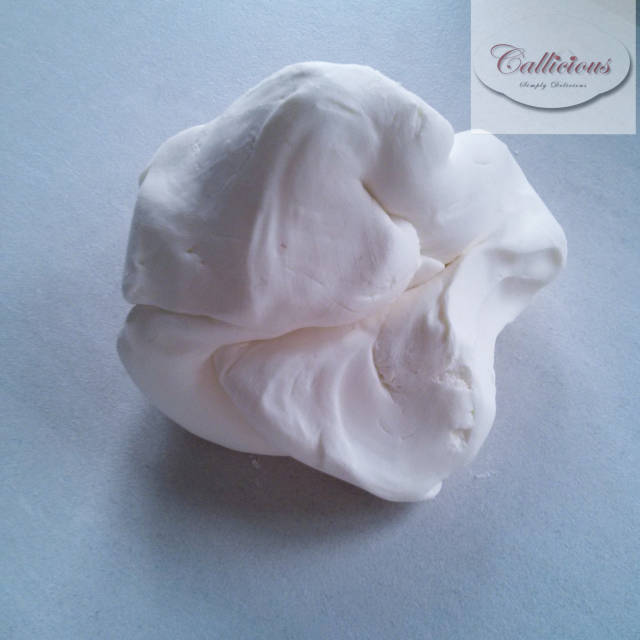 Here is just a little play I did… a roughly modelled arm…, just so you can see how soon you can get to use it as the whole process took approx ten minutes from start to finish, excluding hardening time.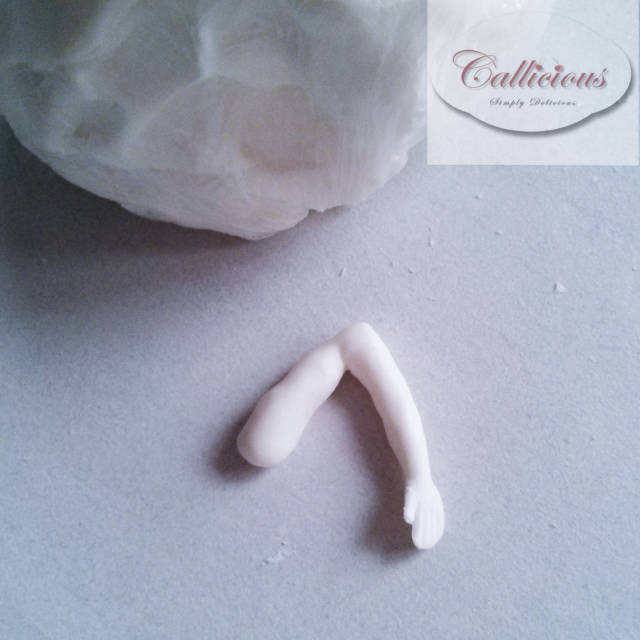 Here is modelling choclate coloured up using Sugarflair colours.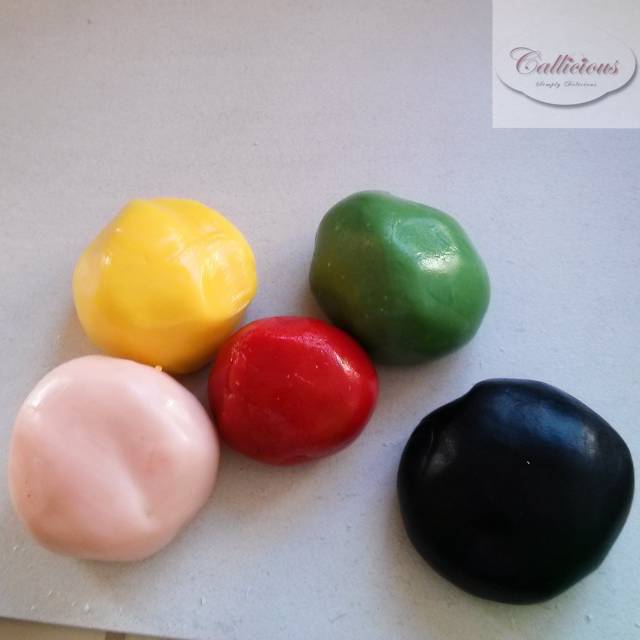 Here are some examples of what I have made using modelling chocolate… You can colour it with edible colour gel/pastes… you can also brush it with edible colour dusts, you can also airbrush it.
I also find mixing it with fondant and/or marzipan also gives it more flexibility and you can still get the detailing in without it drying on you. it and dries pretty hard!!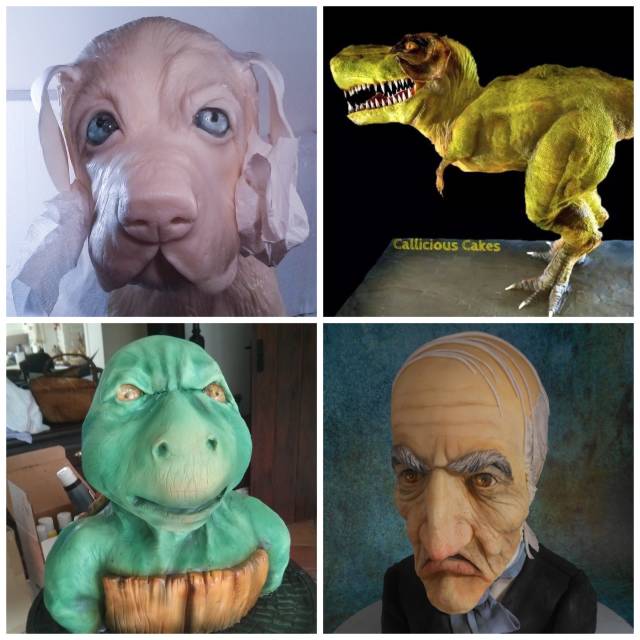 I do hope you will give it a try… it such fun to work with… but mind out as it sure smells lovely too… you might be tempted to take a nibble here and there hahahah !!!! :)
You must never limit your challenges, instead you must challenge your limits