Cake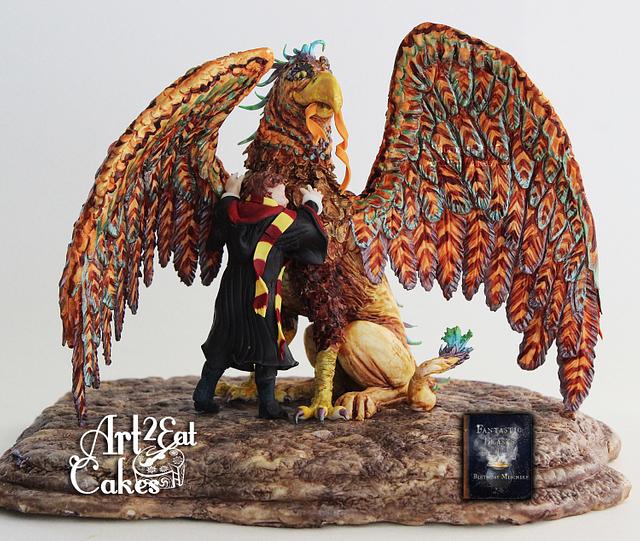 Scrufflefluff the Griffin, Birthday Mischief Managed
Happy BIrthday J.J. Rowling!!! APARECIUM!!! The Birthday Mischief Managed has finally BEEN REVEALED to all, Muggle-born and Harry Potter fans alike! Sugar talent from all over the world has come together in honor of J.K. Rowling 's Birthday and the new Fantastic Beasts Movie ! Please, visit the WHOLE collaboration, you will enjoy it!!!
GRIFFIN:
Scrufflefluff and Ash are best friends. Ash was raised high in the mountains, and spent much time alone in forests and meadows. Ash discovered Scrufflefluff as an injured kitten-chick, and also discovered previously un-tapped magical powers while defending the scruffy baby from the muggles who were "family".
The two fled, and lived in a dry, sweet cave in happy harmony. Ash would laugh at Scrufflefluff's baby antics, healed his broken leg, and gave him his name for his un-griffinlike and highly undignified crest of silly fluff. They have fast friends ever since. It is nearly impossible to win the unbreakable devotion of a Griffin. Ash never shirked the (bloody) responsibilty of the proper feeding of a Griffin kitten-chick, bringing Scruffle many rabbits until he learned to hunt them himself. Then Scruffle hunted for them both!
When Hogwarts heard of the pair, Ash was extended an Invitation by Owl to attend Hogwarts, in Specialized Research of Creature Studies. Now, while Scrufflefluff wings about on his own, looking for lady Griffins, he returns frequently to Ash's eyrie tower room for snuggles and rabbit tidbits. Ash has been spotted clambering onto Scruffle's back periodically and taking wild flights at all hours. He is naturally the beloved Mascot of Gryffyndor, who welcomed Ash as long-lost kin with wide open arms.
Hogwarts visitors are advised to look for Scruffle's Orange Ribbon (normally tied at his throat) if they see a Griffin approaching, and to please hold all spells.
Made with the assistance of Magic Colours incredibly spell-worthy Metallic Paints and Pro Gel Colours
xxoo Heather at Art2Eat Cakes
#FBofBirthdayMischief #BirthdayMischief #FantasticBeasts #CongratsJKR #HBDJKR
www.birthdaymischief.com
modeling chocolate gumpaste magic colours griffin griffindor fantastic beasts and where to find them fantastic beasts harry potter harry potter cake harry potter birthday cake birthday mischief managed mythical creature fantasy orange ribbon
31