Cake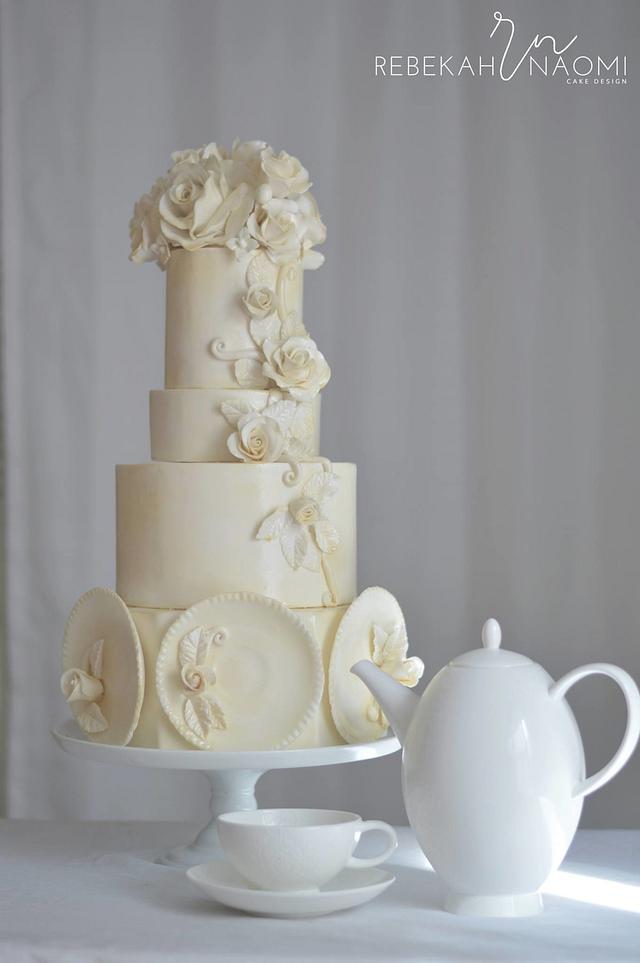 Rambling Rose- A sugar artists tea party
Hi Everyone, This is a collab piece for a gorgeous little tea-party inspired collaboration that was organized by the wonderful Jean Schapowal and Anna Garcia.
Being from "the potteries", that's Stoke-on-Trent, I knew I wanted to do something that honored my heritage. My grand-mother who passed away 2 years ago , at the grand age of 94, spent her entire career working as a hand-painter for Royal Doulton, so initially, I wanted to do something inspired by the "country roses" design she worked on. However, when I was researching, I came across a monochromatic design called, "Rambling Rose" by Wedgwood and I fell in love. I've visited the Wedgwood factory many times in my life and I purchased this set as "seconds" as a wedding gift to my mother in law.
I recreated the rambling rose bas relief pattern that is featured on the china, down the cake. I felt the cake was too minimal, so I made extra, larger roses and added a rose arrangement as a topper. I felt the cake needed a more "obvious" sign that it was inspired by the tea set, so I recreated the saucers in sugar and added them around the bottom tier. I glazed the entire cake with confectioners glaze to give it an authentic, glazed ceramic look. I also loved the aged appearance it gave the cake, with tones of ivory, cream and peach.
I hope you enjoy my take on this design, and I hope it inspires others to take out their tea-sets and create ceramic and tea inspired cakes.
Thank you!
satin ice fondant satin ice gum paste satin ice confectioners glaze flower cutters floral wire & tape wedgwood monochrome tea party cake wedding a sugar artists tea party
62