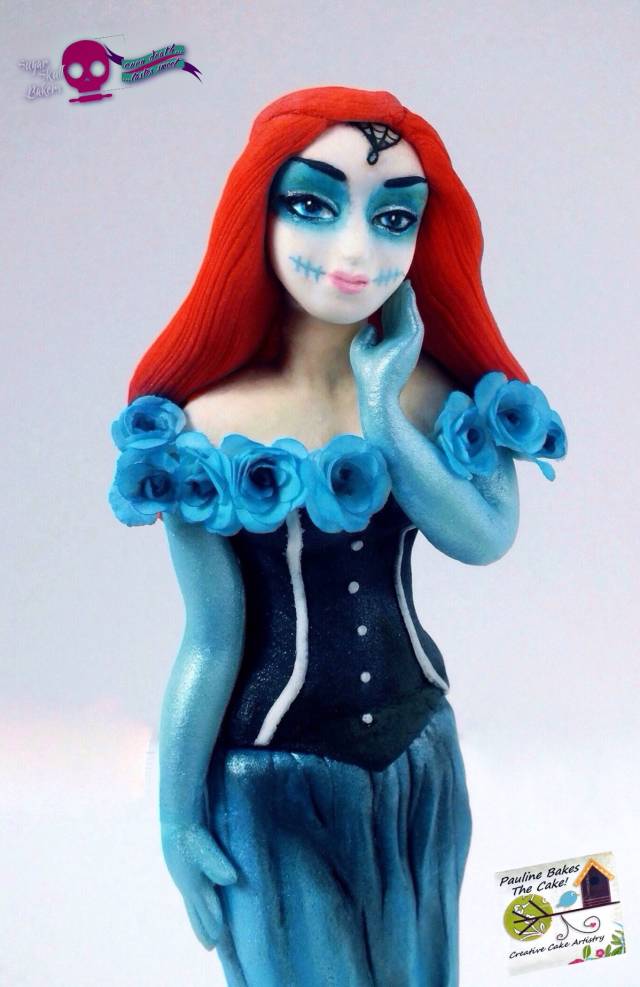 On this day of celebration, the dancer Isabella puts on her candy blue skull makeup and smiles wistfully as she remembers her dearly departed dance partner and the love of her life. She yearns for his presence and misses him so. Although she will dance solo today but she has hope and the promise that they will be dancing together again when this earthly life fades away and the new everlasting life begins. Yes, today, she will kick up those heels and send the ruffles in her skirt swirling through the air to celebrate "Dia de los Muertos"!
This is my contribution to the Sugar Skull Bakers 2015 and my first time joining this awesome group of Sugar Skull Bakers. The colors used in my piece play a significant part to explain my interpretation of death and the after life. The black and blue in Isabella's dress signifies death and the mourning that we go through when someone we love dies. The red in her hair signifies the blood of sacrifice that redeems us from our sins and the orange tone in her hair signifies the hope that we have in everlasting life after death.
Isabella is entirely modelled from gumpaste from the waist up. The top of her bodice is decorated with a row of miniature wired gumpaste roses dusted with blue and black petal dust. Below her waist, her skirt and the shape of her leg is carved from styrofoam and covered with white gumpaste. The bottom of her skirt is then airbrushed with sky blue for brilliance and the rest of the skirt is airbrushed with light blue sheen to give it some highlight and an overall sheen. The areas around her 'leg" and the folds in her skirt are airbrushed with black for added depth and to accentuate the shadows.
Thank you so much to Berenice Rabago for inviting me into this fun and fabulous collaboration. Huge thanks to all the admins for their hard work. You guys rock!
Thank you so much for looking! Hope you enjoy looking at the other amazing pieces in this collaboration. ❤️❤️❤️