Cake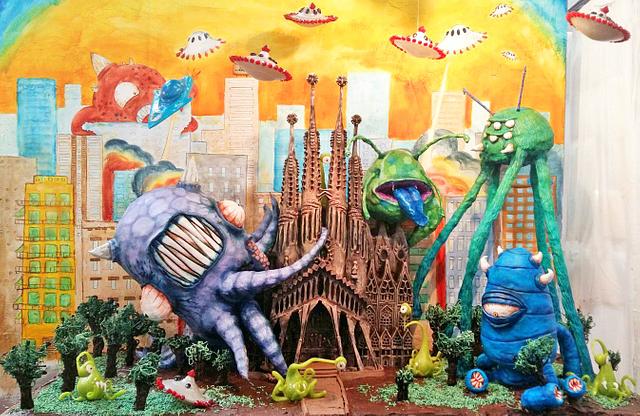 Barcelona´s K´taark Attack Cake
I want to show you what we did Daniel (Fogar12Fogar), Mayte (Maytartas) and me at the International BCNandCake Exhibition. We made the first live Megaworkshop/experience in Spain during the four days of the exhibition.
That was an amazing experience for me, being with my super companions and being able to make this super cake! We worked at at it time ago by designs, investigating, scaling the Sacred Family… We were nearly everyday at the Skype hahaha because Daniel is from the other point of Spain. And we arrived there we made everything from start, I mean, we didn´t go there with something made from home. So we and our students build everything. Even the background is royal iced and hand painted with edible paintings.
It was hard and stressfull but we were plenty of energy because of the excitement. We were super happy making this. It was so beautiful when the kids were running to get their parents to watch what we were making (everyone could see everything we were doing). They were shouting when they saw the aliens, and it was funny looking at the facial expression of the parents recognizing the Sacred Family of Barcelona.
We used many techniques like tempered chocolate, isomalt caramel, sponge cake, ganache, royal icing, fondant, plastic chocolate, hand painting and so on.
Finally we had to cut it and we gave more or less 800 servings (Oh my god!)
The measures of the complete scenery, including the iced background, where 250×240×80 cm.
I feel so proud for being part of the Caketastic team!!
More info and pictures at:
https://www.facebook.com/LosTartasticosTheCaketastics
chocolate chocolate sponge ganache tempered chocolate isomalt isomalt caramel edible paintings paintings modelling chocolate plastic chocolate royal icing icing workshop caketastic cake aliens alien alien cake sculpted 3d cake novelty cake sacred family sagrada familia chocolate ganache iced royal icing hand painted painting drawing monument cathedral barcelona exhibition monumental monumental cake bcnandcake international sponge carved carved cake tartasticos structure structured cakes structured cake multiple cakes scenary cake
50