Cake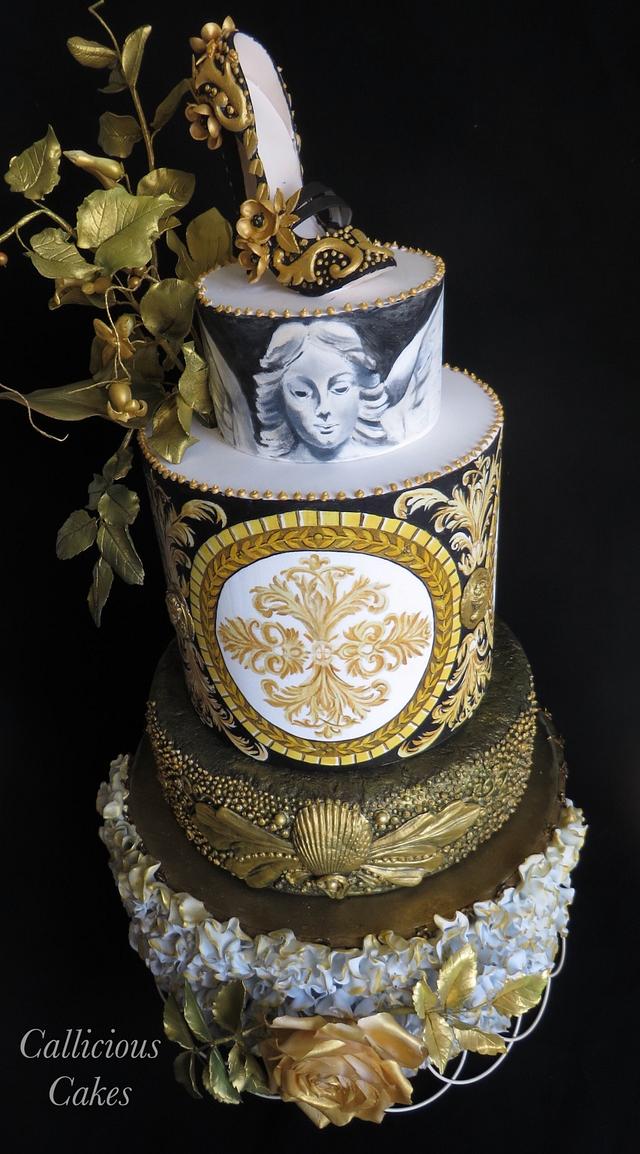 Baroque Dream: Zuhair Murad fashion
20 cake artists from around the world came together to create a special cake collaboration inspired by Zuhair Murad's fashion.
Every cake designer had to choose one inspirational dress from Zuhair Murad's collections and translate it into a cake art.
Inspiration: My design theme is baroque, which typifies the gold, black and white. I've added a feminine touch by adding grey ruffles to base tier along with a baroque sugar high heel shoe and gold sugar rose and leaves . The top two tiers are hand painted. The elements I used from the inspiration were the baroque motif on bodice. On either side of bodice is an angel, so used that as a stand-alone tier on top. I incorporated the shell too with some texturing on second base tier.
Sincere thanks to Gulnaz Mitchell of Heavenlycakes4you by Gulnaz Mitchell who masterminded this fabulous collab and loved being a part of all these amazing artists. A special thanks to Melanie Underwood of Cake Craft and Decoration​ Don't forget to go and get your #WeddingCakesandSugarFlowersMagazine, where this and all the other fabulous deisgns are featured…now in your local stationers UK. Of purchase online at https://www.cake-craft.com store. .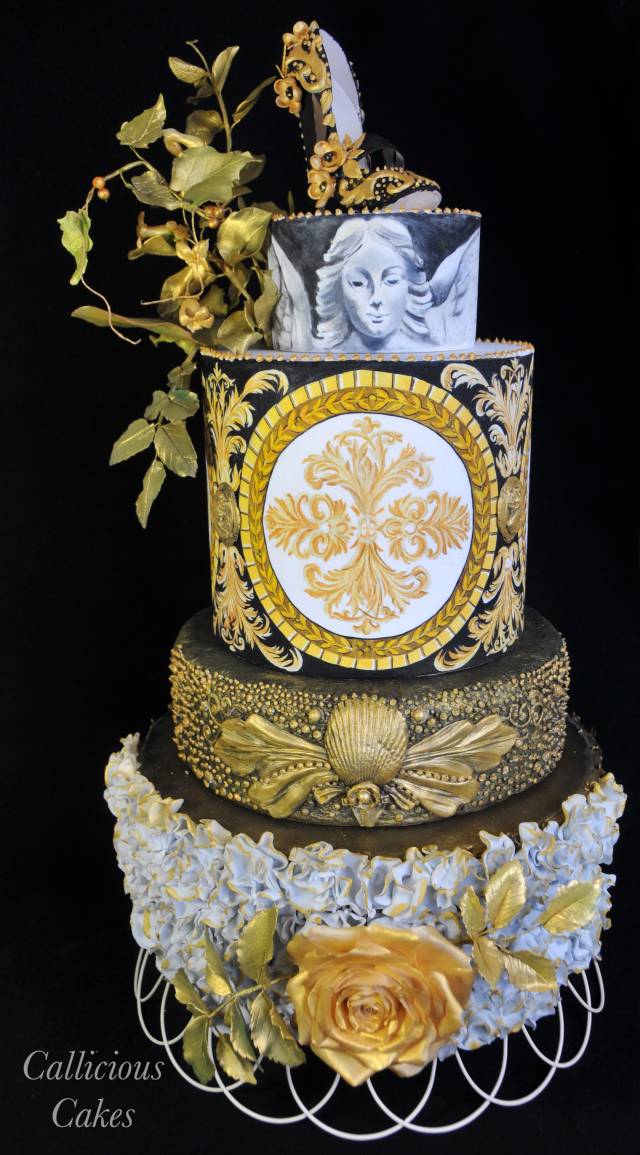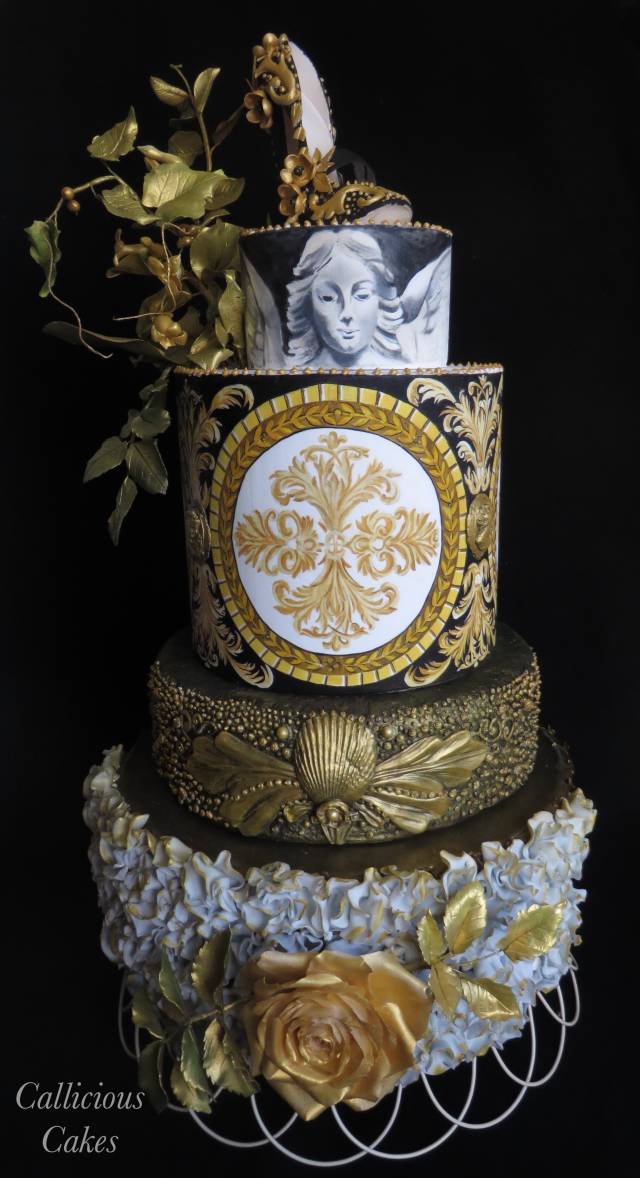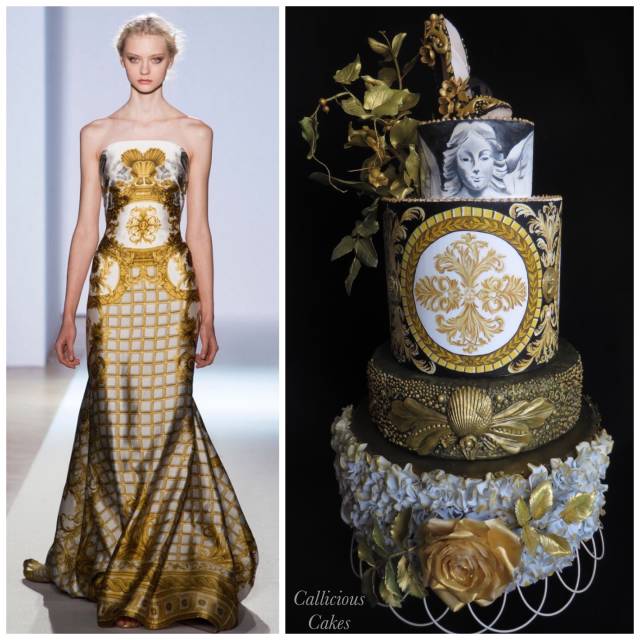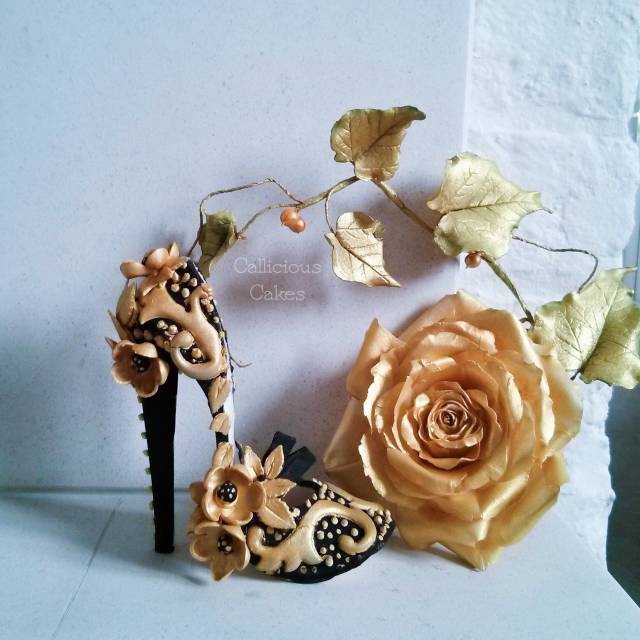 cake dummies pastillage flowerpaste florist wire florist tape cocoa butter sugar flair paste sugarflair dusting color edible colours edible glue gold dust royal icing paint brushes balling tool cel pad rose cutter leaf veiner leaf cutter designer knife piping bag piping nozzles palete knife zuhair murad fashion inspired cake zuhair murad zuhair murad inspired cake fashion fashion cake fashionista baroque baroque fashion sugar shoe sugar rose sugar leaves gold rose gold leaves hand painted hand-painted cake hand painted cake callicious cakes callicious wedding cake wedding cake magazine cake craft and decorating magazine wedding cakes and sugarcarft magazine
128