I've so many pictures to upload but I just had to show you this one. I have fooled so many people with my 'chicken pieces this week thinking that they were the real thing!
The chicken pieces are made using Rice krispy treats, covered with orange/yellow sugarpaste then covered with crunchy nut cereal (Cornflakes weren't dark enough)
This cake was for one of my regular customers son who is mad on KFC, she came to me with her idea, told me what he did and didn't like etc etc and this is what we agreed on.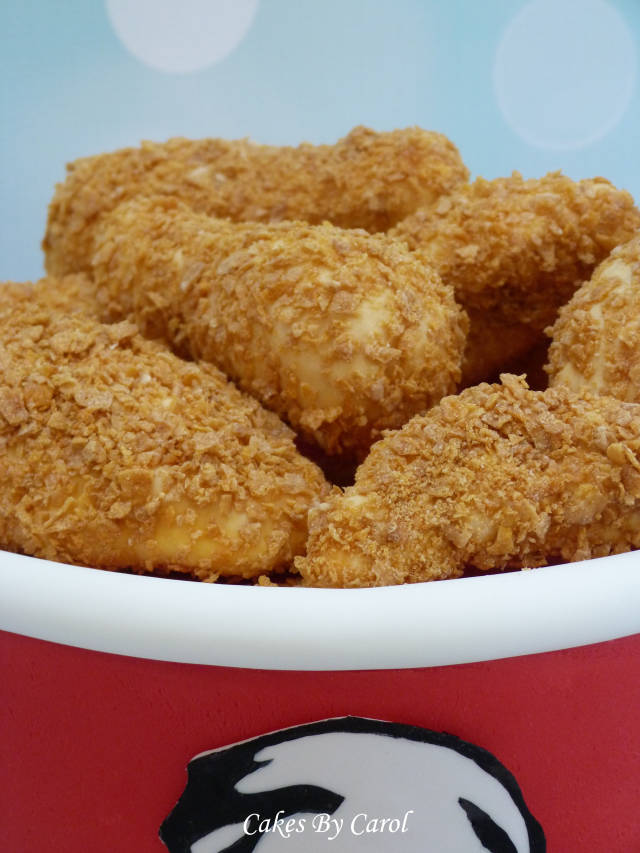 What we didn't expect to happen was a HEAT WAVE in UK! I had ordered the KFC edible print (as I am absolutely rubbish at drawing/painting and will be the first to admit it!) everything had been going wrong all week – as I'm sure everybody else had problems too. So it came to sticking the print on, carefully does it , on it goes and oh NOOOOOOOOO the white bits on it starts to go RED! (this was on Thursday and the cake was being collected fri morning so no time to order another one) Holy crap!!!! What on earth am I going to do? I had no choice peel it off and use it as a template to draw another one to stick on and paint on the face etc .
Half hour into painting I hit a wall, I completely messed it up, had a mega strop, wiped it all off stomping around saying I can't do it :( when my daughter (who is 25 and a brilliant artist) said 'do you want me to do it?' Well I didn't need asking twice!
As you can see she did a fantastic job, all I needed to do was touch it up here and there but certainly saved me and I was so very grateful.
My customers reaction was amazing she totally loved it