This is my sugar angel from the "A Painted Easter" collaboration, depicting an angel with its hand lifted up in praise to the risen Lord. The vintage filigree cross with the arrangement of Lily of the Valley and Violet blooms was hand painted with coloured cocoa butter. The colour purple is dominant in my creation because it signifies royalty. The white lilies symbolises purity and new life. The white cross of Christ depicts the death by crucifixion of the sinless lamb of God.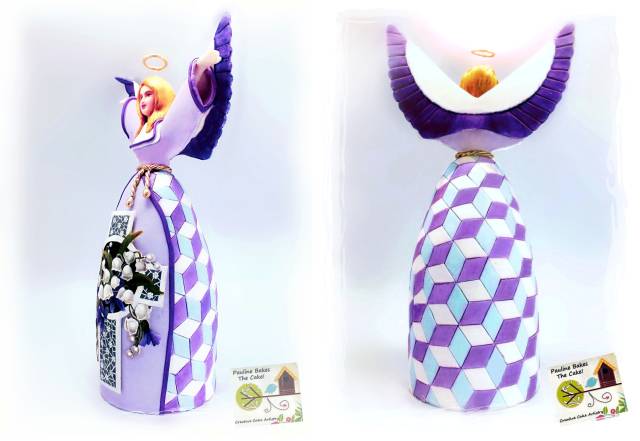 The top of the angel from its head until its waist is modelled from gumpaste and the skirt is cake. The "optical illusion" geometric pattern at the sides and back of the angel's skirt is achieved by assembling pieces of diamond shaped fondant cutouts. Inspiration for the angel was from the beautifully carved wooden angels by reknown artist Jim Shore. The hand painted cross was reproduced in oil painting effect from an image on a vintage Easter postcard at http://www.antiquesandteacups.info/2014/04/tuesday-cuppa-tea-easter-week-shelley.html?m=1.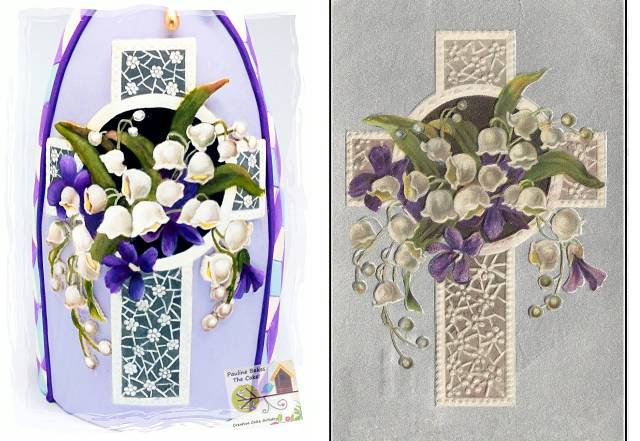 Here's the link to the "A Painted Easter" collaboration https://www.facebook.com/pages/A-Painted-Easter/550030481806735
Thank you so much for looking!