I made a small cake for Sona's birthday a month ago but this one is for her official first birthday celebration. There will be at least 100 guests to a sit-down 3 course meal tomorrow evening and Sona's mum paticularly wanted Tatty Teddy, baby bricks and a patchwork board (she sent me a pic of this gorgeous cake with such a pretty board http://www.cakecentral.com/g/i/3218048/a/3470282/patchwork-teddy/ by Jo Takes The Cake). The board was such fun to do but took me well over 3 hours!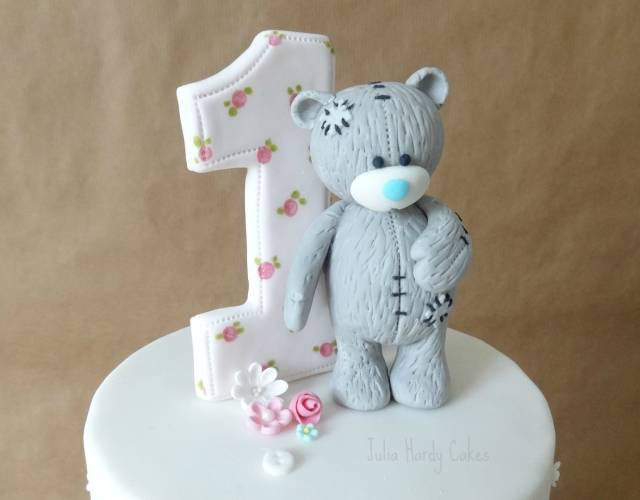 I had a bit of an annoying setback on this cake. When I went to torte the largest 10" tier it turned out that I hadn't left it in the oven for long enough, even though it looked done and passed the skewer test. It was puddingy and horrible! I was so lucky that I had enough time to bake again but that tier took 14 eggs and lots of butter – such a waste – and I had to go shopping and bake when I wanted to get decorating. (I wont be throwing that cake away though, it is delicious served warm with custard :-))
The only other time I have made a cake this big I put it together in-situ (on board a boat with the tide out – guess what happened when the time came in….) so I was not prepared for how heavy that finished cake would be! I usually take my cakes upstairs to photograph them but there was no way I was going to risk dropping this one – I could hardly lift it! I managed to find another spot to take some pics.

Think I am rambling on too much now so I will say thank you for looking and have a nice day! :-) x