Cake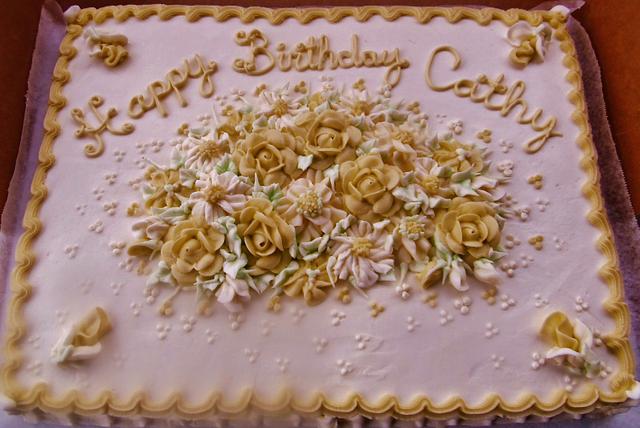 Buttercream ivory, cream, and white floral spray
100% buttercream with roses, daisies, mum flowers, and mixed flowers in cream, ivory, and white for an understated elegant floral spray design.
1/2 sheet cake had 1/2 orange-almond, and 1/2 vanilla cake inside split sides of each flavor.
I used mainly rose tips in #104 and down, and also curved rose tips. Leave tip, and #4 and #3 & #2 for message, and vines. 3-tip dot décor tip for texture around spray.
I did use vey pale green leaves by striping bag with thin coat of light green icing, and filling up bag with white or ivory icing.
birthday birthday cake cake flowers ivory gel colors white vanilla buttercream vanilla cake orange almond cake orange-almond cake decorating tips decorating bags pastry bag icing spatula icing bag buttercream butter buttercream flowers butter-cream buttercream icing buttercream birthday cake cakes food coloring green hands ideas knives kitchenaide mixer oven offset spatula piping piping bag ruffle sugar tips birthday buttercream butter cream cake flowers green ivory icing orange orange almond orange-almond roses white cream nancys nancys fancys nancys fancys cakes nancys fancys cakes and catering nancys cakes sheet cake
22