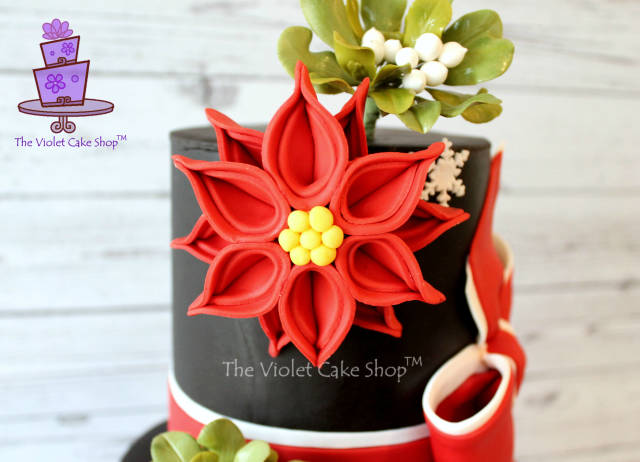 Hoping everyone has had a VERY Merry Christmas and are enjoying their holidays so far!
Here is my family Christmas cake for this year for which I used an unconventional colour scheme, as I wanted to do something untraditionally traditional. So, I went with traditional elements and colours that are found around Christmas time, but used black as my canvas. Black is a traditional colour during Christmas time because it is part of Santa's outfit, but not traditionally used as the main colour on Christmas cakes.
And I finally was able to incorporate some gumpaste mistletoe in this year's design which were made following a tutorial found on The Cake Blog by Petalsweet Cakes from last year (see link below). I used my two-toned petals to create the stylized poinsettias but this time used just one tone (see quick link below for my two-toned petals tutorial). As well, I wanted to wrap it all up in a lovely Christmas bow and could not help but fall back on the much loved two-toned bow idea that I first saw on a cake by Sweet Picasso Cake Creations (see quick link below for a tutorial I created on how I make mine).
I used wafer paper to create the stylized Christmas tree on the bottom tier, as well as some of the feathers on the cardinal. I had wanted to cover the entire cardinal in them however ran out of time…it took me more than 2 hours just to make the ones I used!
Flavour was Pumpkin Spice cake with Swiss Vanilla Buttercream – YUM! Hope you all like my take on a holiday cake this year. Violet
Links:
Mistletoe tutorial by Petalsweet – http://thecakeblog.com/2012/12/sugar-mistletoe-tutorial.html
Two-toned Petals Tutorial – http://bit.ly/2TonePetals (also available under my tutorials here in CD)
Two-toned Bow Tutorial – http://bit.ly/TwoToneBow (also available under my tutorials here in CD)