Looking at Meatlug the sluggish looking dragon featured in the "How To Train Your Dragon" movies, you would think that the Gnonckle dragon will never be able to do a handstand as his massive body would be too heavy for his comparatively small front legs to support. Furthermore, Gnonckle dragons are extremely lazy (known to fall asleep mid flight and crash land) and would never agree to perform this challenging and difficult trick. Surprise! Surprise! Polly just discovered that her pet Gnonckle dragon can do not only handstands but gravity defying "one legged" handstands too! This may be because it is a baby and its body is still not too heavy for its leg. Being greedier than its adult counterpart, baby Gnonckle dragons would do anything for food too. It also helps that Polly taught this baby dragon to flap its tiny wings simultaneously whilst performing the balancing trick in order to take some weight of its front leg. Polly the dragon trainer?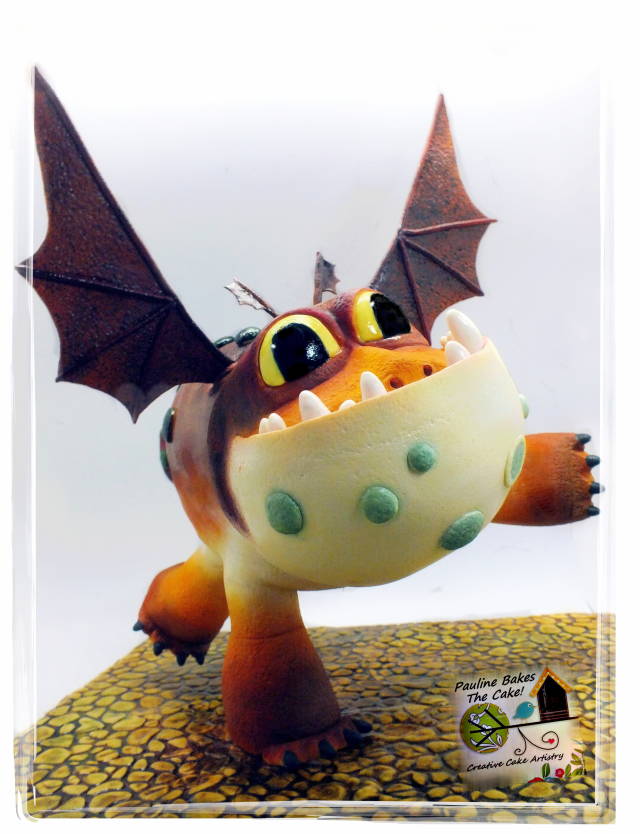 The above story is a work of fiction by yours truly, Polly.
This is my first structured and gravity defying novelty cake for my son Ethan's birthday celebration at school. This is also the first time I covered the entire cake in fondant of the same colour (pale ivory) and then airbrushed it. Initially, I wanted to make Toothless the fearsome black dragon but finally settled on this plump baby version of Meatlug for something different. The body and tail of the dragon is cake. The dragon's head is carved out of styrofoam and then covered and decorated with fondant. The making of this cake, from design to execution, proved to be a huge learning curve for me and took me almost a month and a half to complete. In the end, I was so tired out and poor Ethan's birthday celebration was delayed by a week. Special thanks to my sweet friend Sarah of The Cake Tin for her suggestion of a "How to Train Your Dragon 2" cake for Ethan and whose structured novelty cakes like the awesome "Stacked Minions'" and the gravity defying "Horton The Elephant Hatches The Egg" inspired me to make this cake. A big thank you to my hubby and his colleague for procuring the hardware required for the internal structure of this cake. Also, big thanks to my wonderful group of sweet cake friends (you know who you are) for their encouragement and support whenever I wanted to give up. Most of all, I thank God from whom all blessings flow, for giving me the ability to do this. In Him, all things are possible!