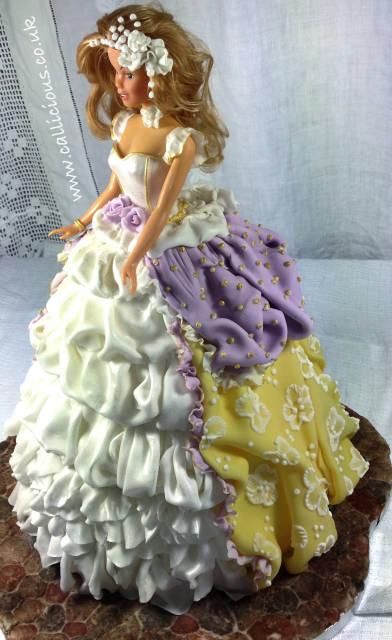 As promised here is the tutorial to make a princess cake. You do not need a Barbie Doll topper and you could even use a shop caught one, but keep only the torso area… or even better, model your own, which will be my next one. Each photo has instruction with it and please feel free to ask questions.
I am hoping you will all give it a go and send me your photos too and as I have done before, make an album with your work and tag your page with the photo.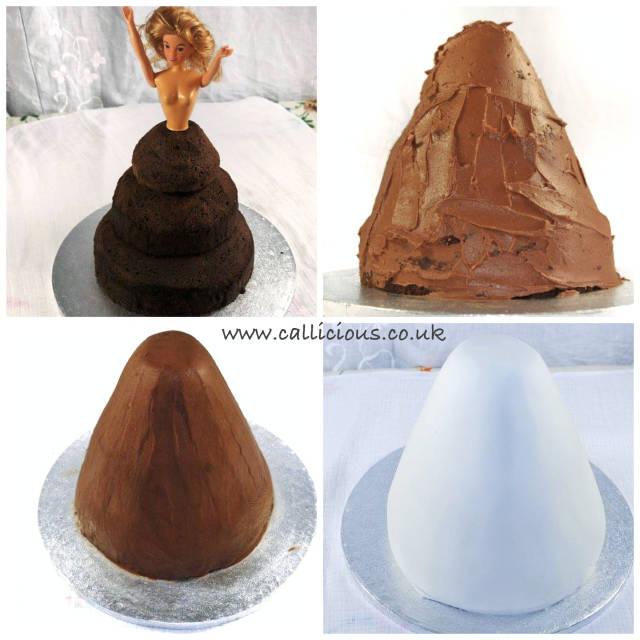 If you have a domed cake tin, then great, if not, then this is what I did. 8", 6" 4" round chocolate cakes, stacked and choc ganached and covered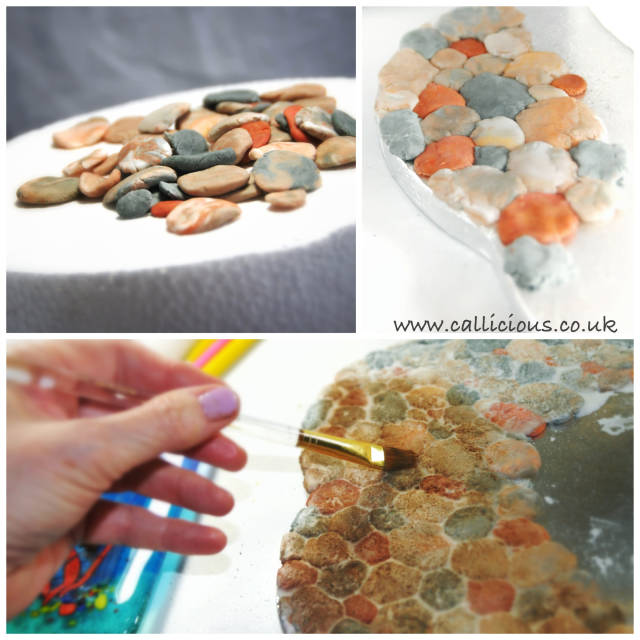 I used a photo of Spanish Cobblestones as my reference for the board. As you can see, I used different colours of fondant, mixed up randomly and made into pebbles. After placing them all on the board, I then used crumpled foil ( like I did for my WoW book cake cover) to create a texture on the pebbles. I spread a thin layer of royal icing over the bard and when dried, dusted with brown to create more texture effect.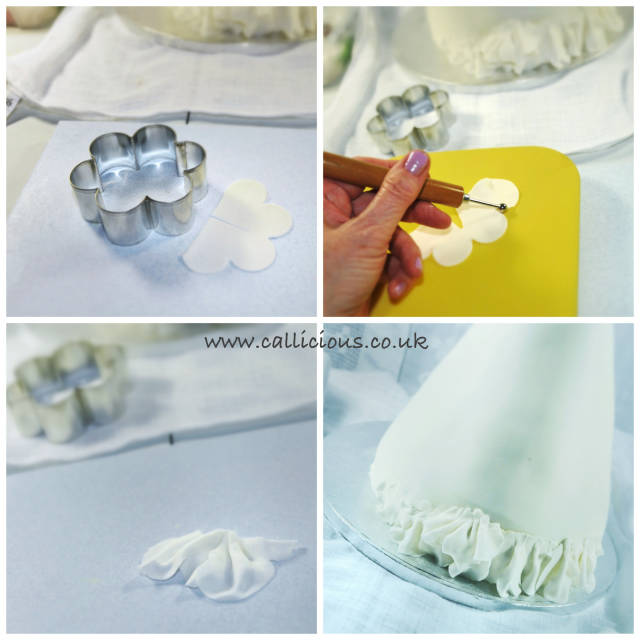 The ruffles for the front of her dress I used this cutter, but you can use any one that you have in your box, or even use a cutting tool to cut a curved line as well, which I have done as well. I then place onto a cel pad and thin the edges and create more movement. Then add them piece for piece to the doll, as seen in pic. Patience is required for this as found it took me some time to do this. I am not an expert in ruffles and still experimenting with it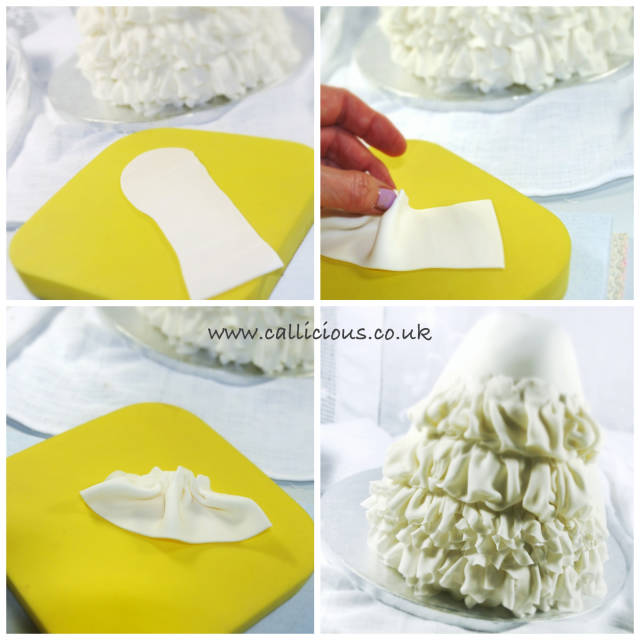 This is similar to previous pic, but here I used bigger ruffles and used a cutting tool to cut a wavy line that I then thinned and gathered to add to the doll.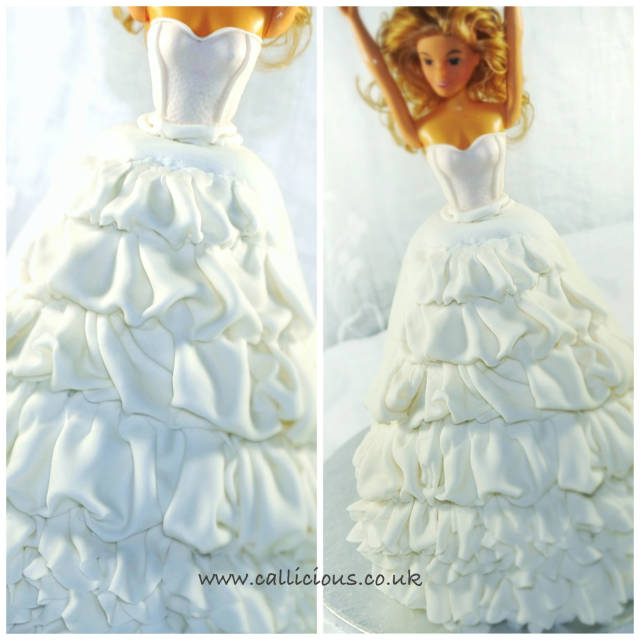 Here is the final result. I then dusted with pearlescent colour dust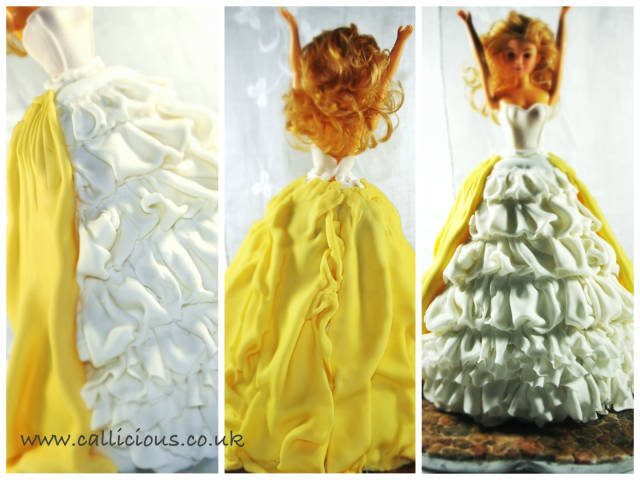 Now I add the yellow and used the back of a paintbrush to help create folds by tucking underneath the fondant and gently pinching here and there with my fingers. No template, just random shapes I cut and folded around the doll.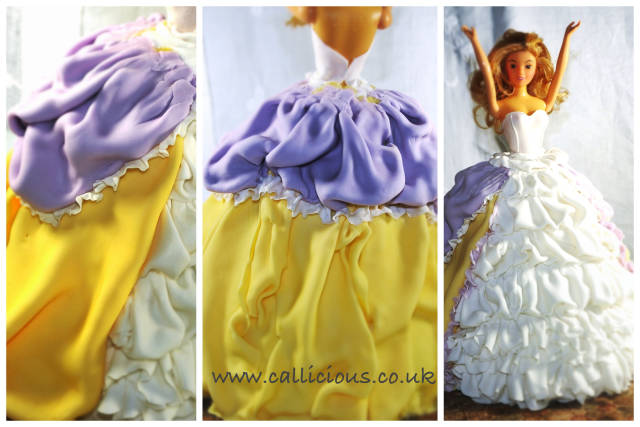 The same process for the lilac as I used for the yellow. I did not use a template and cut out random shapes that I then moved into the shape I wanted to be.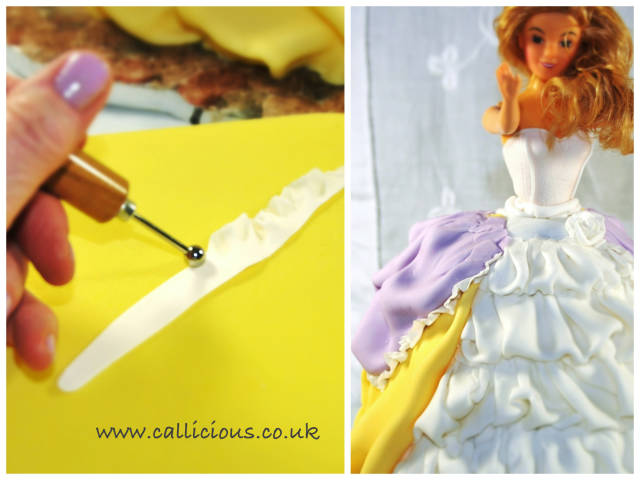 The small ruffles I used to line around the lilac was done my cutting strips and pulling the edges to ruffle with a balling tool


I then piped on the detail with royal icing. That brush embroidery effect, is a rush job (apologies) , but really just to create the illusion of embroidery. Pipe an outline, then use a damp brush to "pull" the icing inwards. I use Eddie Spence's book as a guideline for this. The dots I piped with a 2 nozzle. I then painted the dots with gold lustre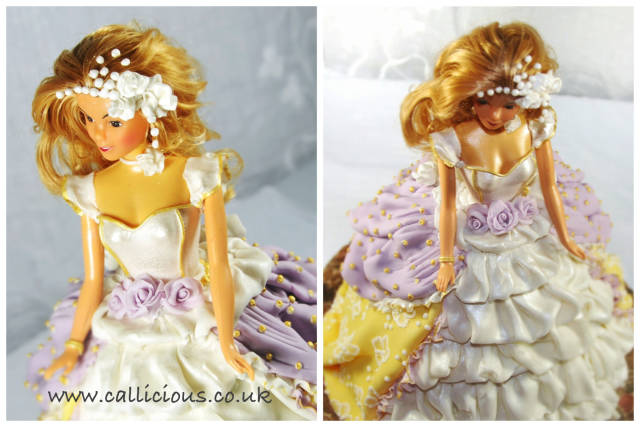 This was done making free hand roses in fondant. I then piped on some dots to create a fun hair feature. The purple roses on the dress I made my hand as well, no cutters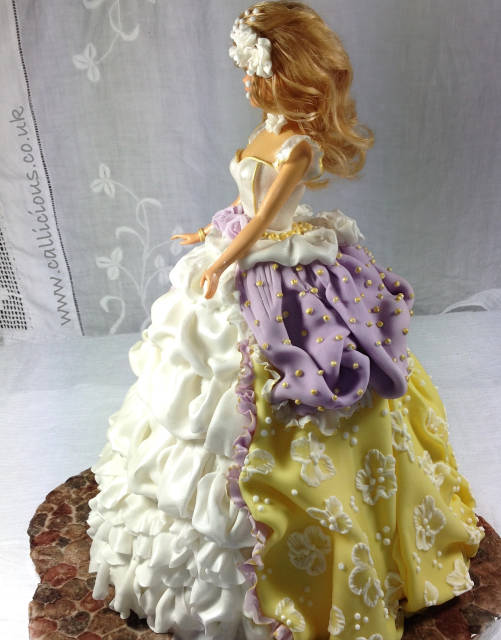 Finished pics: Here she is all completed. I hope you will all have a go. Use any colours and dress designs and themes you wish and have fun!!! Great fun for young girls. This cake itself took 1.5 days, but that stretched into 2.5 days as it took time to put the tutorial together.
You must never limit your challenges, instead you must challenge your limits