Interview #55: Marlene Debattista
Marlene's: CakesDecor Profile | Facebook Account 1. Tell us a little about yourself, family, where do you live and what did you do for a living before making cakes if anything? I have been married for almost 26 years now to my lovely husband...
Marlene's: CakesDecor Profile | Facebook Account
1. Tell us a little about yourself, family, where do you live and what did you do for a living before making cakes if anything?
I have been married for almost 26 years now to my lovely husband Joseph and we have a daughter, Alessia who has just turned 18 this January. The latest addition to our family is our lovely and loving beagle Zak, who is one year old and still very energetic. I am Maltese and live in Siggiewi, a picturesque village about half an hour away from Malta's capital city, Valletta, where I work. I do not decorate cakes professionally. I am actually a Public Officer that is a government employee and work at the People and Standards Division as a Human Resources Manager.
2. How long have you been doing cakes and why did you get started in cake decorating… was it by accident or did you always have a passion for it?
I have been decorating cakes now for more than 21 years and although I am not a professional cake decorator, designing and decorating cakes is one of my greatest passions, my other great passion being traveling. I always loved crafts and used to try my hand at decorating simple cakes for Christmas and other occasions for my family and so on. I only started taking cake decorating seriously when I saw an advert on a local newspaper for a course in cake decorating. I loved it so much that I took further courses and continued to increase my knowledge over the years, however I have never ventured to decorate cakes professionally.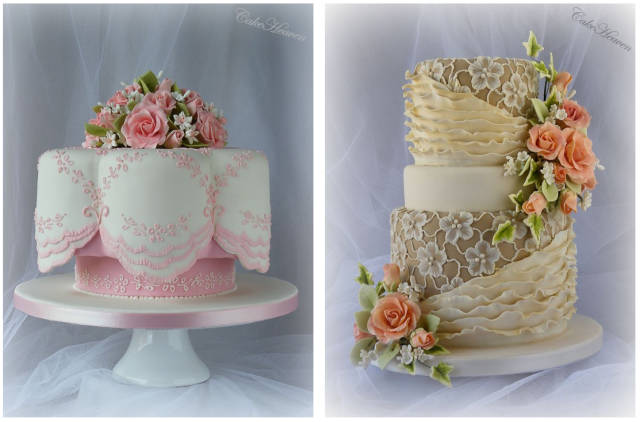 3. Is there one tool you cannot live without and one you don't have yet but really want?
All tools are important to obtain a good result so I would have to say that I cannot live without all my tools. I have to say however that I love to make my own templates out of recycled cardboard cereal boxes. They are very versatile as I can make templates of anything I want and at no cost at all! A tool that I feel that I need and is on my wish list is an airbrush.
4. I love your designs. For me all your cakes are just so pretty and I can actually see a real customer ordering them. Do you actually have a shop, cottage kitchen or do you just like to do cakes for friends and family?
As I have already mentioned I do not decorate cakes professionally, however I keep busy with decorating cakes, cupcakes and cookies, for family and friends and sometimes just for the fun of it or just because I have a design in mind that I want to try out. I also love to participate in Cake Collaborations which are so popular presently and have also been very honored to have my work featured in various magazines.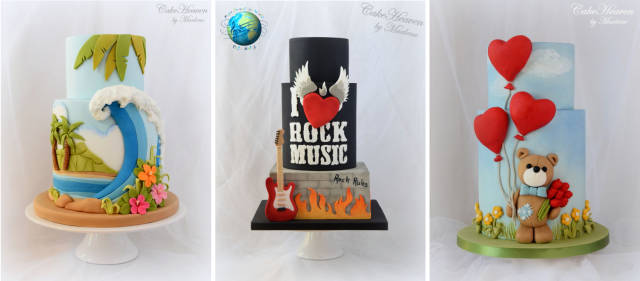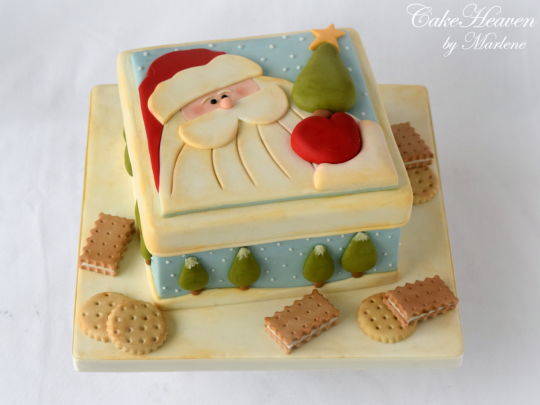 5. What part of making cakes do you like most and least?
Probably what I like least is the actual covering of the cake as this task can be quite a nightmare when humidity levels are very high which is quite frequent in Malta. Otherwise I love every other aspect of cake decorating and I especially love how a plain cake is transformed little by little with every detail that is added, to the final cake design I have in mind.
6. Tell us one thing about yourself that many of us might not know already.
I am sure that hardly anyone knows that I have been in possession of a driving license for over 25 years but I have never driven a car on my own and have not driven a car full stop these last 15 odd years. Unfortunately I am too scared to drive. I mostly travel by bus which is a great opportunity to catch up on my reading!
7. Do you have a bucket list and if so what might one or two of those be and it does not have to be cake related?
Travelling is always way up there on my wish list. Having always travelled within Europe, I would really love to venture further away like the Far East, North and South America and Australia and New Zealand.
8. What would you say has been your biggest cake challenge to date and if you could have a do-over of that cake would you want too and what about it would you change?
Probably my biggest challenge had to be the first cake I did for a collaboration which was entitled Gardens of the World, not because the cake itself had been difficult to execute but because of all the doubts and fears I had being the first time I was participating in a collaboration.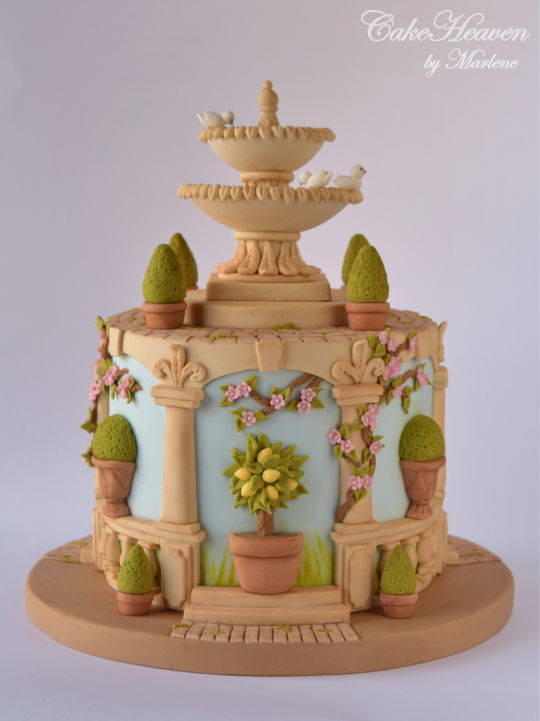 9. Is there one technique or sugar skill that you have not tried yet but really would like to learn?
I would really like to venture in carved cakes. I really love to see the amazing creations executed by other cake artists and would really love to try something similar.
10. What is your favorite cake flavor you like to make?
I have to say that I have quite a sweet tooth and have been known to eat anything containing sugar. With regards to favorite flavors I definitely cannot say no to a piece of lemon cake, however my absolute favorite has to be the carrot cake.
11. Do you sketch your cakes or just wing it?
I definitely sketch my cakes and most of the time I sketch them to size. I also try different colour combinations to establish which colour combination would work better for each design. There are times however when I depart from the original design if during the execution of the design I realize that my original idea could be improved in one way or another.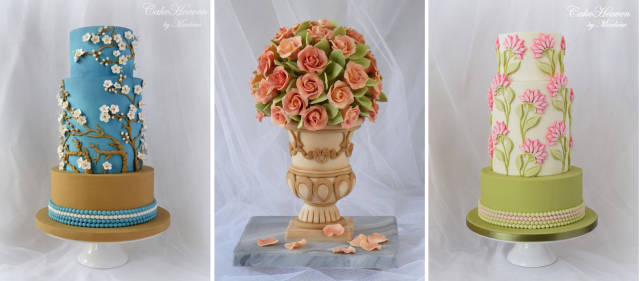 12. For anyone just starting out what would be one piece of advice you would give them?
The best advice I could give is to have fun and never give up. Even if some particular technique seems difficult keep practicing and I can guarantee that perseverance gives its fruits and you will manage to overcome all obstacles.
13. What's the best lesson you have learned while making cakes so far?
The greatest lesson I learned is that cake decorating needs a lot of patience. I have to admit that there were many time when due to my impatience I ruined what I was doing and had to start all over again.
14. For me your Batman cake is my all-time favorite of yours. It was just so truly original from all other Batman cakes I had ever seen and just done to perfection. But do you have one significant cake that you can call your favorite so far in your career?
Usually the last cake I do is my favorite one. Having said that, I have to admit that my favorite kind of cake are feminine with soft colours and flowers like the one I did this year for my daughter's 18th Birthday and the cake I did for the Cake Craft Guide Wedding and Sugar Flowers Magazine, issue 26.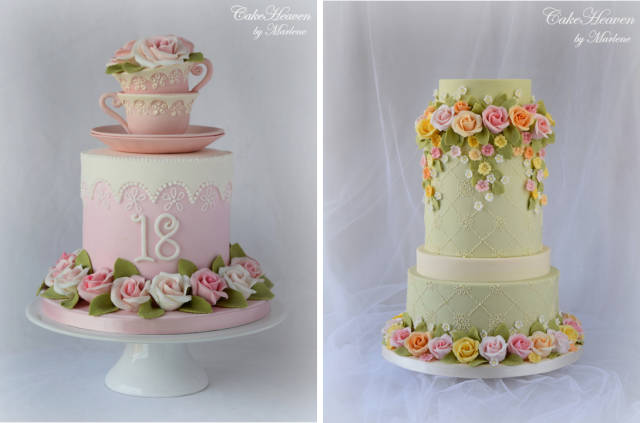 15. And one crazy one just for fun…If you could go anywhere in the world with a fully paid vacation where would you go and why?
I love to learn about the culture and the traditions of the places I visit so probably my first option would be the Far East because their culture and traditions are so different from the European ones.
Marlene's Cakes:
Thank you Sharon for doing the interview.
-- Michal, http://cakesdecor.com | My Facebook: http://www.facebook.com/michal.bulla
interview marlene - cakeheaven cakeheaven by marlene marlene debattista
39