Interview #30: Serdar Yener from Yener's Way
Thanks to Shags from curiAUSSIEty custom cakes we are bringing you interview with Serdar Yener from Yener's Way 1. What inspired you to want to be a cake decorator? It all started when I was 17. I asked my mum to find a job for me during the...
Thanks to Shags from curiAUSSIEty custom cakes we are bringing you interview with Serdar Yener from Yener's Way
1. What inspired you to want to be a cake decorator?
It all started when I was 17. I asked my mum to find a job for me during the school holidays. Her first choice was Istanbul Hilton, for she knew the director of finance who rented an apartment from us. That was the day of my lifetime encounter with the pastry world. We went to see him and he sent me and another boy (with the same intentions as me) to the chief cashier. I can never forget that particular moment. The chief cashier shortly looked both of us up and down, pushed his glasses up, pointed his finger at me and said "you go to the pastry kitchen" and to the other boy he said, "You go to the Roof Restaurant". And with those few words, he had paved my lifetime career for me.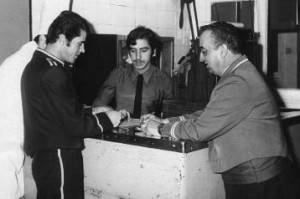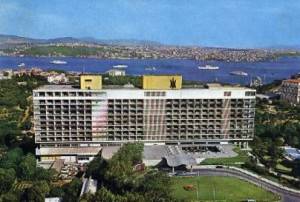 My first position as kitchen clerk at Istanbul Hilton.
I didn't know anything about pastry then; thus it was the beginning of my profession. This was the very beginning of my inspiration. I was stationed in an enormous pastry kitchen with 25 staff. Whenever the mixer machines were on, I felt like I was working in the engine room of a cruiser ship. Everything happened right before my eyes in the pastry kitchen. Mass production, fine cake decorating, chocolate dipping and bread baking. After a few days' hesitation, I stood up and started giving the staff a hand. I realized that it was much more interesting than just doing inter-kitchen transfers and filling out forms all day. Time passed, the Summer holiday ended and I continued as a part timer for a year. I then applied for a full-time commis position and knew that pastry will be my life from now on. I put in a lot of efforts and involved myself fully in all the functions, promotions, banquets and special menus Even without my apprenticeship, I was confident and holding all the key tasks In the pastry kitchen and was also trusted by local chefs and expatriate by Danish pastry chef, Mr Petersons. When he left, his successor, a young Swiss pastry chef, Mr. Peter Straub came on board and we enjoyed working and clubbing together. So going back to your question, during that first year, after observing and absorbing everything in that pastry environment, I realised and understood that there is no limit to what I could create with edible objects if I just implemented my existing talent in to this profession. This was my inspiration.
2. What are the things you love the most about cake decorating and the things you hate?
Cake decorating is the combination of carpentry, architecture, engineering, chemistry, painting, 3D designs, and computing, besides just baking, cooking and lot more. I love how materials used in pastry are so flexible and versatile.
For example, a sculptor who uses clay to create art has only one condition of elasticity to work with that all techniques must marry with. The same goes for someone who is carving stone or wood, where the medium can only be subtracted or carved out to get to the final piece.
So now let's think about chocolate as an artistic medium. Sometimes it works like clay if you add some glucose in it, and sometimes like a stone, which you chisel on, but it can also be painted with or poured onto trays in any thickness, and cut into shapes that immediately stand vertical. You can pour it in moulds so it takes the shape of anything. You can even make moulds out of other pastry substances like gelatine. You can also add some alcohol into chocolate to make it more creamy and pipe nice curves. The beauty is that you can combine all of these conditions into the same artwork and even use the chocolate itself as a glue. I love this freedom!
Sugar is also such a versatile component. You can roll, sculpt, scrape, pipe, mould and so much more. I consider myself a creative person and working with these flexible materials to decorate any cake I want is like playing an instrument that gives you every sound you can imagine. That is what I like the most about cake decorating. There isn't really anything I hate about cake decorating. Sometimes I don't like to work late hours under time pressure but I know how to solve this problem…don't look at the watch until the cake is finished. Luckily I always have my wife Jo who works by my side and never complains.
3. If you could no longer do cakes what would you like to do as a profession?
Oh Sharon…This is such a difficult question. It would be easier for me to answer it if the question started with "If cakes didn't come into your life…" and if this was the question, then I would say Architecture. When I was a child I was always dreaming of building wooden bridges in poor rural places. I would imagine the satisfaction and happiness to see people passing from one side to another over the bridges I build. I am now 62 and I cannot imagine anything else other than cakes.
Having said that I am so happy with Yeners Way as a new occupation. Creating online tutorials has opened up a whole new avenue of fulfillment for me. While I have thought on many different occasions in the past, I have never had the privilege of utilising such a wonderful platform where I can help thousands of people so easily. As a cake business, I used to have to make the same cake over and over again to please just a small handful of customers. Now I just need to make a cake once, and please hundreds or thousands. A tutorial never goes "off" or stale and will automatically continue to bring value to people. I'm really thankful to all our members and my son Serkan for making this a reality for me. When I read all the thank you messages I am very motivated. I want to make tutorials till the end. Sometimes I ask myself what I would do if I was in a wheelchair and I think I would still find out how to educate even then.
I love teaching so my answer to your question would be an educator of some sort, hopefully still with sweet things in it.
4. What is your most favorite cake tool that you use and why?
My hands. I really really don't want to sound arrogant or anything but when we talk about tools, we looking for a tool with versatility. A versatile tool should do many things before it leaves your hands. Usually when I'm making a tutorial, I gather all the modeling tools I can think of on the table and then I always end up not even using most of it. Every muscle in the hand does different things and even the different positioning of fingers has different functions. My most favorite ability of my hands is that they know how to hold and use other tools. Even better…sometimes they know how to create new tools if necessary.
5. Having a son that is also in the business are you hoping or do the grand kids also share a passion for cakes?
A few of my friends have so little contact with their sons so I am really blessed that my children have always stayed in touch with me. I really enjoy talking with Serkan especially while working on Yeners Way, discussing what our next tutorial will be or how to improve our tutorials etc. Even though sometimes we argue I still enjoy it.
I have 4 grand kids. A boy(6) and a girl(4) who belong to my older son Orcun, all live in Sydney. My younger son Serkan also has a boy(5) and a girl(3), and they live on the Gold Coast so I see them almost every day.
Just recently the two grand kids from Sydney came to the Coast for a few days and I organized a cookie day for all 4 of them. That was my first pastry class for them all together. They had so much fun and I had the best grandfather day. The cookies turned out tasting terrible but there was still not a single crumb left at the end of the day. They loved it. All of them being so young, of course they love cake as most kids do, but I think it's a little too early to say whether they share the passion but you never know. I would definitely like to have more cookie days with no force and see what happens. I would like to think that they will study and graduate before they even think about it.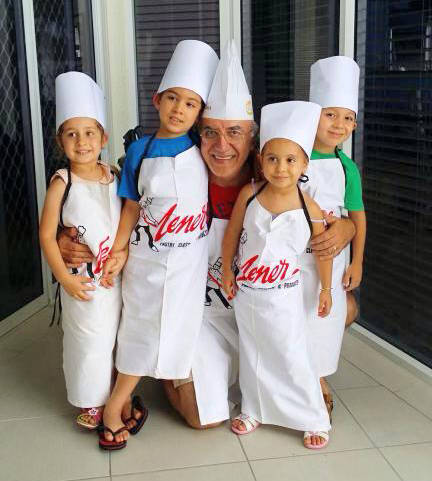 Cookie day with my grand kids.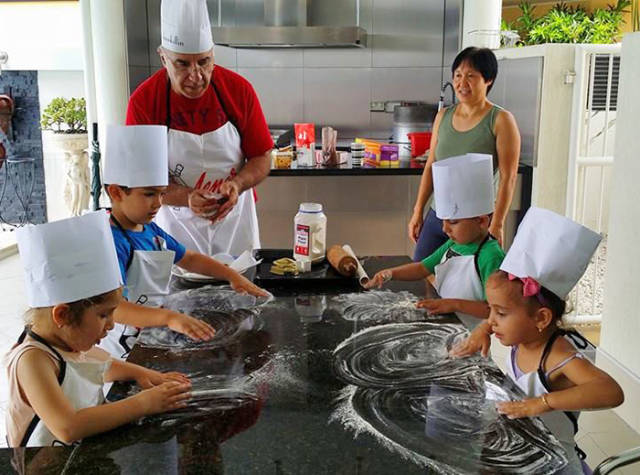 Cookie day with my grand kids. My wife Jiuan on the right.
6. If you could do a cake with anyone else in the world who would you like to do a piece with?
Through the internet, Facebook, cake collaborations, competitions and many other events and job titles in my career, I have came across so many talented cake artists. I observed and admired every individual with their different way of getting there and always tried to identify what is the very point that I can learn from them.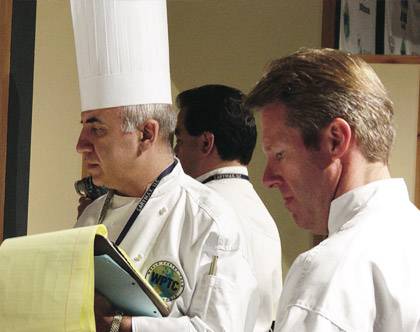 Judging with USA Judge Mr Ewald Notter during 2002 World Pastry Championship Las Vegas.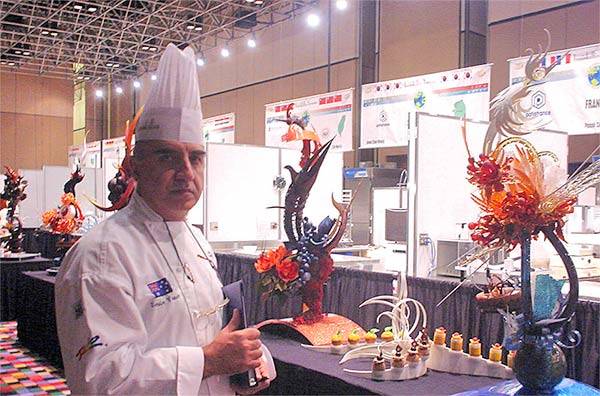 Winning Team USA chocolate and sugar centerpieces 2004 World Pastry Championship, Las Vegas.
Some of them like magicians we have to watch really carefully to catch their tricks. People who have developed incredible skill and own personal style that deserve everyone's "wow".
If I had to just mention one person, it would be Karen Portaleo. When she touches sugar paste, it comes to life and says "I have feelings". When it comes to developing a unique and personal artistic style, she is the best I've ever seen.
Having said that, I am not so sure that I would want to interrupt her when she is composing a masterpiece as I think cake decorating is an art that should really be perform by an individual, or maybe with a supporting team. Decorated cakes are usually made to fulfill a customer's or friends request but almost always reflect the creator's personal signature style. It's like having 2 painters working on the same painting.
I would actually really like to collaborate with cake schools or establishments to be more active in an educational way.
Actually, my "supporting team" is a lady who nobody sees…my wife Jiuan. She helps me make cakes everyday and it doesn't matter how big the project is or how many late nights it takes, she is always with me.
7. Your talents are off the charts but if you could give one piece of advice for some one new coming into the business what would that be?
If you are asking for a philosophical answer, than I would say be a Jack of all trades but Master of cakes. A good cake decorator should be a little bit of a carpenter, engineer, architect, handyman, painter, tiler, plasterer, and 100's of others…even a cleaner!!
If you are asking for a technical answer, than I cannot give my answer in one piece to this question because cake decorating is combination of 3 main stages and I would like to give one piece of advice for each stage.
BAKING: Choose or recommend the right flavor and be greatly concerned about the texture of the cake. You are not going to work in the fridge. Think about the attitude of the cake when it stays in room temperature for considerable amount of time.
PREPARATION: Always start decorating on paper, do your plan in actual size and itemize the actions into smaller parts. Create a list for each action for example, parts to do and let it dry, colors to mix, tools to use, contractions to be gathered etc.
ASSEMBLE: Use yellow post-it notes to create different actions and break down the different steps into individual steps that need to be done. That way you can just re-order the tags at anytime so each step makes the next step possible.
8. What do you consider your biggest accomplishment to date?
Most definitely Yeners Way. I have always dreamed to share my experience and knowledge with people. The way that Yeners Way allows me to do this has far beyond surpassed my expectations and dreams. I used to conduct regular pastry classes in Singapore and Australia but that never turned into a full time gig due to other working commitments. Writing a book (or books) has also always been in the back of my mind but time constraints, as well as the lack of knowledge about the publication process, has always prevented it from happening.
God has blessed me with family members that have all taken part in this journey and have helped me get to where I am today. My younger son Serkan has worked with and specialized in 3D cakes for years. Through out the years, he self taught himself how to design and develop websites and he helped grow our cake business by making Yenerscakes.com.au. He believes in me maybe more than me, and recently spent just over a year developing Yenersway.com. With Serkan's help, today I am writing and "digitally" publishing the book that I always wanted to write. Only I am doing it page by page in the form of a website and I am sharing my knowledge with a community of like minded people and receiving critique on my work, as I go. This is our biggest accomplishment.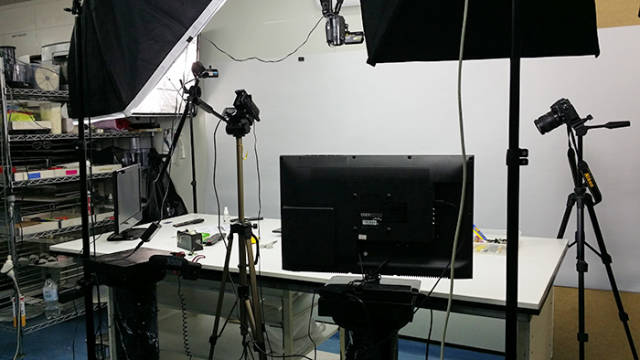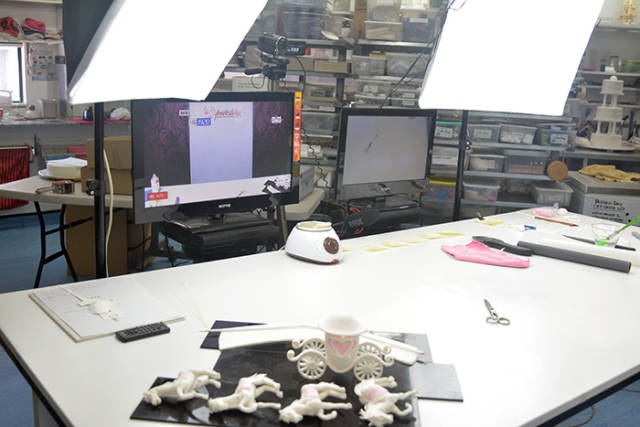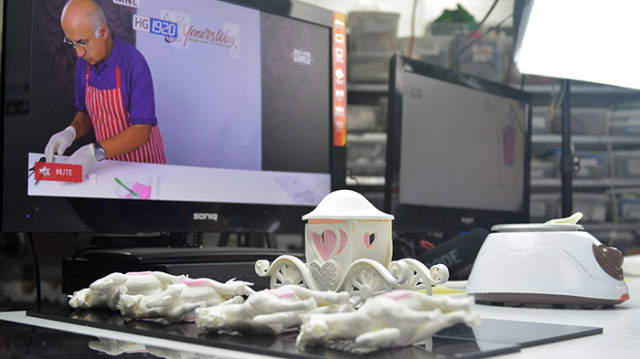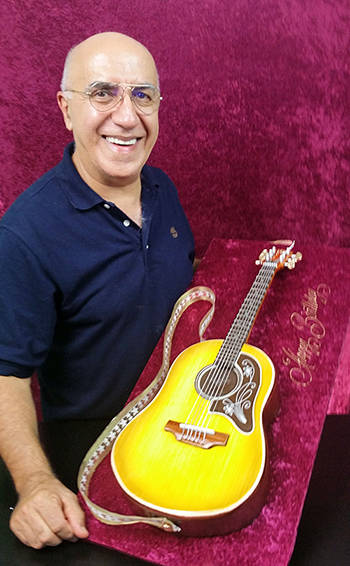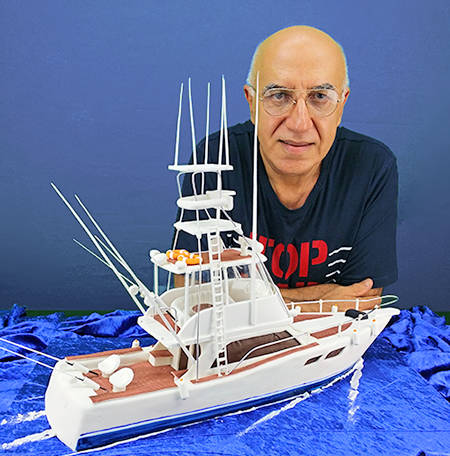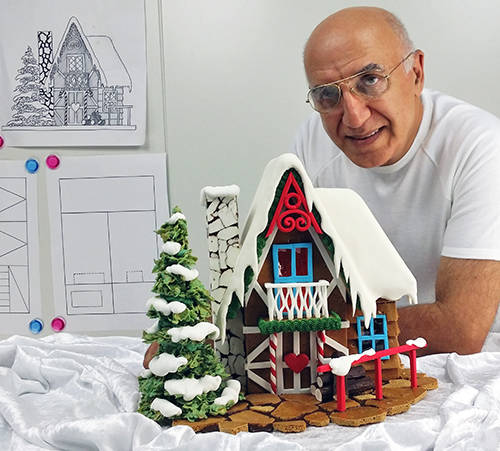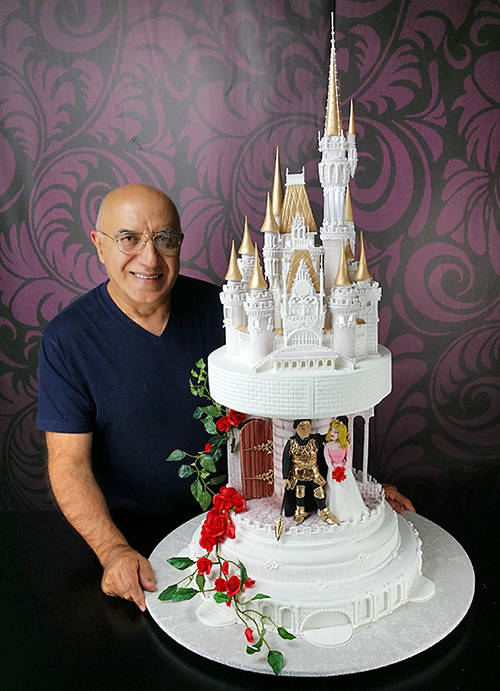 9. What is your most favourite cake you have done?
I haven't made it yet.
10. Have you ever had a cake disaster, and if so what was it?
Yes there have been a few incidents like late deliveries or tumbled cakes in the truck and so on but thankfully, they all have a happy endings.
Although there is one event that still gives me butterflies every time I think about it. Can you imagine having a feeling that suddenly you have no weight, emptiness, like there are no organs inside you. Everybody shouting around you and you can see their mouths moving but you cannot hear them. Great loneliness and falling endlessly into darkness.
1980 Germany I received a call from Dusseldorf Hilton Chef. I worked for him a year prior. Next day I went to his office. He said he had been asked by Mains Hilton to find a pastry artist to create a sugar centerpiece as large as possible to accompany the dessert parade. Cutting a long story short. The event was a charity dinner for the forthcoming Tokyo Olympics. 3000 guests including the President, Prime Minister and all the members of parliament, as well as every public figure and olympian. Each ticket to this event cost 500 German marks. Mains Hilton's closed ball room has no pillars in the centre and was the only place that could accommodate this many people for a sitting dinner service.
He trusted and asked me to create this piece. I was honored to take the responsibility. I planned everything in Dusseldorf and ordered all necessary internal supports from Mains Hilton engineering department. I decided to make a replica of the Tokyo Pagoda and they agreed.
So here was the plan: I will work in Mains for 7 days, all for a 3 minute presentation. The centerpiece will be hand carried on a platform by 8 ballet school students and followed by ice bombs deserts with flames. The problem was that the requested height of the piece is more than the 2+ metre high door size. I have to do this piece in two parts. The lower part will be wheeled in over a wooden stretcher in the dark and then I will have about 20 seconds to personally climb the ladder and place the second part on top of the lower part. The ballet students will then carry the whole centrepiece to the centre of the dancefloor while Japanese music is playing.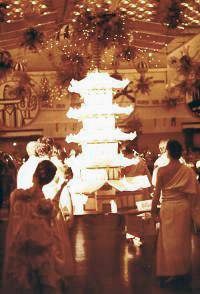 3 metre high sugar pagoda carried by students of the ballet school.
So logically I have to make the lower part as high as possible while it can still go through the door frame, and the upper part needed to be as light as possible so that I can carry it up a ladder and place it on the top of the lower part.
I swore to god that I made all my measurements correctly and checked every little calculation 10 times.
The moment finally arrived. The lights were off. The lower part was waiting outside the door, ready to come in, while I was inside holding the upper part with two hands and 2 guys were standing by with a step ladder. I am watching the students slowly pushing the lower piece over the carpet as it slightly shook left and right.
As I watched I then realized and 100 percent thought that the piece was NOT going to pass underneath the door frame. Just like in the movies, slow motion started and that natural chemical substance I don't know the name of it starts pumping through my bloodstream.
That feeling that I described earlier was just about to happen…but the lower part just passed by and just scraped the top of the door frame. Then the sun came out from behind the dark clouds, birds started singing and flowers bloomed. So it wasn't a disaster after all but for me it was an apocalypse for 20 seconds of my life.
Thank you Serdar and Shags!
Yener's: Website | CakesDecor Profile | Facebook
serdar yener interview interview yener's way yener's way interview
Part 30: Serdar Yener from Yener's Way
22