Interview #25: Sharon Wee
Short Bio Sharon Wee is a gorgeous, tiny, talented powerhouse in the Cake Decorating Community. I had the pleasure of meeting Sharon for the first time earlier this year at the Australian Cake Decorating Network Cake Camp in Melbourne and I have...
Short Bio
Sharon Wee is a gorgeous, tiny, talented powerhouse in the Cake Decorating Community. I had the pleasure of meeting Sharon for the first time earlier this year at the Australian Cake Decorating Network Cake Camp in Melbourne and I have to say, she is an absolute sweetheart!
With a no-nonsense, easy teaching style that immediately puts even the most nervous student at ease, Sharon runs a classroom with a quiet confidence. She is the ultimate hard working professional during her class hours and to my delight, an absolute joy once the work is done. She has a fabulous sense of humour and buckets of personality to go with her boundless energy…..and she loves Bunnies!
Enjoy :)
Interview
How did you first get started with cake decorating?
I first started in college making cakes for friends. After getting my first 'real' job I was bored and wanted something more so I took an evening class at a community college from a sweet old lady. That sparked my interest so I kept practicing and taking more classes from other schools and decorators.
You have your first book coming out soon. That's an incredible achievement, please tell us a little about it.
We named it Adorable Cakes for all Occasions because the cakes inside are all cute and sweet and we hope they can be adapted to suit any celebration. It has 11 full size projects, some simple and some more advanced, and some simpler one page projects. It has a glossary, tools list, and a section on the basics such as ganaching. If you've seen my Basics Bible tutorial PDF that part of it is very similar. There are also recipes for baking, and templates to help construct the 3D cakes. We have a website at http://sharonwee.com.au/book.html which supports the book and has a recipe calculator, downloadable templates, and a sample project.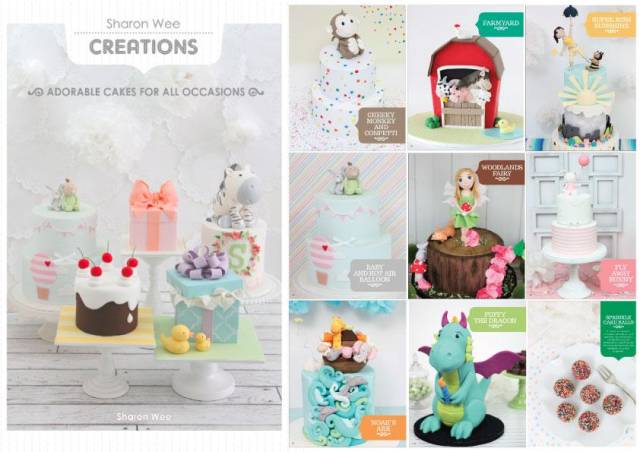 How long have you wanted to publish a decorating book?
I've wanted to for a couple of years but it was always just a nice dream. Only during the last year did it become a real project that seemed achievable.
You're touring with the gorgeous Michelle Green from The Business of Baking, what is one key piece of advice you would give to business dummies like me?
Have a goal and always keep in mind the bigger picture. Work towards something whether it's opening a store, saving some money, improving your skills… or writing a book!
What has been your greatest decorating challenge?
The rustic, flower garden cake. She'd already had a celebration overseas with her cake made by a world famous decorator and she contacted me to make a cake for her local celebration. It consisted of so many flowers, it took so long, and the pressure was on to live up to the other cake.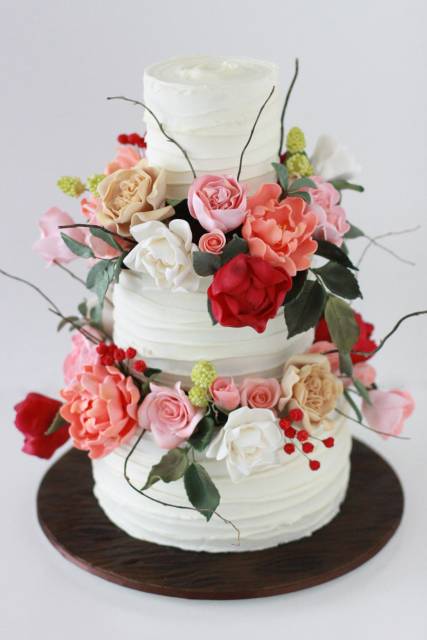 What is the most rewarding part of cake decorating for you?
When I get feedback about how happy people are, whether it's an email a few months later or the screams of a happy birthday boy or girl on the day.
Can you give some tips to people who have just started decorating cakes or would love to start?
Decide whether it's a hobby or business. Keep practising. Take some classes (in person, from a book/PDF, or online videos like Craftsy) to build some core skills and avoid getting bad habits early. A lot of people have trouble with the basics like ganache/buttercream and rolling fondant. If you've decided you really want to improve then private classes with a known decorator are fairly expensive but the one on one time is a great way to really improve.
Which one of your cakes is your favourite?
The pouring milk jug, just because it's given me the opportunity to travel the world and teach so many students.
Do you bake, do you enjoy baking?
I do enjoy baking desserts for fun, but not for orders. Then it feels like work!
What is your favourite decorating tool?
My silicon rolling pin (they are so hard to find sometimes, I always buy in bulk!) and my water brush.
Do you have any rituals or habits when you are working?
I don't like silence so I usually have the radio in the cake room and movies in the computer room.
Which of your achievements in Caking are you most proud of?
Right now I have to say the book. At times I thought it would never happen and I'm so glad it's out there and I've got some positive feedback.
Which part of the whole process do you like the most….
Taking photos when it's done Because it's all finished and I get to really appreciate it, and share it with others online.
…and the least?
Talking to clients to work out what to make. I just want to get started!
Do you have a cake idol?
Mike McCarey from Mike's Amazing Cakes (www.mikesamazingcakes.com). I've always loved his 3D models and his teaching style – if you have the chance to take a class with him, do it!
What cake do you most want to make that you haven't been asked to yet?
Well if I feel like making something I usually just do, so maybe it's more about who is asking. I'd love to make a cake for someone I respect and look up to, like Hanson my favourite band (yes they're still around!).
Lastly, what is the first thing on your Cake Bucket List?
I think it'd be fun to be in a big cake challenge, like the ones on TV. I've always enjoyed watching them and they seem high pressure and fun, I'd like to see how it really is.
Thank you so much for taking the time for our readers Sharon and all the best for the book and all the exciting plans you have coming up.
Raewyn
Some of Sharon's Cakes: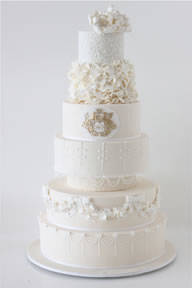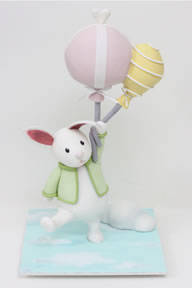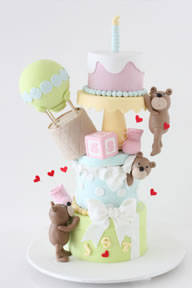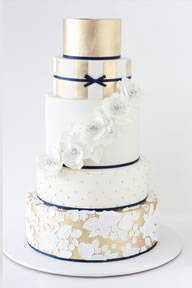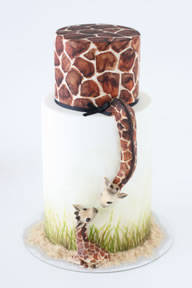 sharon wee interview with sharon wee interview
13