Cake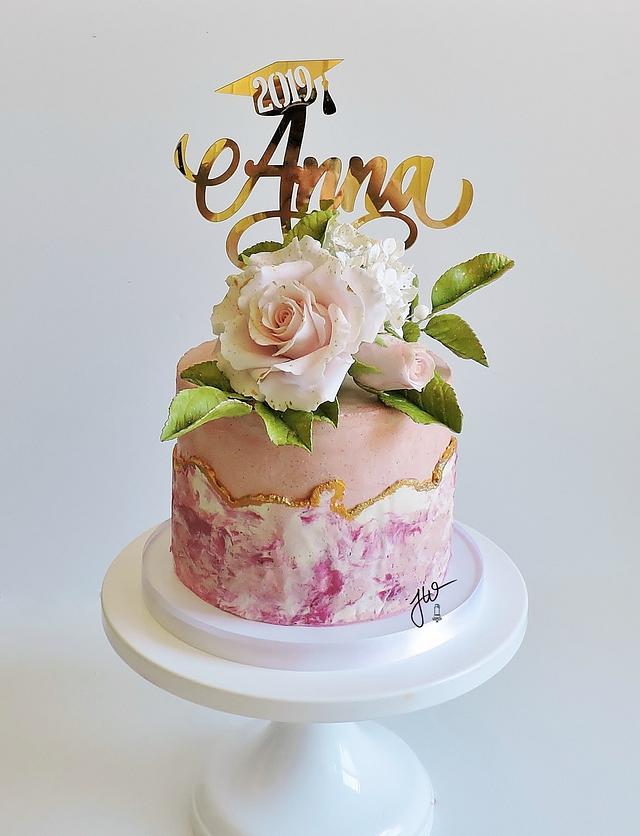 Congratulations Anna!
This is the HS graduation cake with a fault line design I made for the beautiful Anna. Congratulations – You will do great things in life!
The cake is strawberry with strawberry SMBC that traveled approx 6 hours without a problem.
This delicious strawberry cake was created with love and with the help of some special people who share their knowledge with us in our cake community so I want to let them know they are appreciated. Thank you Ladies!
Nathalie Sorensen's Vanilla Bean Cake recipe she used on the Food Network – Amazing recipe!
https://www.foodnetwork.com/recip…/vanilla-bean-cake-3297352
Shannon Bond who checked my conversions (Thank Goodness) and gave me some valuable tips and tricks – Thank you sweet friend from disaster. "10oz flour difference – indeed!" LOL
Kara Andretta's blog and her Real Strawberry Simple Syrup (incredible!) and use of freeze dried berries in the batter and SMBC. Do you subscribe to her blog? You should! https://www.karascouturecakes.com/…/triple-strawberry-cake…/
Last but not least, the original butter cream marbliing technique is from Christine Leaming from Sweets Geeky Cakes. Check out her YouTube video :)
https://www.youtube.com/watch?v=X4mYF8v8DLs&t=29s
Sugar Flowers are by Me
https://www.facebook.com/prettyprintshoppe
vanilla cake strawberry puree strawberry simple syrup swiss meringue buttercream amoretti stawberry edible gold paint sugar flowers graduation cake sugar flowers strawberry cake fault line cake marbled butter cream
17