Cake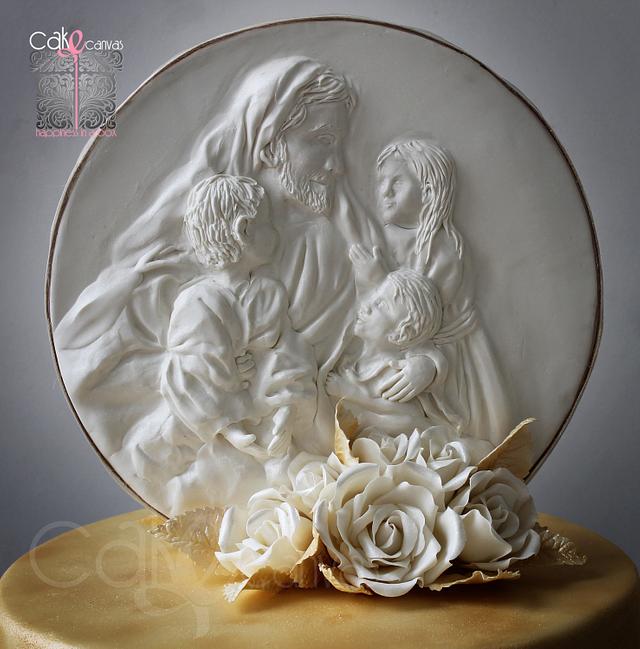 "Let the little children come to me..''
Our little angel Jacob Mathew Vadayatt alias Chacko Mathai had his First Holy Communion on the 1st of May at St. Mary's Basilica, Ernakulam. I wanted to do something for our baby boy and all the little ones who were receiving their First Holy Communion along with him on this special day.
Holy communion is a firm stepping stone for a child in the Catholic congregation. It is the first affirmation to continue in the path shown by Jesus. When our son Chacko Mathai confirmed his vows on his special day, my heart beat out it's proud proclamation and tears welled up to blur my vision. But through it all I saw two sets of beaming grandparents silently showering their blessings upon their grandson. The day was a blur of activities as there were around 80 kids in all who shared the special day with Chacko Mathai, but the happy faces of his grandparents will remain etched in my memory.
I wanted to capture the essence of the ceremony in a cake for the occasion and decided to make a commemorative shield that resemble the holy communion encasing the bond between children and Jesus who said "Let the little children come to me, and do not hinder them, for the kingdom of God belongs to such as these. Truly I tell you, anyone who will not receive the kingdom of God like a little child will never enter it." Mark 10:13-16
We also made commemorative cupcakes decorated with tiny angels to give to all the children.
7