[NANTES EN ROSES]
English below
Voici une nouvelle création, chic et gourmande, pour un mariage qui nous tenait particulièrement à cœur.
En effet, le thème retenu était notre belle ville de Nantes et ses monuments symboliques, dans des teintes blanches, roses et or.
Il nous a donc fallu dans un premier temps trouver des photos de ces différents bâtiments dans le bon angle de vue. Une fois notre sélection faite, nous les avons redessinés et stylisés en fines lignes noires. Après les avoir imprimé sur le fondant, nous avons réalisé des pochoirs qui nous ont permis de dorer à l'aérographe certaines parties des visuels, apportant une touche moderne et chic. De délicates roses en fondant viennent dynamiser la composition en apportant volumes et couleurs. La touche gourmande est amenée par les petits beurres LU disséminés sur l'ensemble du gâteau et particulièrement mis en valeur pour le topper. Pour les réaliser le plus fidèlement possible, nous avons crée une empreinte avec notre imprimante 3D, reprenant les mentions textuelles et le graphisme de ces douceurs. Après un petit poudrage brun sur leurs pourtours pour simuler la cuisson, nous avons ajoutés les initiales dorées des mariés.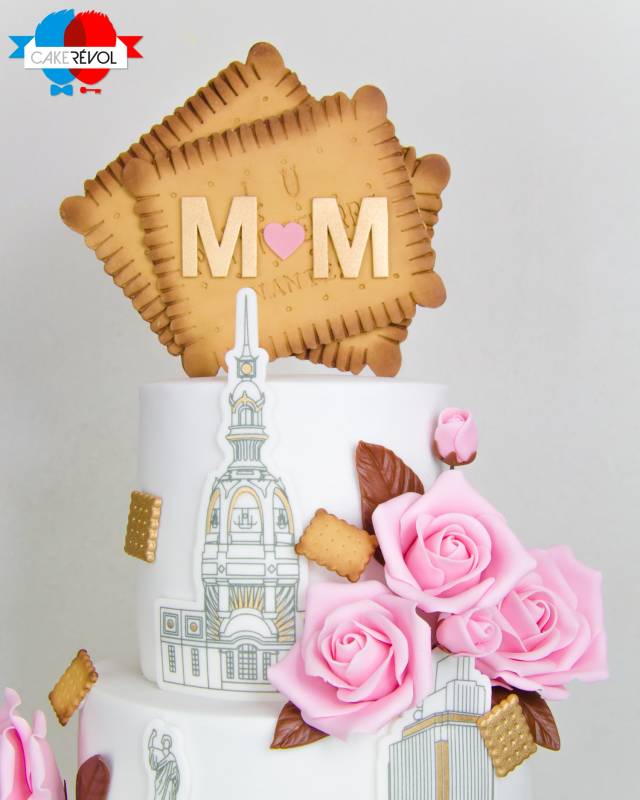 our la livraison, ils tenaient absolument à ce que nous apportions nous-mêmes le gâteau face aux convives, qui nous ont réservé un accueil des plus chaleureux. L'occasion pour nous de recevoir en direct les sentiments des invités sur le visuel et les saveurs.
Carton plein :D
Nous souhaitons à nouveau aux mariés une belle vie en rose à Nantes ;)
💙❤️
Jonathan & Sébastien
- CAKE RÉVOL -
_______________________________
[ NANTES IN PINK]
Here's a new creation, smart and greedy, for a wedding which particularly meant for us.
Indeed, the theme was our beautiful city of Nantes and its symbolic monuments, in white, pink and gold. It was necessary at first to found pictures of these various buildings in a good viewpoint. Once our selection's made, we redrew them and stylized in black lines. After printing them on fondant, we realized stencils to gold some parts with an airbrush, to bring a modern and smart touch. Delicate roses in sugar come to the composition and adding some volumes and colors.
The greedy touch is brought by small « Petits-Beurres LU » spread on the whole cake and particularly for the topper. To realize the topper, most faithfully as possible, we created an imprint with our 3D printer, resuming the textual mentions and the graphics of these sweetnesses. After a little brown's dusting on their circumferences to feign the cooking, we added the golden initials of the bridegrooms.
For the delivery, they absolutely wanted that we brought ourselves the cake in front of the guests, they reserved us a warm welcome. The opportunity for us to receive live the feelings of them, on the cake decoration and the flavors, is rare so it was pretty cool.
We wish again to the bridegrooms a good pink's life in Nantes ;)
💙❤️