Cake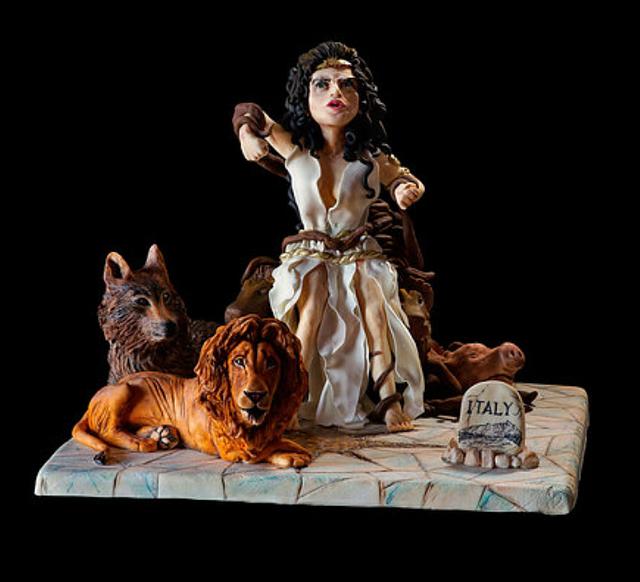 Circe the enchantress
This is the cake I brought to Cake International in Birmingham. I wanted to represent Italy showing a place not yet well known in Italy. Ulysses' riviera. The place I live nearby. In Homer's Odissey Ulysses is a greek leader that after the war wants to sail back home but the gods make him wander lost in the mediterrenan see. In his wandering he lands on the Eea Island later identified with the Circeo promontory. The Island is the place where the sum rises every day. Circe is the Sun's daughter and reins in the Island. She is a powerful enchantress who changes humans in animali with magical potions. She lives in a gorgeous palace in the forest, protected by lions and wolves. When she sees that Ulysses doesn't transform (He is protected by god Hermes) she falls in love with him. Ulysses and his mates stay one year by Circe but at the end they ask him to sail back home. When Ulysses says to Circe they want to Leave her strong and detached mood compelles her Not to tell nothing.
After Ulysses' departure Circe turns herself in mountain. This should be the reason why the mountain has a female profile shape.
I imagined Circe fighting against the nature she roles to stop Ulysses before leaving.
wires for the flowers liquid glucose sugarpaste saracino pasta model saracino modelling paste fondant tools for modeling tools to model hand painted hand sculpted cakeinternationalbirmingham sugarpaste sugar modelling sugar sculpture superwoman sugar paste lion wolf lion enchantress
11