Cake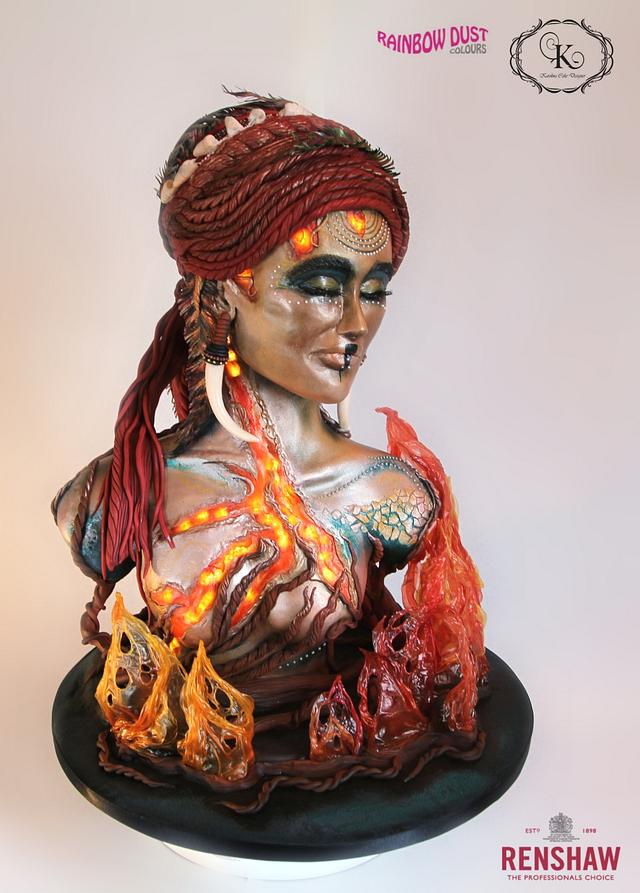 Enigma (Emotion)
Visual Art Work designed for the Spring Cake International competition in Birmingham. She brought me gold and best in category called "Pushing the Boundaries" and I was mind blown by the fact this was my first entry ever and received so so well by everyone. The show featured lots of stunning works!
She is RKT covered in modelling chocolate, fondant, wafer paper feathers and wafer paper (spring rolls) flames around her. It took me 2 weeks to produce this sculpture and I am very proud of it. Lots of fun with metallic paints, too!
Inspired by several art works I have seen, combination of a supermodel Devin Willow depicted in stunning retouched design by Jaime Ibarra Photography (as African godess of love), and by Expantion, famous sculpture with built-in lights by Paige Bradley. I also incorporated some shamanic features into her such as tooth earrings and face/body painting of particular colours all of which have special meanings.
To be chosen as the best in this new and challenging, but fun, category, surely was a tough job and I was and still am very very pleased to see how well she's been "welcomed to life" in our art industry by my fellow cake artists and also the public. Thank you all so so much!!! I am so overwhelmed!
I will add few more WIP shots to my album on my FB page:
https://www.facebook.com/hobbysculpturer/?ref=aymt_homepage_panel
Thank you!
K. x
renshaw fondant rainbow dust modeling chocolate wafer paper rkt supports iwata airbrush sculpting tools paintbrush sponge lightning piping bag cakeinternational enigma goldenaward bestincategory karolinacakedesigner
27