Cake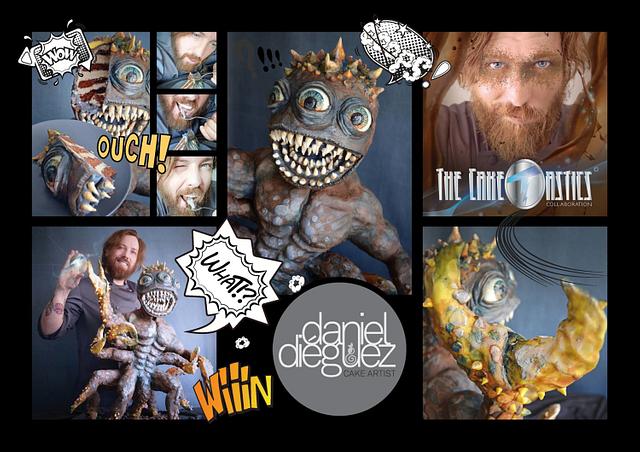 Chococaketastic vs Abdominator! for the Caketastics collaboration
I cannot describe all the emotions that it has produced to me to have organized this collaboration, it is necessary to live through it. I had never imagined that I might bring so much happiness and satisfaction, now I deal why the whole world wants to organize them hhe. Though I have to say that it has taken to me very much more work and time of the one that was waiting, included in the nights in candle, but it has been worth it fully. I am be enormously grateful to all the wonderful artists who have decided to accept the challenge and to create something wonderful since they have made this important. Still I am thrilled by fantastic reception of this project. Thank you very much to everyone!!
On my cake I will say that it is a chocolate sponge cake filled of white chocolate and cream of cheese. Completely decorated with modelling chocolate and chocolate and painted with of cocoa butter painting.
My cake is:
Abdominator – by Daniel Diéguez "The personal trainer of my gym was obsessed about working the abs. He made me work long hours until I finished, crushed. The trainer used to flirt with all the girls at the gym, after a charming smile he was inviting them to a lobster dinner to go to bed with them and then to boast in the changing rooms. When the aliens landed, they transformed him into a monster to help them conquer the land, as he was so attractive to the girls. They increased his abs and gave him deadly lobster claws. I had to destroy this threat. With my powers, I transformed him into cake and then I ate him, by eating all of the cake I rediscovered my adored belly. Please, be careful with your gym trainers, especially with the most charming ones, you never know when they can be transformed into monsters"
And I am:
Chococaketastic – He´s able to create and manipulate chocolate to his liking, transforming everything in chocolate and turning himself into a giant chocolate monster sometimes when he gets too angry about injustice.
The caketastics story:
A few years ago I decided to travel to Mexico to put into practice an ancient ritual that allowed me to contact the Mayan god of the cocoa. Ek Chuah, delighted by my devotion to chocolate, granted me part of his power with the commitment that I must use it to protect against any worldwide threats. Thus, Chococaketastic was born.
With my power, I found Cakepictorial and Isomaltic, who had also been blessed. Together we began the Caketastics. We detected an alien spy who revealed information about his aim to attack Barcelona on September 26th 2015. We threw a sign of alert to receive help from powerful confectioners and to attack the aliens in BCN & Cake. It was a hard battle but also a great victory! We defeated the invaders and protected the land.
In 2016, as revenge for their defeat in Barcelona, the surviving ringleaders of the alien army have decided to orchestrate a simultaneous worldwide attack. But, as they do not have enough power, they are transforming all living beings into monsters to continue their path of worldwide domination and destruction.
I have once again activated the sign of the Caketastic maximum alert to call super powerful worldwide confectioners to help us conquer evil and so the Caketastics collaboration is born. All over the world monsters appear and the most powerful superconfectioners fight to win. Enjoy watching this epic battle!
Follow our adventures (and take a look to all the outstanding cakes) at:
https://www.facebook.com/TheCaketastics/
#thecaketastics
chocolate cocoa butter modelling chocolate alien cake sculpted cake collaboration cake thecaketastics
44