Cake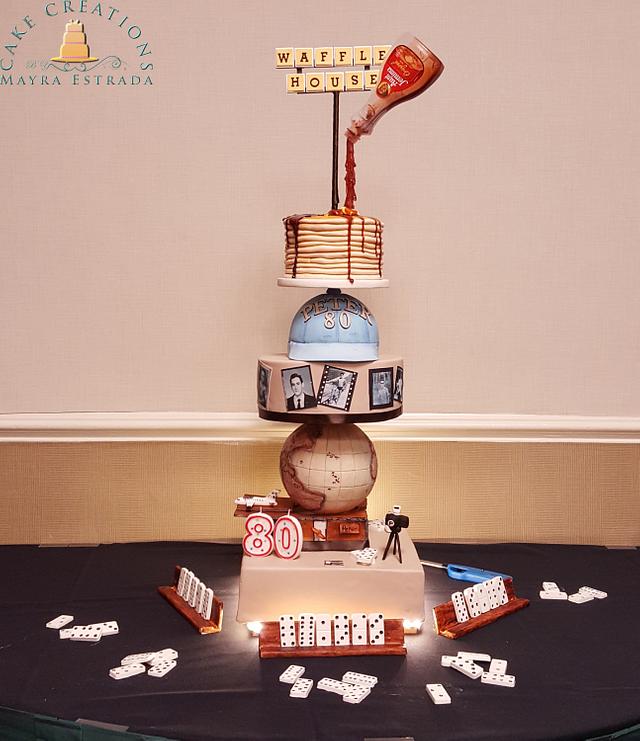 80th Birthday Gravity Defying Cake With Spinning Globe
A special time in your life when you finally say…staying up late a couple of nights, not to mention jet lagged and lacking sleep due to a red-eye flight was worth every countless hour. I arrived Thursday morning and the big event was on Sunday at noon. Thanks to my sister who helped me tremendously and my brother who engineered the globe to spin, we were able to get the job done! It was quite an experience to create this cake from two different states and put it together not knowing how it would turn out.
Video of globe spinning on my page:
https://www.facebook.com/CakeCreationsByME/videos/pcb.754360811371011/754360151371077/?type=3&theater
This cake represents some of the many things my dad loves, playing dominoes (chocolate domino mold), traveling (globe made with fondant and wp printout), photography (notice small camera on tripod) courtesy of my brother Edward who couldn't resist playing with the fondant and did quite well!! My dad loves to wear a cap so I thought it would be a nice touch to add his name & age on it (made with fondant / gumpaste). He loves to have breakfast at Waffle House (topper is fondant, isomalt & piping gel syrup) and yes the syrup bottle is real not isomalt.
Cakes were a 12×12×3 square and a 10×3 round.
Making my dad's 80th birthday cake and working with my family to make this happen was a feeling I can't describe.
satin ice fondant satin ice gumpaste chocolate ganache chocolate 80th birthday birthday cakes gravity defying cake
43