My daughter turned 4 just yesterday (I no longer have a baby boohoo!). I have been so busy the past few weeks that I have not had a chance to upload a few other cakes that I made before hers, but I just had to upload hers first =D
It was kind of hard to come up with an idea for her cake design because she is into SO many things now…music, colours, letters, Legos, all kinds of shows…
So this year, I asked her what she wanted on her cake and she was very specific and clear lol. A blue cake, with a rainbow, a number 4, green flowers and Mickey on top. I know Mickey is still her favourite but I really didn't want to do another Mickey cake but that's what she wanted so I agreed.
A few weeks before her birthday, her brother (Mr. 11) saw a Tsum Tsum Mickey plush toy at the Disney store and decided he had to get that for her for her birthday (so sweet of him btw lol). Well, it was love at first sight and she has been so obsessed with him, that I decided to switch out the regular 3D Mickey topper I was going to do, with a 2D Tsum Tsum Mickey!
I was silly though, and as always, left things to the last minute so the 2D topper ended up not dried enough. It would have been ok except I decided to cover my cake with a black bag (to further delay the purples from fading and which actually wasn't necessary). It didn't touch the topper at all but I didn't account for the humidity it would collect which softened the topper further so that the ears actually drooped forward and eventually cracked and fell off =(
Well, lesson learned for next time and luckily it was a personal cake haha. I managed to do a lousy patch job which was not visible from the front so was ok in the end =D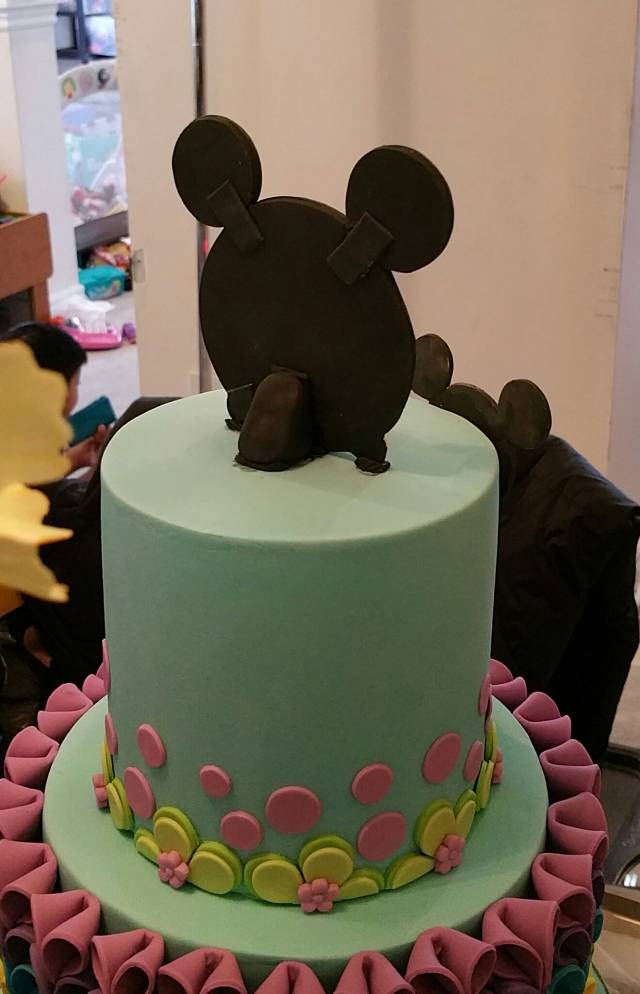 The rainbow ruffles on the bottom were made using my V-Petal Ruffles technique which I used on my Cake Masters Blue Ombre cake and shared on my blog a few months ago. You can find the mini-tutorial here – www.bit.ly/TVCSblogVPetalRuffles.
Thanks for looking and here is a pic of my daughter with her Tsum Tsum and her cake =D