This was my contribution to the Sweet Summer Collaboration – the first public and international collaboration with more than 200 amazing Cake Artists! Let's start the summer with so many different and great sugar pieces from all over the world! If you like the idea – then join us on facebook:
Sweet Summer Collaboration
For this theme i made a Mosquitos, 'cause they are those who enjoy the summer most! They are very relaxed, because they are so happy about it that everyone is clapping for them! :D
I had so much fun with it and I'm so proud to be part of this great collab!
And here it is: "The friendly Mosquito next door" :)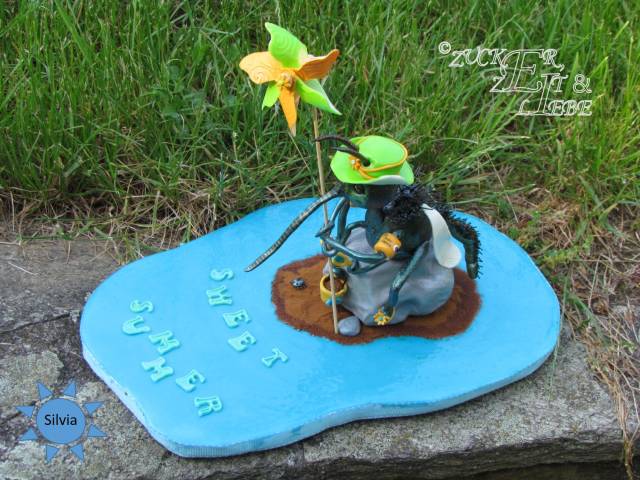 He loves the summer, likes the water, appreciate a little breeze (for his wind turbine), he is a snappy dresser (the flip flops always suitable for the hat), is playful (especially he likes sand – bucket and shovel) and in spite of his reckless nature he is always implement and carefully (arm floats).
My Mosquito is very flexible in terms of his environment and comes from an ancient family sex – he is by the way also very family friendly and would like to expand his large Relatives to a couple of kids .. so approximately 400-450 would be okay. So if you want to meet him – tell me! ;) <3
Except the wooden stick for the wind wheel, everything is edible. The wind wheel is made of wafer paper and fondant. The Mosquito and his equipment are made of Sweet Art Fondant and the hair/spines are painted soup noodles.
I hope you like him! :)