Cake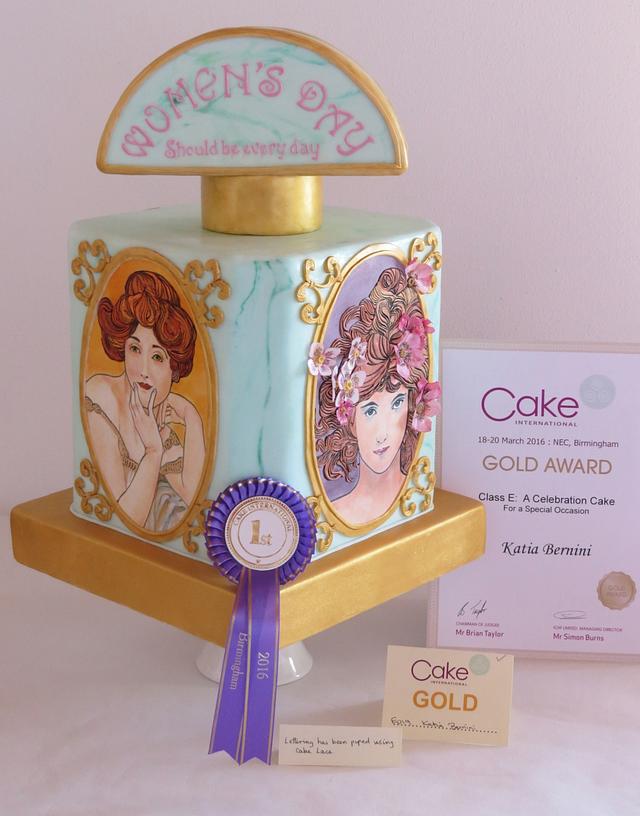 Birmingham Cake International spring edition 2016, tribute to women
This is my tribute to women: we are multitastasking creatures, always running, working, house, family, kids, nights spent by baking and caking…I was inspired my Mucha, I could not resist him. I called my cake: "Scent of a woman" mainly because of the shape I decided to choose, easy to carry in two separate pieces, one by hand, the topper in the suitcase. The inscription was "Women's Day, should be every day…"
But following what happened…Mini-Kate in Class K was fun and a joy to prepare, this one belonging to class E was involving my emphty beside a good amount of work. Mucha's four girl nearly caused me a heart-attack. When I saw a note near my cake I knew something strange was unfortuntely happening.
I have been refereeing for a decade in golf and I know exactly when a DQ is in question. One of the rules was the piped inscription, mine had been initially judged as made with cut outs. Like in golf I called a judge for a ruling and a decision, I just thought to use the same procedure players use: expose clearly the facts and let the judge do their job. I piped with cake lace because that part of the cake was travelling in a suitcase and cake lace is less fragile than royal icing. Furthermore royal icing is my Achille's heel because of a neurological problem at both hands, both shake. Infact I had to clean, the not perfect letters, with and toothpick and a tiny brush. The remaining Rules had been perfectly applied by the judge, in fact there were no restrictions about the material used for piping, unless, I suppose, non edible.
"Scent of a woman" was reinstated and received the main award in class E. I would like to thank the judges and underline the uttermost attention and kindness I received from them. I am sorry I do not remember their names, I just remember both where welsh. I also had to promise to one of the two ladies that the main task in the nearest future is to practise hard on royal icing and piping. I promise!!! I hope they will receive this message.
nec birmingham birmingham cake international birmingham spring 2016 alphonse mucha mucha painted cake paintedcake wafer paper wafer paper flowers multidimensional
34