Cake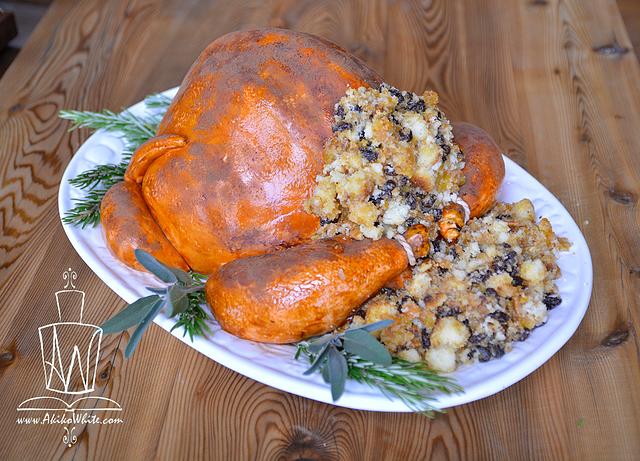 Thanksgiving Turkey Cake
This cake was fun to make. I actually made 2 for my daughter's boyfriend's family and for a dear friend. They all enjoyed it! I enjoyed hearing the stories they told me on how everyone thought it was a real turkey. SO FUN!
I got the tutorial from Yolanda Gampp of How to Cake it! She's a hoot!
https://www.facebook.com/HowToCakeItWithYolanda/?fref=ts&hc_location=ufi
She did a fun tutorial on how to cake a turkey cake: https://youtu.be/PXzue3aU3WY
My cake is a carrot cake with cream cheese buttercream icing covered in fondant and painted with edible food gels. The stuffing is a rosemary sponge cake from Nigella Lawson's cookbook "How to be a Domestic Goddess."
Enjoy!
fondant cream cheese buttercream edible food colors edible food dusts carrot cake with cream cheese icing rosemary cake modelling tools hand painted hand modeling hand carving turkey cake thanksgiving cake thanksgiving
12