I was delighted to be asked to do this African Themed cake for a man whose background is Sudan and Egypt.
He loves Jazz (hence Sachmo) and other icons such as Mandela and Iman (also handpainted here) … the cake is 360 degree viewing. With this came 20 cupcakes with hand painted toppers. all details on the cake is under the photographs.
This was delivered (28th March 2015) to the gorgeous restaurant, Quaglino's​ ( http://www.quaglinos-restaurant.co.uk/ ) , in Mayfair London where the birthday celebrations took place.
I would like to say a special THANKS to Hilton London Docklands Riverside​ ( http://www3.hilton.com/en/hotels/united-kingdom/hilton-london-docklands-riverside-LONNDHI/index.html?WT.mc_id=zELWAPN0UK1WW2PSH3Search4DGGeneric&WT.srch=1&utm_source=AdWords&utm_medium=ppc&utm_campaign=paidsearch ) as I had to complete this at the hotel as it was the same weekend as Cake International​ … they put us in a huge big room, brought up a large work table and fridges to keep everything cold… hows THAT for service!!!
Three-tier cake topped with sugar-crafted hibiscus and frangipani.
The icons painted on top tier (royal iced dummy) are: Mandela, Iman, Sachmo (Louis Armstrong)
Animals painted on mid-tier (royal iced dummy) are: Caracal cat (found in African Desert), Secretary Bird (National Bird of the Sudan) and the Dinka people and cattle, also indicative of the Sudan.
The base tier ( 12" round, 5" high, lemon drizzle) is airbrushed and the hand-painted silhouettes represent a mix of African and Egyptian scenes.
Cupcakes are also lemon drizzle and piped with lemon curd buttercream. Toppers are airbrushed and then hand painted silhouettes added afterwards.
In all, I tried to capture the vibrancy of East African and Africa.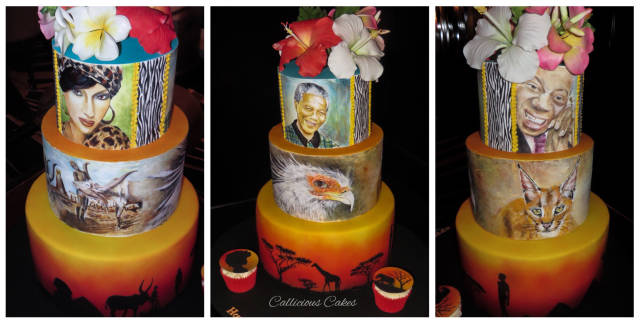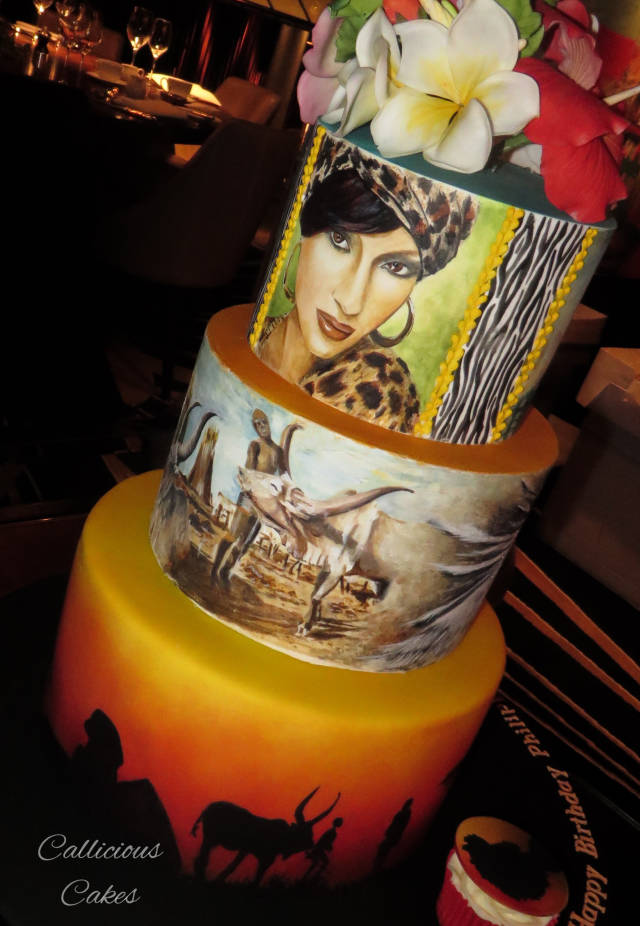 thanks so much for looking… I loved making this so much!! My favourite this year!!
You must never limit your challenges, instead you must challenge your limits