Cake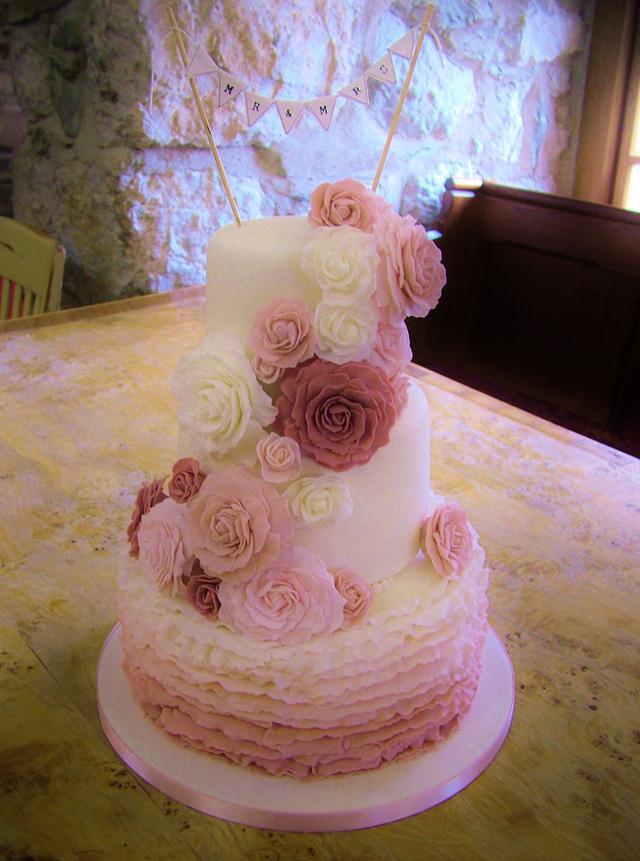 Dusky Pink Gradient Frill & Rose Wedding Cake
Our bride asked for a vintage, soft feel to her cake. We talked over lots of different ideas, and settled on this design. The colours matched her colour scheme. Her bridesmaids wore very pale pink/rose dresses, and the men wore matching ties with a grey suit.
The venue had a really rustic feel to it, and when we delivered the cake, it was lovely to see all her ideas in real life! As we had talked about all her other ideas for her wedding too during their consultation, I always enjoy seeing everything in real life when we deliver.
The cake itself was White Chocolate & Fresh Raspberry with a Vanilla buttercream filling. The base tier had gradient layers of frills, and the top two tiers see a cascade of roses in matching colours. The top of the cake has a cute 'Mr & Mrs' bunting on the top.
wedding cake emzcakes wrexham north wales vintage pink white wedding cake 3 tiers 3 tier three tier three tiers tier tiered cake frills roses flowers gradient gradient frill beautiful pretty
7