Cake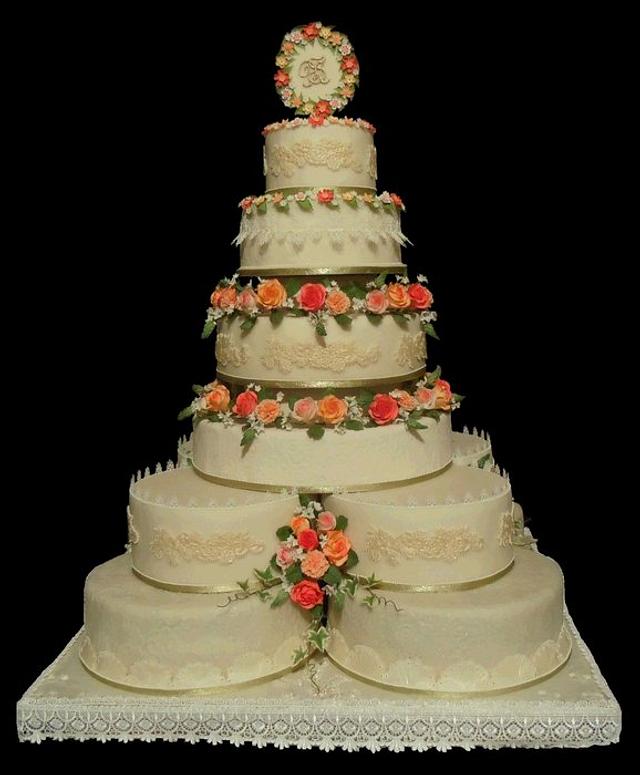 My own wedding cake!!
Our wedding cake from beginning to end… Inspired by the royal wedding cake, i decided to make my basic structure similar to it. I worked on it over almost 3 and a half looong months! It had 6 tiers but 12 cakes in all (the bottom 2 tiers of 8 cakes were real fruit cake and the top 4 tiers were dummies). The real cake in it weighed 50 kilos! As far as all the flowers and foliage go, I did count and make a note of everything but I can't seem to find that…but i certainly remember there being more than 560 flowers and more that 250 leaves. The royal icing lace pieces used on the cake were about 130 but I had made many more to have as spares incase of breakages. Somewhere towards the end of the 3.5 months, the rain gods decided to torture me and down came the heavy showers which ruined my flowers and foliage overnight!! :( … there are pictures of the ruined stuff and of how I carefully set each leaf and petal back into shape!!! This cake was transported from Coorg to Bangalore for our wedding. All of the royal icing lace pieces were stuck on the night before the wedding to ensure the least possible damage and the topper was placed on the cake between our wedding ceremony and wedding reception which was right after!
Advice to any bride who wants to make her own wedding cake..especially a big one… DON'T EVEN THINK ABOUT IT!!!
For more detailed pictures please visit https://www.facebook.com/media/set/?set=a.572417026110863.1073741825.192641467421756&type=1
wedding cake 6 tiers roses rose carnations coral yellow pink royal icing lace wedding white orange green gold cake fruit
20