Cake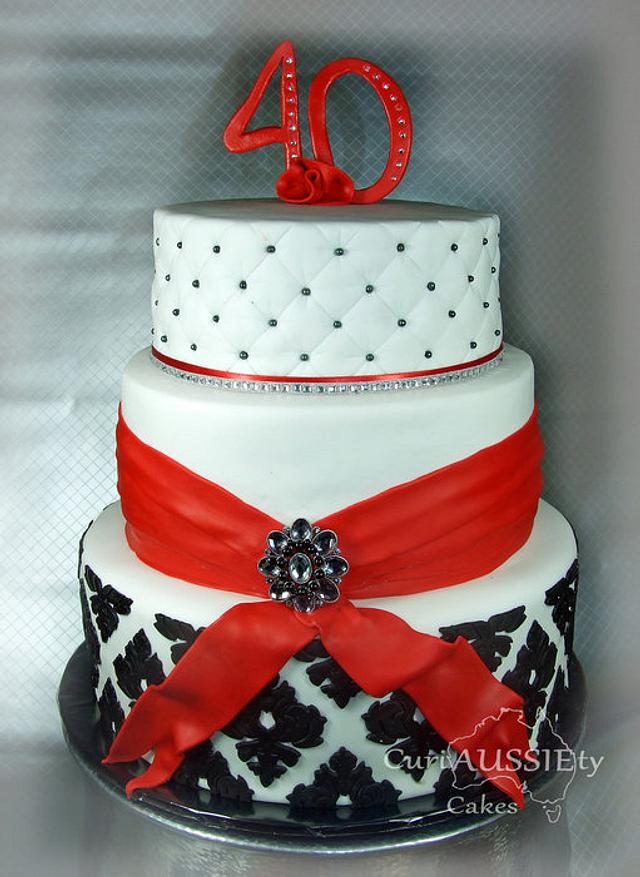 Red, black and white demask 40th cake
Ok so this was my very first attempt at the marvelous molds from 2 weekends ago. It was so time consuming seeing as my fondant roller was broken and I could not quite get the right thickness to work. I think I spent about 7 hours on just the damask as I ended up pulling that tier apart in the wee hours of morning due to an air bubble.
Long story short is that even after ripping fondant off and re-doing another air bubble appeared about an hour before delivery and seeing a I had quite a drive and about 10 speed humps to get over my cake had a huge bulge in the back upon delivery.I was almost in tears after all the hard work and conscious effort to fix a problem to only have it come back with no way of fixing it just about killed me. I have never had one do this before so still today have no answers to my problem.
I always treat my clients like I would like to be treated so I refunded some of the money as I could not stand myself if I had not. People pay good money for these type of cake sand so therefor should get that also upon delivery.
Anyone who has any advice on my problem I would love to hear it as I apprecite any guidance I get from my wonderful cake friends who are morel like my family. Big hugs
anniversary birthday engagement mothers day valentine wedding black red white cake vanilla damask 40th quilted quilting pretty elegant
28