Interview #61: Marta Torres of The Cookie Lab
Marta's: CakesDecor Profile | Facebook Page | Pinterest | Instagram 1. Tell us a little about yourself, family, where do you live and what did you do for a living before making cookies if anything? Thank you so much CakesDecor for having invited...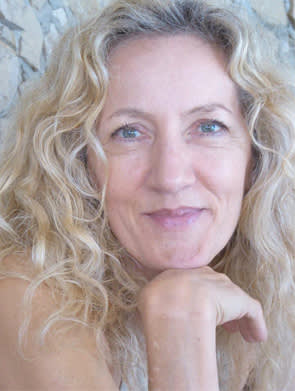 Marta's: CakesDecor Profile | Facebook Page | Pinterest | Instagram
1. Tell us a little about yourself, family, where do you live and what did you do for a living before making cookies if anything?
Thank you so much CakesDecor for having invited me. I'm Portuguese and I live in Lisbon, Portugal at the moment with my Spanish husband. None of our kids or grandkids (5 and another one on the way) live in Portugal, they are located in Spain and USA . I come from a big and happy family of 8 brothers and sisters, I'm number 7. Due to my husband's work we lived abroad for 20 years, in countries such as Brazil, Hong Kong (China), Japan and Spain. It was a blessing living abroad due to the richness of cultures, languages and heritage which opened my mind a lot. Before making cookies I used to work for a Bank and more recently, in Japan, I was a culinary instructor. I was invited by the Portuguese Embassy to Teaching Portuguese Traditional Cooking and after a while an International Cooking School found out about me and invited me to be a teacher at their School as well, suddenly I found myself surrounded by pots and pans and loved it.
Aside from teaching, my second passion is exercising and it's the first thing I do every morning at 7:00am whenever I'am at home. My favourite exercise is weight lifting. This gives me energy, strength and a peaceful mind for my cookie decorating. I also enjoy reading and going to the movies.
2. How long have you been doing cookies and what got you started in cookie decorating… was it by accident or did you always have a passion for it?
Cookies came into my life by accident, I had no idea that there was a big world of cookies out there. A few years ago due to our move to Spain and economic crisis in Europe, I found myself jobless and my husband pre-retired, it was a very hard time for me. I was depressed, and my daughter, that lives in the USA, was the one encouraging me to try to make a business out of cookie decorating since it was something foreign to Portugal. It wasn't love at first sight, I really didn't like it when I tried. I had no idea how to make royal icing, yet alone decorate cookies with it. After 6 months of practicing I entered a "Christmas Countdown " contest in a webpage "Cookie Connection" and much to my surprise I won first place! It was my wake up call, from then on I stoped thinking of the past and embraced my new adventure. I used to say that "cookies chose me", and this happened 4 years ago. I started receiving invitations to teach abroad and it has been a very sweet journey. I've met incredible people from 5 Continents and have learned a lot along the way.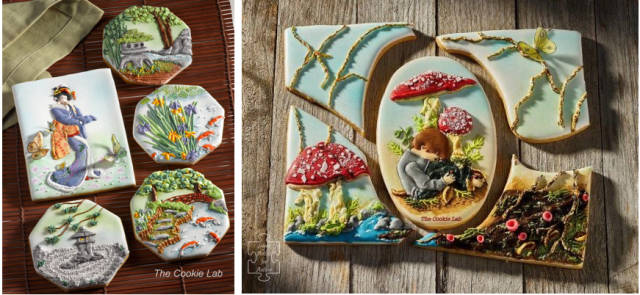 3. Is there one tool you cannot live without and one you don't have yet but really want?
A while ago I would say that a scribe needle would be my most indispensable tool, but nowadays I developed a methof of decorating almost without the use of it. Currently, a dehydrator is essential for my work either at home or in my classes.
4. I love your cookie designs they are all incredible pieces of cookie art. Do you have one tip for anyone who might want to get into this wonderful world of cookies?
Thank you! I'm a self taught cookie decorator, I learned little by little on my own by trial and error. I started with all the basic techniques. Yes, I failed several times- these failures, which I call lessons, are the ones that will help you to grow.
Don't give up, trust in yourself and don't compare yourself to others. You are unique and so is your work. Remember, be proud of what you make because it's the best of you represented there.
5. What part of making cookies do you like most and least?
I do like baking cookies and flooding them, whenever a design calls for it, but what I enjoy the most is the creative process, giving dimension, texture and "life" to my creations.
Preparing all the different icing colours and different consistencies is probably what I enjoy the least because preparing them takes so much time, but this is the most important step for the success of my work, so I have to be patient.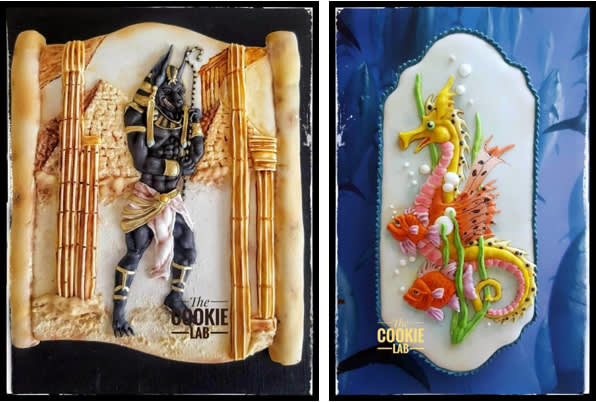 6. Tell us one thing about yourself that many of us might not know already.
I'm a Certified "Ikebana" Teacher (Japanese flower arrangement). When I lived in Japan I studied Ikebana for 7 years. Nowadays the only use I have for it is myself, I do like to make seasonal flower arrangements and I have several bases, according to the season we are in.
7. Do you have a bucket list and if so what might one or two of those be and it does not have to be cookie related?
One of my dreams has always been to travel the world and I'm so thankful for the opportunities I've had in doing so by means of my work. I love ancient cultures and Egypt has fascinated me since I was a kid. Next January I'll be teaching there and that dream will finally come true!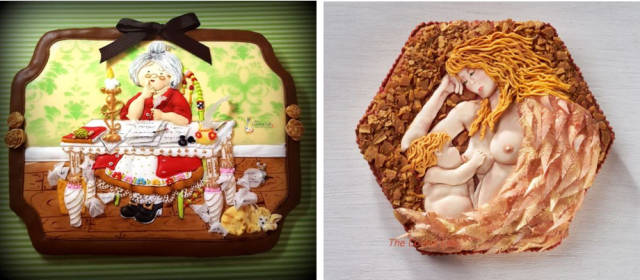 8. What would you say has been your biggest cookie challenge to date and if you could have a do-over of that cookie would you want too and what about it would you change?
My biggest cookie challenge was a cookie I made last Spring, which unfortunately went missing during one of my classes. The cookie was of a Gnome and the anatomy on it was a huge challenge. The mouth had a real cavity, the teeth were hanging, the feet had nails, hairy legs- it was a beautiful challenge that I had so much pleasure in making. I guess I wouldn't change it, I would keep it that way. When I make a cookie I make just one, each piece is unique so I focus 100% of my energy on it and try my best.
I use the experience I get from each work to improve or try a different way to accomplish a certain technique, but usually I don't redo cookies.
9. Is their one technique or sugar skill that you have not tried yet but really would like to learn?
Yes there are a few, I'd love to try classic royal icing techniques such as string, collars, etc. I would love to have had the opportunity of learning them from Sir Eddie Spence MBE.
10. Do you have a cookie that you have created that has become your absolute favorite?
Since my cookies are unique pieces they are a little bit like my kids. But if I had to choose one it would probably be this boy:
11. Where do you get most of your inspiration from for your cookie designs?
My cookie designs come from several sources, besides getting inspired by everything that surrounds me, I also get inspiration from pictures, fabrics, stamps , pinterest; I also have artists offering me their artwork to recreate in cookie form.
12. What's the best lesson you have learned while making cookies so far?
Sometimes the worst experiences we have are the ones that will teach us the best lessons. I never start decorating a cookie with a day-old piping bag. It's very risky, we may not see it, but the icing inside starts to separate and one small drop of water can ruin all the previous work you have done on your cookie.
13. I know you are now teaching all over the world is there one place in particular you would really like to go to and why!
I've been very fortunate that by means of my classes I am taken to Countries that I might otherwise never be able to visit. If I had to choose one, I would say Jordan. I would love to "swim" in the Dead Sea and visit Petra.
14. And one crazy one just for fun…If you could be a fly on the wall for just one day where or whose wall would you like to be on and why?
I find the Baroque/Rococo Style interesting, so I would probably visit Marie Antoinette's Court. I would fly around and watch her sense of fashion, the richness of silk, jewels and precious stones- and hope I wouldn't get sweated by one of her rich silk fans.
Thank you Marta and Sharon!
More Marta's Cookies
interview cookies marta torres cookie lab
30