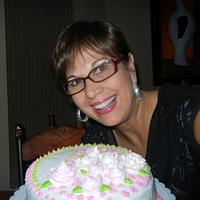 Fun Fiesta Cakes
posted over 9 years ago
"How to make a TEXTURED cactus"
As I was getting ready to make some cacti for a southwestern cake, I realized that I didn't have a cactus cutter. No worries… I downloaded a picture from clip art, printed it and made a template. The first cactus was just too plain, so I decided to add some texture by using a non-slip shelf cover – the type used to put underneath cakes so they won't move around – the mat has a great texture, which brought life to my cactus.
I rolled out the gumpaste on the textured mat; peeled it off; cut the cactus with Exacto knife following template; let it dry and then painted it using color dust. Here are some pictures of the steps I took – sometimes you just have to improvise – :)))
P.S. The rocks are also made out of gumpaste – I was on a roll – LOL!
DJ - Fun Fiesta Cakes