Nathasja's CakesDecor Profile | Facebook Page
1. Tell us a little about yourself, family, where do you live and what did you do for a living before making cakes if anything?
I live in the Netherlands, Heerhugowaard, happily married with my husband Maurits. No children unfortunately, but we do have a dog, if that counts!
2. How or why did you get started in cake decorating… was it by accident or did you always have a passion for it?
I have always been a creative person, had lots of creative hobbies and had a craft room in my house. One day my stepfather gave me a magazine about cake decorating, it was full with tutorials and had tools with it. Not that I had done anything similar before, so it was quite surprising he gave it to me, but I loved it quickly and soon he bought me the magazine every week. The first months were just for show, practice, fun. But about halfway thru 2013, I got the hang of it, in 2014 I made cakes for friends and sometimes clients, and then in 2015 I decided to register my cake school.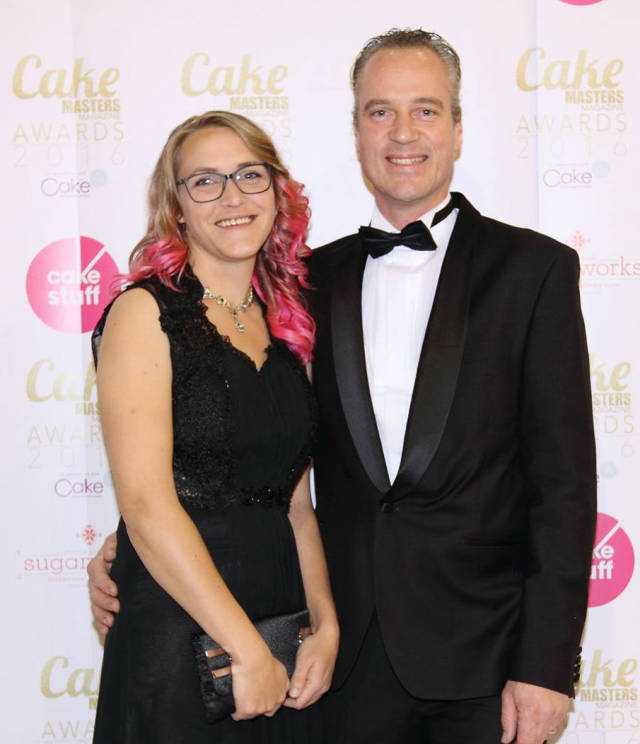 3. Is there one tool you cannot live without and one you don't have yet but really want?
One tool I cannot live without now that's a hard one, since I'm very flexible with tools, so that would be the one thing I use in every single cake, and that's a knife. That doesn't count right? Well I guess you could say I am addicted to my colour shapers! And my airbrush! And one thing that I don't have but really want? Uhhhhm… I really want those stainless steel modeling tools, and metal ball tools, and sugar shapers, and oh I want a plotter, you know, the thing that makes stencils? Oh stencils! I want Every stencil that Evil Cake Genius has ha! Is it Christmas yet?
4. How did you find cakes decor and what makes it a place you want to keep sharing on?
I found CakesDecor like most of us, trying to find inspiration for cake designs, and just look at how cool the cake world is outside our little country. I have not found one negative comment, EVER, and that is pretty unique in the cake world, everyone is so supportive and kind and warm. It's a very welcoming place.
5. What part of making cakes do you like most and least?
The part of the actual cake making is the part I do not like. I am not a baker, I don't like to bake, or fill, or carve.. So my favorite part is when a cake starts to take shape and starts to look like something awesome, most times it's when I am sculpting into modelling chocolate, or making detailing in fondant. And colouring, so basically everything, except the actual cake baking/making.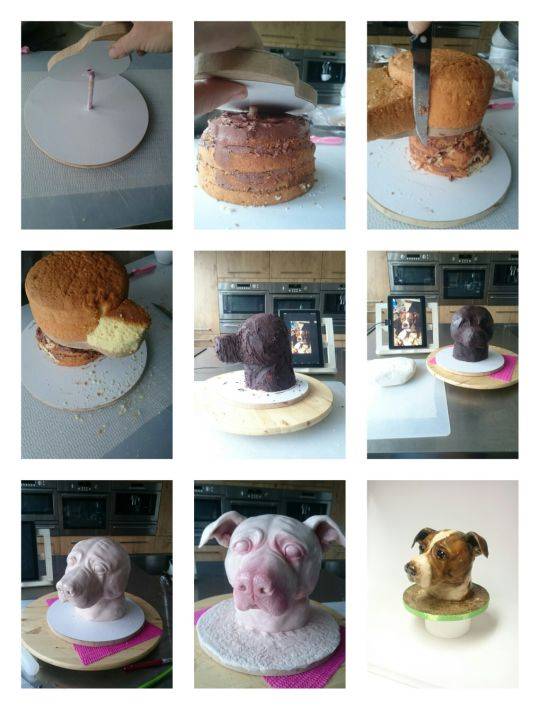 6. Tell us one thing about yourself that many of us might not know already, it does not have to be cake related.
I uhmm. I really, really like to play open world videogames like GTA and Saints Row, and stealth games as Splinter Cell.
7. What is your favorite cake you have done to date?
That's a hard one. Not to make other cakes feel less, they are all favorites. One of my favorites is the one I did for Dortmund competition, Lady and the Tramp. It's not THE favorite, but you made me choose, I can choose 20 more if you'd like ;) It was a big one, and heavy because it was mostly cake and chocolate, covered in fondant.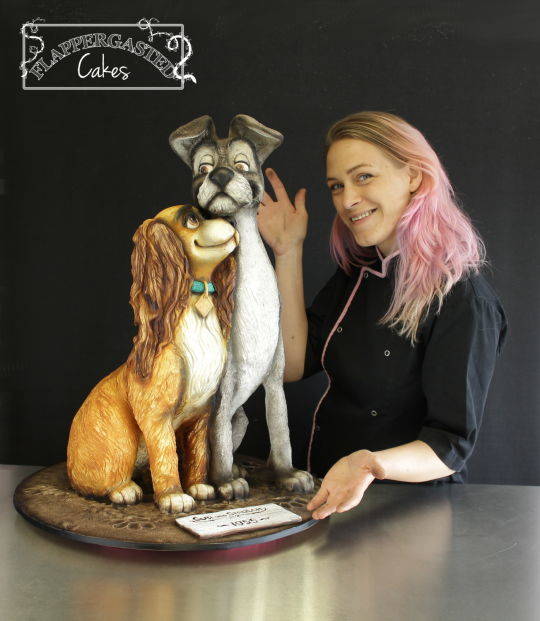 8. Do you have a bucket list and if so what might one or two of those be and it does not have to be cake related?
I do! On the cake list is a life size human being and a life size animal, big animal, not like a mouse, but more like elephant. Guess that's gonna take some time! And on my non cake bucket list is traveling, and it might be connected after all, since I'll go to Australia for cake teaching in a few months!
9. What would you say has been your biggest cake challenge to date and if you could have a do-over of it would you want to and what about it would you change?
My biggest challenge to date would probably be Lady Godiva from 2015 Cake International. The horse was a pain, and I never made anything like that before, and of course I needed it to be perfect, and the lady was giving me new skills and techniques that I still use with pretty much every cake. So challenge yourself always, because it leads to new things! If I would change something, it would probably be the blanket on the horse, and the part where the hooves touch the ground that could have been done prettier. And even though the face was way better than I had done ever before, I would do her face over again, something with anatomy. And colouring.. Ok, I would do everything different. But its ok, it's a learning curve.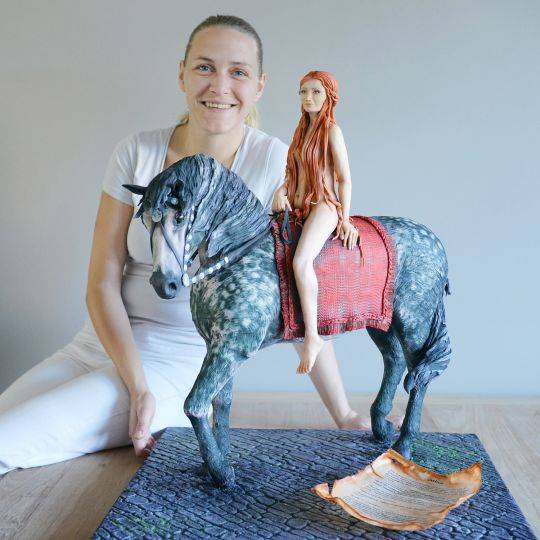 10. Is their one technique or sugar skill that you have not tried yet but really would like to learn?
I would really like to learn royal icing and Isomalt, tried both and I am not cut out for that stuff. Either lose my patience or burn myself.
11. Do you have a favorite flavor of cake that you make?
Not really.. I like chocolate cake! Got chocolate?
12. Do you sketch your cakes or just wing it?
Winging it! But have to carry the consequences of that a lot. Winging it is great, but if you don't plan 3D cakes and just do something random, anatomy is a pain, things get out of proportion very quickly. I don't have to do cakes for clients anymore, so I only design them when they are for class, even then, mostly winging it and remember how I did that. It gets easier along the way as you learn from mistakes and learn to have backup alternatives.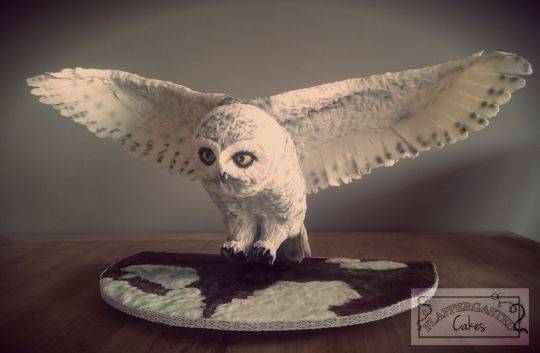 13. For anyone just starting out what would be one piece of advice you would give them?
Never wait; if you want to make something, just DO it and do not wait for someone else to magically read your mind and order THAT cake. Just make it, and you'll get to make more after that.
14. What's the best lesson you have learned while making cakes so far?
Best lesson.. Ah, that cake making is actually creative therapy! Seriously! I went from depressed insomnia suffering insecure awkward kiddo, to healthy, good sleeping, happy woman hahaha.
15. And one crazy one just for fun…If you could compete in one Olympic sport event what would it be and why…it can be summer or winter olympics?
Archery, so I can feel all Merida like, but with pink hair instead of red.
Some of Nathasja's Cakes: